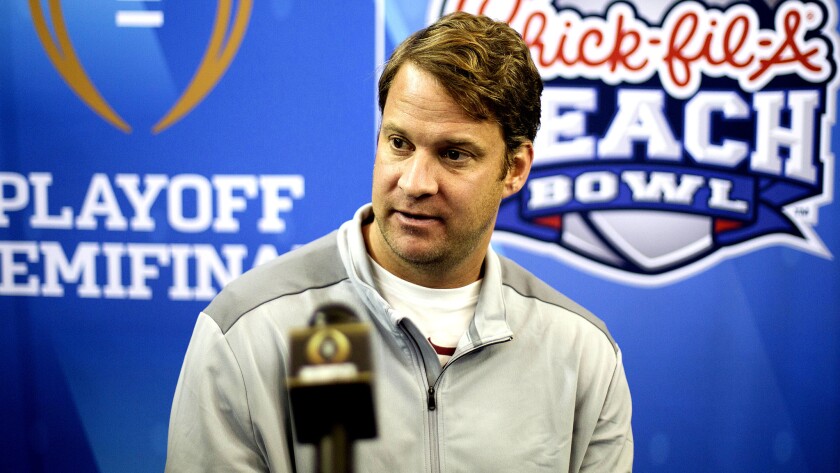 Reporting from Atlanta —
Lane Kiffin has maintained a relatively low profile in his three years as Alabama's offensive coordinator. You didn't really think he would go out like that, did you?
As top-ranked Alabama enters its Saturday showdown with No. 4 Washington in the College Football Playoff semifinal at the Peach Bowl, Kiffin is back in the headlines after making subtle digs at his current employer while revisiting his experiences as coach of USC and the Oakland Raiders.
Evidently, Kiffin still can't help himself. He's Yasiel Puig with a visor and a clipboard.
As much as the former coaching prodigy claims to have changed since he was fired by USC during the 2013 season, it's always just a matter of time before he's not only a story, but the story. He finds the spotlight.
Kiffin has signed on to be the coach at Florida Atlantic and you can already see where that is headed. He won't quietly build up his program. Whether he succeeds or fails, he'll be making noise.
Perhaps Kiffin is taking advantage of his current platform to draw attention to the modest program he will take over once the Crimson Tide's season ends, but this can't be what Alabama wants. Not on the national stage. Not with its most important game of the season approaching.
What should be a showcase for a historically dominant Alabama defense has become the Lane Kiffin Sideshow.
Kiffin was left behind at the Georgia Dome by the Alabama team buses after media day this week, a comical replay of a scene that unfolded last year after the Crimson Tide defeated Clemson in the national championship game.
But the real news was made in a series of recent interviews.
He made some veiled criticism of the culture at Alabama, which was curious, considering how the school allowed him to rebuild a reputation that was damaged at USC and Tennessee. Kiffin was complimentary of Coach Nick Saban and how much he learned under him, but also implied his time at Alabama hadn't been particularly enjoyable.
During a news conference earlier this week, Kiffin said he didn't recall any happy moments he shared with Saban. Instead, he said he remembered being chewed out.
Kiffin delivered the line as a joke, but there was enough truth in it that he shared the same general sentiment a couple of days later, when he playfully told reporters the word "fun" wasn't used a lot at Alabama. He did add, "In my opinion, winning is fun, so it's been fun."
He also said that Steve Sarkisian should complement Saban better because of his personality. Sarkisian, another former USC head coach, will be replacing Kiffin as Alabama's offensive coordinator — just as he did 10 years earlier at USC, when Kiffin left Pete Carroll's staff to take the Raiders' head coaching job.
Kiffin expanded on the feeling during an interview with Sports Illustrated that was published Thursday, adding that social isolation was a contributing factor.
"This will come across wrong, but it's like dog years," Kiffin told the magazine of his time with the Crimson Tide. "Three years is like 21."
Kiffin also showed Sports Illustrated a personality assessment that profiled him as a conceptual thinker.
"It means I'm imaginative, intuitive about ideas, visionary, enjoys the unusual and learns by experimenting."
Kiffin laughed and added, "Doesn't that explain me and everything that's not in the staff room at Alabama?"
Saban has a reputation as a control freak and doesn't allow his coaches to speak to reporters in the regular season. He probably wasn't fond of what Kiffin said, but he wasn't about to add fuel to the fire. Saban downplayed Kiffin's remarks Friday by saying, "I think when someone has been a head coach before, it's very difficult to go back and be an assistant." He went on to praise Kiffin's work.
That might temper the reaction of Alabama fans, but what about USC fans?
Here's something else Kiffin told Sports Illustrated: "I don't care about what people think about me that don't know me. But the one thing that bothers me of all places is that general perception that I was a failure at USC as head coach."
It's true Kiffin's Trojans were subjected to severe sanctions for violations under Carroll, whom he'd replaced in 2010. But Kiffin also conveniently ignored the role he played in his own demise, from how he lied about voting USC No. 1 in a preseason poll to how he switched the jerseys of his players to confuse an opponent.
As for why he is widely disliked, Kiffin offered a theory involving his age and ex-wife.
"There's this age thing about me being so young, and I think there was something about Layla being so attractive," he told Sports Illustrated. "There was something in there to where it became, OK, we don't like him."
Sound familiar? Lane Kiffin hasn't changed.
Follow Dylan Hernandez on Twitter @dylanohernandez
---