Letters: There's always next year for the Rams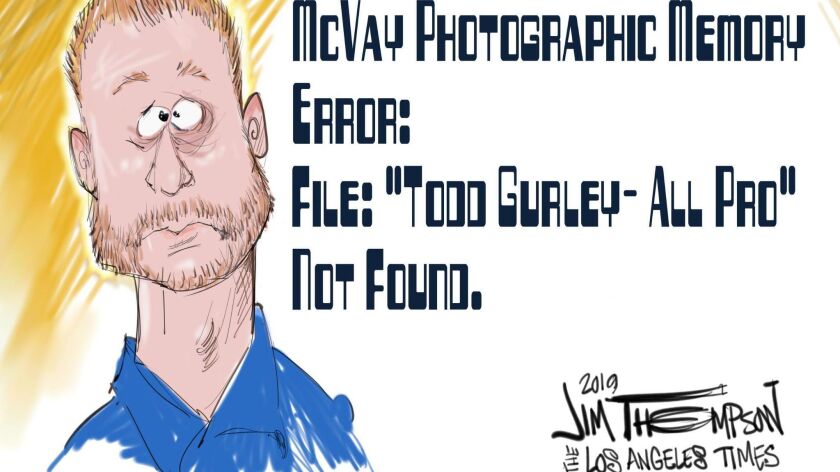 Did Sean McVay accidentally thumb through the Dodgers' analytical coaching book for ideas right before game time at the Super Bowl?
Mark J. Featherstone
Windsor Hills
::
Bad offense against defensive coordinators in Detroit, Chicago, Philadelphia, and now New England, who figured out McVay. The trend is McVay hasn't figured out how to defeat this. Well, I hope he'll develop plays in the off-season against these kind of teams.
Vic Waki
Anaheim
::
It was almost as if the Patriots knew every single play that the Rams were going to run ... Hey, wait a minute!
David Waldowski
Laguna Woods
::
Apologies to the late Jim Healy, but I just have to ask, "Who Goff'd? I've got to know!"
Jim Meser
Thousand Oaks
::
If the Rams had been able to put a modest 14 points on the scoreboard in the Super Bowl, everyone would be talking about what a defensive mastermind Wade Phillips is, having held Tom Brady and Bill Belichick's Patriots to only 13 points. The fact that the offense couldn't produce doesn't change that accomplishment.
Dennis Duling
San Gabriel
::
If you were to tell me that the Rams would hold New England to 13 points, I'd say they'd win the Super Bowl. Little did I know that this would be the game Jared Goff decides to channel rookie Jared Goff and Sean McVay decides to channel Jeff Fisher.
Lee Barnathan
Chatsworth
::
Kudos to the Rams for holding the Patriots to 13 points, fewest scored by a Tom Brady team in the Super Bowl. Fortunately, the back door through which the Rams were allowed to enter this game was left open (see the junk win in New Orleans), and after their dismal offensive showing, they were unceremoniously shuffled back out of it.
Armand Ross
Los Angeles
::
The Rams' climb to the top was not easy. Management, coaches, players and fans need not be ashamed of the loss. Let's celebrate the success the achievement of being one of the last two teams standing, rather than the disappointment of defeat.
Donald Peppars
Pomona
::
Tom Brady's postgame interview confirmed my suspicion. Where were the Rams fans? Brady said the game felt like a home game. While watching the game I noticed the stadium went quiet the few times the Rams moved the ball on offense. When the cameras panned the crowd, I did not see one Rams fan.
The Rams looked defeated by the fourth quarter and they had no fan base at the game to urge them on. Sad.
Adolfo Kaufman
Aliso Viejo
::
When an MLB player tests positive for performance-enhancing drugs, he is banned from the upcoming postseason.
When an NFL player's test comes up dirty, he gets to go to Disney World with the Super Bowl MVP trophy.
Tom Nelson
Los Angeles
::
If the Lakers square off against the Boston Celtics in the NBA Finals this year, I am not going to watch any of the games.
Paul Burns
Granada Hills
::
We love Bill Plaschke's columns but during Super Bowl week please wrap him in a strait jacket and keep him, bound and gagged, in the cellar.
Jinx problem solved.
Richard Dennison
Goleta
::
When Bill Plaschke made another one of his sterling predictions by emphatically picking the Rams to win Super Bowl 53, I immediately bet the pink slip of my Ferrari, the deed to my Bel Air mansion and every cent I have in the bank on the Patriots!
I can now retire at 25 years old. Thanks, Bill!
Gino Cirignano
Playa del Rey
::
Now I know why it was called Super Bowl 53. It was 53% football and 47% commercials.
Ron Reeve
Glendora
Trade deficit
After watching the Lakers/Pelicans trade saga, I'll I can say is, I want to play poker with Magic.
Brian Haueter
Ventura
::
Is it any wonder the Lakers have faltered lately, even with LeBron back? (See Tuesday blowout in Indiana). The way Magic dangled trade options for Anthony Davis, in which nearly everyone on the roster not named LeBron was expendable, showed an utter disrespect for his players. Not the way to reinforce effort and motivate guys who busted their butts in LeBron's absence. Magic sure knew how to play the game, but he has shown that he knows how to play with people's heads even more.
Ron Ovadia
Irvine
::
The Lakers to their young players: We don't want you, play hard for us. It's funny. A season that began with promise and a sense of renewal is now wreckage. It's so bad I've started rooting for James Harden.
Frank Shapiro
Chatsworth Lake Manor
::
Sometimes the best deals are the ones you don't make. Kuz will be an All-Star, BI will be a 16-point-a-game player, if not the star projected when he was selected as the second pick in the draft, Hart is steady and will play in the league for years, and the Lakers can deal Zo for value. The Lakers have kept their powder dry and will have plenty of salary cap space to sign a superstar this summer or in 2020. Meanwhile, the Pelicans will have little or no leverage as time passes in trying to deal AD. Stay calm and carry on, Laker Nation.
Tom Lallas
Los Angeles
::
So, LaVar Ball says he doesn't want his son in New Orleans. Somebody should remind him of the Golden Rule. He who has the gold, rules. I'm thinking many Lakers fans would love for his son to be traded, anywhere. 
Bob Kargenian
Yorba Linda 
::
We are Clippers fans in our family and although they might not be an elite team I can tell you that most nights they were a scrappy bunch and a lot of fun to watch. I am mystified and very disappointed with the trade of Tobias Harris, arguably their best player.
I must remember to breathe and repeat my mantra: "Trust Jerry West, trust Jerry West."
Larry Weiner
Culver City
::
Long-suffering Clipper fans deserve better than team management throwing in the towel with almost 40% of the season yet to be played.
Noel Johnson
Glendale
Play ball?
Two years ago, the Dodgers ownership said they were saving to make a run at Giancarlo Stanton, who all but begged to play here. They fooled us. Then they said they were saving to make a serious run at Bryce Harper. They fooled us again. Now they're supposedly saving to go all in on Nolan Arenado next year. What's the old adage about being fooled twice?
Jerry Leibowitz
Culver City
::
Ooooh! Be still my heart. Spectrum will allow KTLA to televise 10 Dodgers games, or about 6% of the entire schedule.
Any takers that the TV audience on those dates will exceed that of those games televised exclusively on Spectrum?
Bill Waxman
Simi Valley
Asleep at switch
Sadly, four letters were nowhere to be found in your story about USC recruits leaving en masse to transfer :UCLA. Top recruits are moving to all parts of the country but not a one is mentioned going crosstown. Has savior Chip Kelly's mojo gone the way of Austin Powers' and why isn't he reaping the benefits of USC's iminent demise?
Allan Kandel
Los Angeles
Slippery slopes
Lindsey Vonn is the greatest "female" ski racer? How about greatest ski racer? What American male, pray tell, is greater?
Patrick Mauer
Pasadena
Says it all
The death of the great Frank Robinson brought to mind the following exchange. After Major League Baseball took over the struggling Expos franchise and had him move from an executive position with MLB to manage it, Robinson was chatting with some reporters who were too young to have covered him as a player. One asked him how he hit against the pitchers of his day.
"Like who?" he asked.
"Drysdale?" said one reporter.
"Hit him good."
"Gibson?" said another.
"Hit him good."
"Marichal?"
"Hit him real good."
"Koufax?"
"Nobody could hit Koufax."
Evan Puziss
Mar Vista
::
The Los Angeles Times welcomes expressions of all views. Letters should be brief and become the property of The Times. They may be edited and republished in any format. Each must include a valid mailing address and telephone number. Pseudonyms will not be used.
Mail: Sports Viewpoint
Los Angeles Times
2300 E. Imperial Hwy.
El Segundo, CA 90245
Email:
sports@latimes.com
---
Get the latest on L.A.'s teams in the daily Sports Report newsletter.
You may occasionally receive promotional content from the Los Angeles Times.