Column: Liz Cambage wanted to join Sparks, but she's happy to land in Las Vegas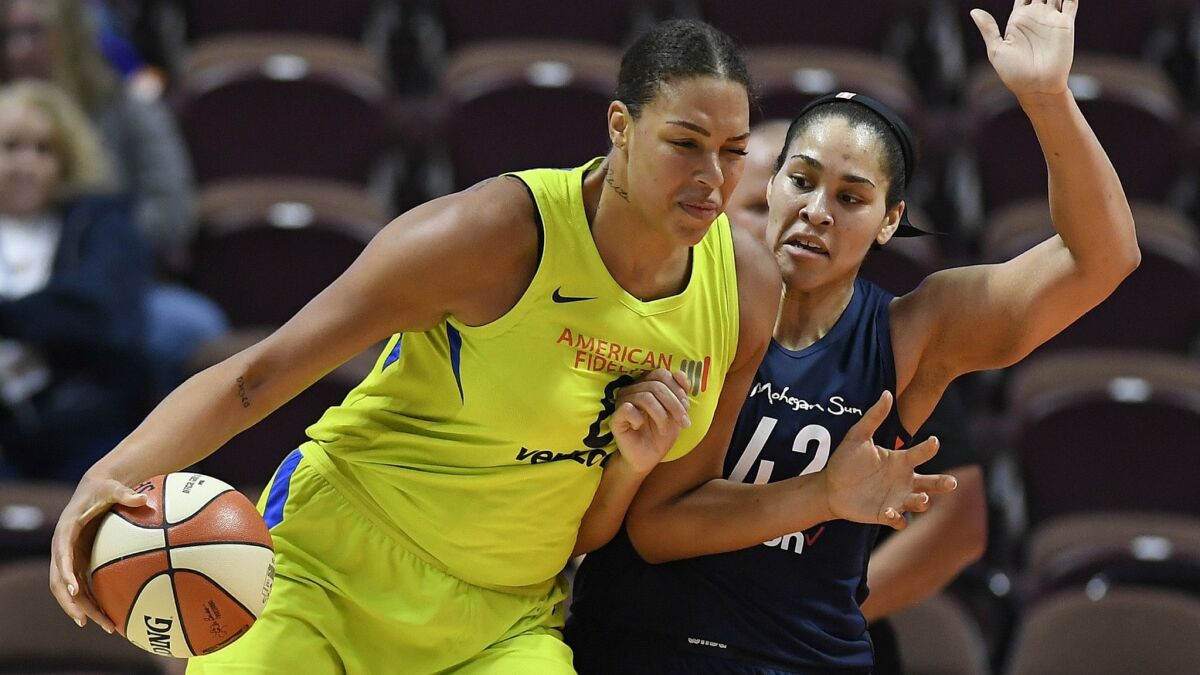 Long after the Las Vegas Aces wrapped up their final practice before their season opener against the Sparks on Sunday, Liz Cambage was still on the court.
As her teammates made their way out of the gym, Cambage was working on post moves with Aces coach Bill Laimbeer and smiling after each shot she made over the former NBA All-Star.
"I've been here for a week," Cambage said. "And the smile has not left my face the whole time."
Cambage, who led the WNBA in scoring and was second in rebounding last season, was traded to Las Vegas on May 16 from the Dallas Wings for point guard Moriah Jefferson, forward Isabelle Harrison and the Aces' first- and second-round draft picks in 2020. It was the culmination to four months of rumors and trade talks after Cambage demanded a trade in late January.
Many people around the league thought Cambage, a 6-foot-8 Australian center who set the WNBA record for points in a game last season when she scored 53 against the New York Liberty, was destined for Los Angeles. She had expressed a desire to play on the West Coast and the Sparks tried to make a deal to land her on multiple occasions.
"It was always Vegas and L.A.," Cambage said. "My family is a 16-hour flight away and L.A. is the first stop, and I want my family to come out here but I don't want them traveling for 20 hours. L.A. is just safe for me. I've always lived by the ocean. I'm a bit of a nature girl and I like to go for walks in the canyon and Joshua Tree is so close to L.A. I have friends and family that live in L.A. It's little things like that but Vegas is just as close and I ended up where I was meant to be."
When Cambage and Sparks forward Candace Parker went to Coachella last month and posted videos on their social media accounts, the common belief was the two were destined to be teammates. The addition of Cambage would have made the Sparks overwhelming favorites to win the WNBA championship. In the end, Las Vegas swooped in to pull off the deal and instantly became title favorites. Cambage and Parker are now the faces of the two franchises likely battling for WNBA supremacy for the next few years.
"Candace is like my big sister for life," Cambage said. "She's been there for me since I was a rookie. She's always there for me and sends me a text to keep my head up. I have a lot of respect for her. Growing up, when I first started watching the WNBA, she was everything I wanted to be."
The Sparks were viewed as the favorites to land Cambage but instead made a deal to land Chiney Ogwumike on April 27. The Sparks acquired the All-Star forward from the Connecticut Sun for their 2020 first round pick, which was going to be a part of any potential deal for Cambage. The trade not only reunited Ogwumike with her sister and 2016 WNBA MVP Nneka Ogwumike but it ended the Sparks' pursuit of Cambage.
"I'm close with Chiney and I've known she wanted to play with Nneka for a long time," Cambage said. "I knew that was always happening. A lot of people thought I would be surprised and upset by it but I wasn't. What's done is done. I'm where I'm supposed to be."
As much as Cambage would have liked to have been in Los Angeles, she realized she was in the right city as soon as she landed in Las Vegas. On her first night in her new home she attended the Electric Daisy Carnival (EDC), an annual electronic dance music festival held in Las Vegas. Cambage, who enjoys performing as a deejay in her free time and is friends with many popular DJs, was mesmerized by the crowd of more than 400,000 that had descended upon the three-day festival at the Las Vegas Motor Speedway.
"I love Vegas," Cambage said. "I think it's so funny that my first weekend here was EDC. I had so many friends in town and friends I don't normally get to see because they travel so much for music so it was nice to have that be my first weekend. Since then it's been work, work, work, but I got a lot of deejay friends that come to town and it's nice to be here. The food and nightlife is great. I haven't spent too much time on the Strip. I've been hanging out off the Strip, getting my vegan food but I've been really happy here."
Cambage is an emotional player who makes no apologies for the way she plays on the court or controversial comments she might make off it. She has often said the WNBA doesn't pay her bills and she could leave the league tomorrow if she wanted to. She's a player that teammates adore and opponents despise, which intrigued Laimbeer, one of the faces of the Detroit Pistons' "Bad Boys" teams that won back-to-back NBA championships in 1989 and 1990. He saw some of himself in her.
"When we were trying to acquire her I told her we were two pretty similar people," Laimbeer said. "We both have great pride in our own individual game and have an attitude. She likes to compete and she likes to win and she says what she wants to say. Sometimes it comes out wrong but she says what she feels and that's good."
While the smile has returned to Cambage's face since being traded to Las Vegas, she's quick to remind people the chip on her shoulder that has made her one of the best players in the league is still there.
"I have the biggest heart in the world and I will fight anyone for all the people in my life," Cambage said. "I'm lovely until you cross me. I'm a … on the court because I have to win. Nothing's changed. I'm always going to be me."
Get our high school sports newsletter
Prep Rally is devoted to the SoCal high school sports experience, bringing you scores, stories and a behind-the-scenes look at what makes prep sports so popular.
You may occasionally receive promotional content from the Los Angeles Times.