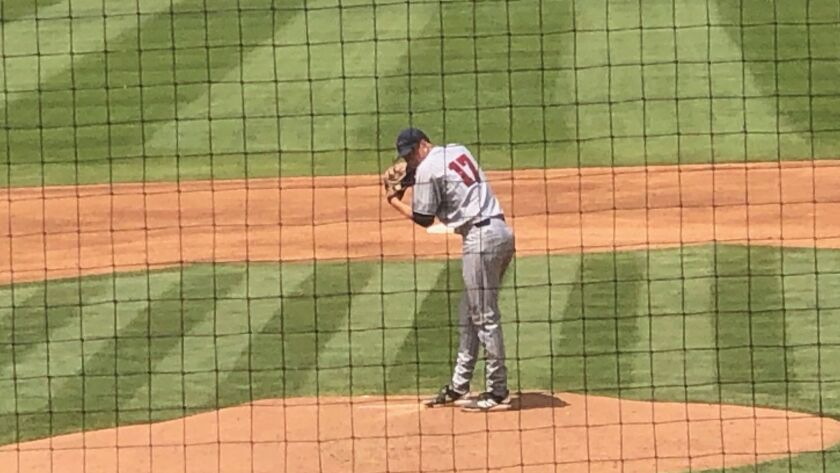 As Loyola Marymount ace Codie Paiva walked off the mound toward the dugout in the bottom of the eighth inning Friday at Jackie Robinson Stadium, Lions fans gave him a loud standing ovation.
Paiva allowed four hits in 7 2/3 innings while striking out five and walking one in helping the Lions defeat Baylor 3-1 in an opening game of the NCAA regional playoffs. It's the first win for Loyola Marymount in the NCAA playoffs since defeating Cal State Fullerton 6-4 in a 2000 regional at USC. Lions coach Jason Gill was an assistant at the time.
"It's a big deal for us," Gill said.
Paiva, whose windup is a little different in hiding the ball from batters for as long as he can until he releases it, mixed his fastball, curveball and changeup in throwing 110 pitches. He came in with a 1.71 ERA as the WCC pitcher of the year. Nick Frasso, a Peninsula grad, came on to retire the final four batters in order for the save.
"He did a heck of a job pounding the zone with a lot of different pitches," Baylor coach Steve Rodriguez said of Paiva
Loyola Marymount scored a run in the second on a sacrifice fly by former El Camino Real standout Dylan Hirsch. After Baylor tied the game with a run in the bottom of the second, the Lions broke the tie with a two-run sixth. Trevin Esquerra's double was misplayed in right field, allowing one run to score, and Tommy Delgado added an RBI single. Delgado, a freshman from South Hills, finished with three hits.
Loyola Marymount, the West Coast Conference tournament champion, advances to play the winner of UCLA-Nebraska-Omaha on Saturday at 7 p.m. at Jackie Robinson Stadium.
Sign up for our daily sports newsletter »
---