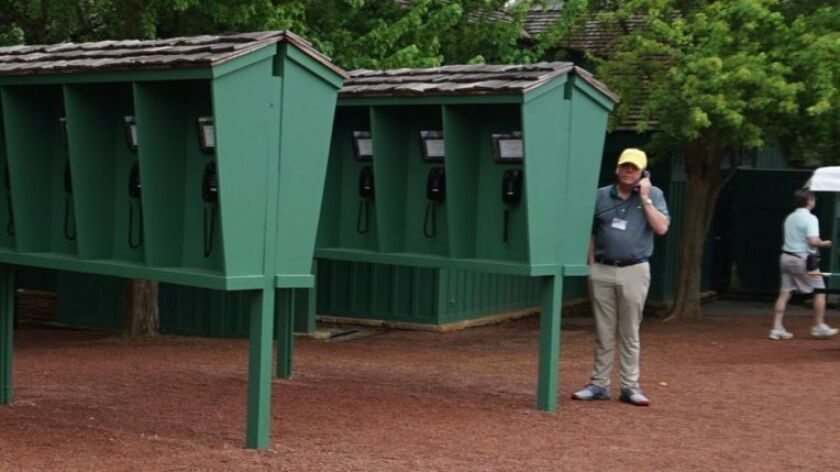 Reporting from Augusta, Ga. —
At any other golf tournament, Tiger Woods doesn't see faces when he's standing on a tee box or walking down a fairway. He sees a wall of cellphones capturing his every move.
Over the years, he has learned to accept that.
At the Masters, he doesn't have to.
Unlike other tournaments of note, the devices are banned at the Masters, the only one of golf's four majors that's held at the same location each year.
Attendance figures aren't revealed at tradition-rich Augusta National Golf Course, but it's been said that the tournament might be the largest gathering of people devoid of cellphones.
"It's nice, isn't it?" Woods said, smiling broadly.
Woods said all the cellphones taking photos and shooting video while he plays during other tournaments don't bother him. "People have learned what is acceptable and not acceptable on the golf course with cellphones," he explained.
"It's very simple. We don't mind you taking pictures. We don't mind you videoing it while we're playing. Just please put it on silent. It took a number of years for most people to figure that out, but now it's not really that bad."
Should they need to make a call, Masters' patrons — that's what spectators are called at this tournament — can use banks of free phones at various locations around the course. But with tickets so difficult to obtain, not many people choose to gab unless it's absolutely necessary.
"It requires people to stop looking at their phones for 10 seconds and pay attention to what's around them," said Dylan Watts, a patron from Raleigh, N.C. "And if there's any place you're going to want to do that, it's here. You've got to stop, look up and look around you."
Rory McIIroy, who is playing in his 11th Masters, noticed a difference as he was playing a practice round on Monday. He said he remarked to his caddie, Harry Diamond, "'How good is it that people aren't looking at their phones?'"
He later said, "Wonderful, isn't it? Yes, there are people with cameras" — allowed only during practice rounds — "but they don't constantly have their face in the device. It's refreshing."
Sign up for our daily sports newsletter »
The no-phones rule applies to the players, too.
"I always like no cellphones," said Brooks Koepka, who missed the 2018 Masters because of a wrist injury but won last year's U.S. Open and PGA Championship. "You don't have to deal with text messages, nothing. It's nice to put it away for a bit."
Put it away, and dial in.
And that's not the only Masters rule that makes it easier for the players to concentrate.
At other tournaments, members of the media are allowed to walk inside the ropes that mark the playing area. Not at the Masters.
There's no running here, either, so the best patrons can do is a brisk walk from hole to hole.
"This event is so different and is so unique," said Woods, who won four Masters championships from 1997-2005. "It's pure golf. It's just player and caddie out there playing. We're prepping together and there's no other distractions inside the ropes.
"Some of the events like the Open Championship — it's usually on very small venues because the golf courses are so old — there's not a lot of room, and there's sometimes 75 to 100 people inside the ropes following us. That gets a little distracting, and it gets a little difficult at times."
There are, in fact, several characteristics that set the Masters apart from other tournaments. The scoreboard is kept by hand. The size of the field — typically 90 to 100 — is the smallest of any of the majors. There are no alternates, and no qualifying events. The 50 highest-ranked players in the world are invited, as are past champions and other golfers who meet certain criteria.
The winner is fitted for a green jacket, similar to the green sports coat that is worn by members of Augusta National while on club grounds.
For defending Masters champion Patrick Reed, stepping onto the course is akin to stepping back in time.
"It's a place that you feel like you can get away," he said. "Nowadays, everything's so much in the fast lane. Everything is so much in electronics, and to be able to come out and get back to what golf is …
"It's the fans coming out and experiencing such a perfect golf course, being able to actually watch golf — not sit there and try to take photos, or video people as they are hitting shots."
A place, he added, where players can "put normal life aside and just slow everything down."
The no-cellphone policy gets quite a bit of credit for that, and the rule is expected to be around a while.
"I think that's something that does set us apart," said Fred Ridley, chairman of Augusta National. "I think our patrons appreciate our cellphone policy. I know that we have become an outlier, if not the only outlier in golf. … But I think it's part of the ambience of the Masters.
"I don't believe that's a policy that anyone should expect is going to change in the near future, if ever. I can't speak for future chairmen, but speaking for myself, I think we got that right."
---