Matt Kuchar apologizes for comments and payment to fill-in caddie and will make amends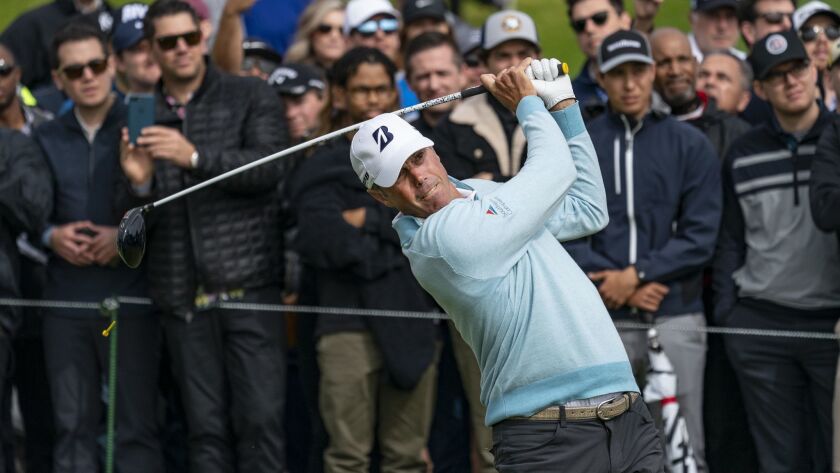 Matt Kuchar, who drastically shortchanged a replacement caddie in a tournament in Mexico three months ago then made a series insensitive comments in trying to defend his decision, apologized Friday and said he intends to pay up.
"That is not who I am and not what I want to represent," Kuchar said in a written statement released as he was finishing his first round at the Genesis Open. "My entire tour career, I have tried to show respect and positivity. In this situation, I have not lived up to those values or to the expectations I have set for myself."
The basics of a story that has gone viral in the golf world: The ever-smiling Kuchar, who has $46.6 million in career winnings, posted a three-stroke victory in November at the Mayakoba Golf Classic in Mexico. It was his first PGA Tour win in four years.
Because his regular caddie wasn't available, Kuchar used a local, David Giral Ortiz. He agreed before the tournament to pay him $3,000, plus an unspecified bonus depending on how Kuchar played. It's customary for regular caddies to be paid 10% of what a golfer wins although a fill-in is normally less expensive.
After winning the tournament and $1.3 million, Kuchar posed for pictures with his caddie and then reportedly handed him an envelope filled with $100s, $50s, $20s and $5s totaling $5,000 — so a $2,000 bonus. Customarily, a regular caddie would have received about $130,000.
Golf.com's Michael Bamberger broke the story last month, and subsequently reported that Ortiz traded emails with Kuchar's agent, Mark Steinberg, writing: "I am a humble man, who takes care of his family, and works hard. I am reaching out to you to see if you can facilitate me receiving a fair amount for my help with Matt winning $1,296,000. I am not looking to disparage Matt or give him a bad name. Fair is fair, and I feel like I was taken advantage of by placing my trust in Matt."
Ortiz was seeking $50,000 as fair compensation, and ultimately turned down Kuchar's offer of $15,000 more for a total of $20,000.
Kuchar confirmed that total to Golf.com, and defended the discount rate he paid Ortiz: "For a guy who makes $200 a day, a $5,000 week is a really big week."
He repeated that sentiment in an interview this week with GolfChannel.com, saying: "I certainly don't lose sleep over this. This is something that I'm quite happy with, and I was really happy for him to have a great week and make a good sum of money. Making $5,000 is a great week."
Amid growing criticism, Kuchar backtracked in his apology.
"This week, I made comments that were out of touch and insensitive, making a bad situation worse," he wrote. "They made it seem like I was marginalizing David Ortiz and his financial situation, which was not my intention. I read them again and cringed."
Kuchar said he planned to call Ortiz on Friday night and has "made sure he has received the full total that he has requested."
The golfer said he also will make a donation to the Mayakoba tournament to be distributed to various philanthropic causes in the local communities.
"For my fans, as well as fans of the game, I want to apologize to you for not representing the values instilled in this incredible sport," he wrote. "Golf is a game where we call penalties on ourselves. I should have done that long ago and not let this situation escalate."
Kuchar shot 68 in his first round and is one over through 13 holes of his second round at Genesis.
Sign up for our daily sports newsletter »
Follow Sam Farmer on Twitter @LATimesfarmer
---
Get the latest on L.A.'s teams in the daily Sports Report newsletter.
You may occasionally receive promotional content from the Los Angeles Times.