Column:: Even on break from major leagues, Mike Scioscia is all about players and the game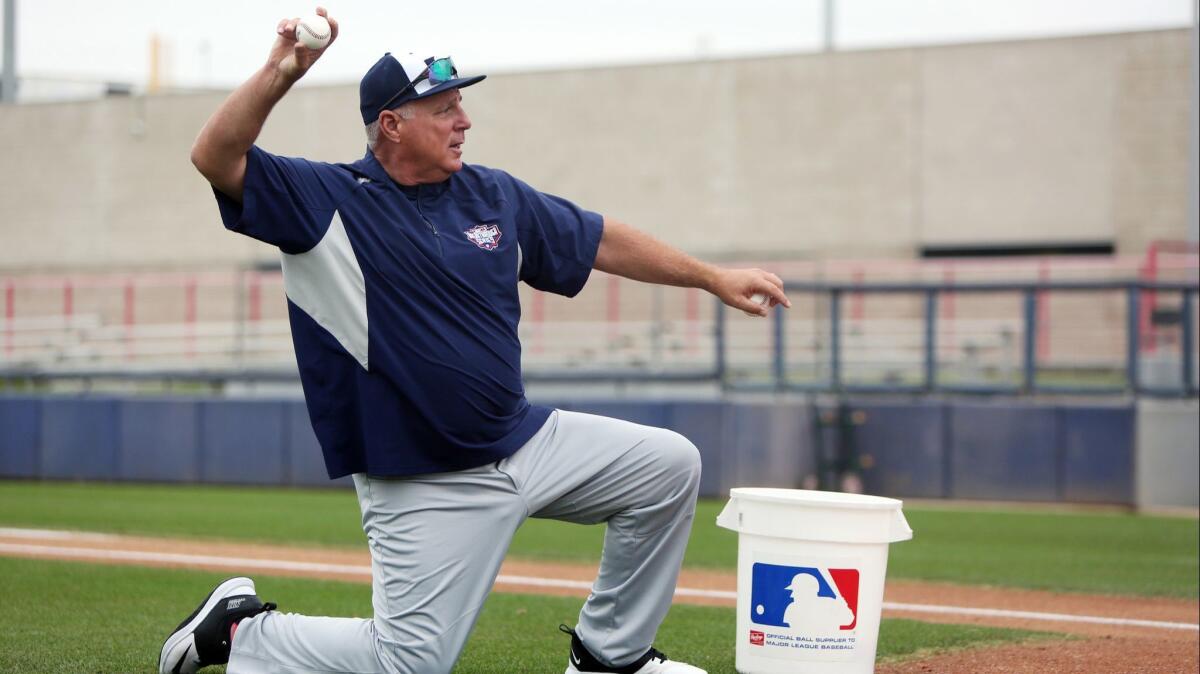 The bear of a baseball man is a familiar sight as he stands in the dirt behind third base, leaning on a weathered fungo bat, cap pushed back on his sunburned face, note card sticking out of his back pocket.
For 39 consecutive years he roamed both of southern California's great baseball fields with an impact unmatched, winning two World Series championships as a player at Dodger Stadium, winning one title as a manager at Angel Stadium. In a career that will almost certainly end in Cooperstown, he has worked in that dirt with everyone from Fernando Valenzuela to Mike Trout.
Yet on this Saturday afternoon his cleats are in Compton, on a field underneath a buzzing freeway and in front of aluminum bleachers that are empty, talking rundown plays with a high school kid who just now figured out who he is.
"He's teaching me all these great things and it didn't click at first, then I realized, wait, this is amazing,'' says Landon Wallace. ''This is Mike Scioscia!''
It is indeed, Mike Scioscia, doing what he has done for the last nine months, hiding in plain sight.
The last time most folks saw him was late September, and he was weeping at his farewell press conference after ending his 19-year career as Angels manager. This followed a 20-year career as a Dodgers player, coach and minor league manager.
He had been arguably the most enduring figure across the entirety of the southern California baseball landscape. Then, just like that, he was gone, disappearing into the shadows often occupied by old-school baseball guys who never cared about the fame.
"I'm not making an effort to get in the limelight or stay out of the limelight,'' Scioscia says with a grin. "I'm just living.''
He hasn't been to Angel Stadium. He hasn't been to Dodger Stadium. He won't say it, but it's clear he just doesn't want to spend even a second detracting from the attention from those wearing the uniforms.
You can find him working the occasional clinic for kids. You can find him working with his foundation's Conejo Oaks summer California Collegiate League team in Thousand Oaks. On this Saturday, he was typically discovered in the middle of working a three-day camp for diverse high school players at Compton's MLB Youth Academy.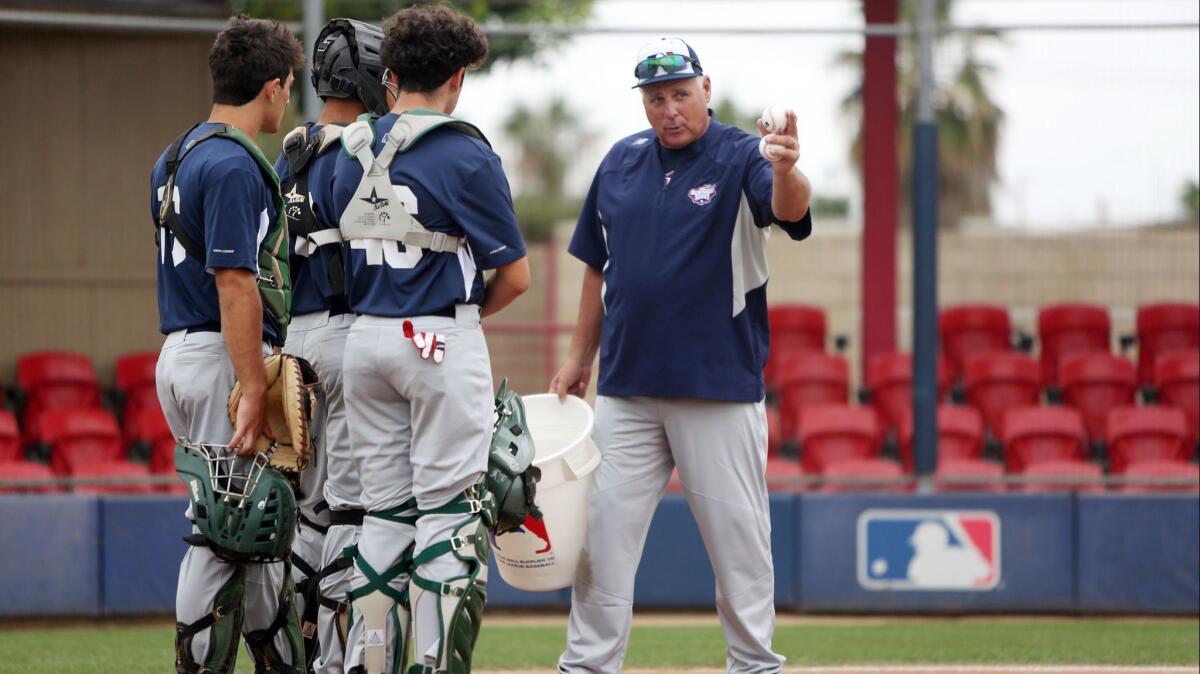 He only agreed to this extended interview in hopes of shining a light on these 60 players from around the country that major league baseball had brought in, cost free, to learn from former managers and stars like Scioscia, Eric Davis and Jerry Manuel.
"Write about these young players,'' Scioscia says. "You're going to see some great kids come out of this.''
Typical Sosh. It's still all about the players. It's still all about the game. He still watches baseball on TV, still studies box scores every morning, pores through sites like Baseball Prospectus, talks to his many friends still in the industry about evolving trends and strategies.
"I've come to the conclusion that there's part of this game you're always going to miss until the day you die,'' he says. "You're going to miss the dugout, the locker room, game prep, competing. I love this game. I'm a baseball guy. This whole time off has given me a chance to recharge that part of me."
After about 10 minutes of conversation, something becomes clear, but the question has to be asked anyway: Would Scioscia be willing to manage again?
"The simple answer is yes,'' he says. "The longer and more complicated answer is, I just don't want to manage to manage. You want to get into a good situation."
In other words, "The bottom line is, if no opportunity arises, I'm loving the opportunities I have now. I'm having a great time. If it's presented to me, I would consider it, but I'm not out there pining for a position.''
Some would say that his final failures with the Angels – he left there after three consecutive losing seasons -- would indicate that the tradition-bound manager can't adjust to the baseball's new analytical world. Borrowing from his celebrated quote from late last season, that's poppycock.
"Maybe he just needs to have his voice be heard somewhere else,'' his former closer Troy Percival told me last summer. "I know this. He's a guy who can still go out and manage and win more World Series.''
Don't talk about his age. He's 60, but there are eight active managers at least that age. Two of those managers, Joe Maddon and Bud Black, learned the craft from him.
As for the analytics, he says this sabbatical has opened his eyes to how the spreadsheets can mix with the strategies.
"It definitely gives you perspective,'' he says. "There are lots of different tugs and pulls on the game. There's the analytic part, there's the old-school fundamental part. I'm understanding more things that you can apply to a team to make them better. I'm looking back and reviewing what worked and didn't work. I'm seeing things through a different lens.''
He believes some things, however, will never change. Listening to him talk about fundamental baseball is like hearing somebody reading slam poetry in front of a rusted backstop. It's still clearly his language, and he speaks it from the heart.
"I love the beauty of playing this game a certain way,'' Scioscia says. "I love the beauty of playing aggressively on the base paths. I love the beauty of a productive out. I love the part where a guy fouls off a tough two-strike pitch.''
He is just getting started.
"I love the 3-6-1 double play,'' he says. "I love the stolen base. I love the first-to-third baserunning. I love the sacrifice bunt that leads to a sacrifice fly that gives you a 3-2 win against somebody like Justin Verlander. There are times in a game when a productive out is going to win you a game. Those are real. Those are tangible.''
Sign up for our daily sports newsletter »
There are many baseball executives who will stop reading that quote the minute they see the word 'bunt.' Scioscia understands this. He understands his future managerial options could be limited by his beliefs in the power of managing. As executives get younger, his views may seem more outdated.
But you never know. Somebody may still want a guy versatile and adaptable enough to play and manage through four decades of championship-style hardball. Somebody may still value a guy who once completely changed a franchise's culture while managing the only World Series championship team in southern California in the last 31 years.
And if not, well, Scioscia will continue tutoring kids in obscurity, teaching them his ancient tricks, preaching a throwback culture that will never go out of style.
"Mike Scioscia is still trying to block the plate,'' says Eric Davis with a grin, and, yeah, that ball still hasn't been jarred loose.
Get more of Bill Plaschke's work and follow him on Twitter @BillPlaschke
Get our high school sports newsletter
Prep Rally is devoted to the SoCal high school sports experience, bringing you scores, stories and a behind-the-scenes look at what makes prep sports so popular.
You may occasionally receive promotional content from the Los Angeles Times.