Column: Groomed for Dodgers greatness, Mike Scioscia is poised to surpass mentor Tommy Lasorda in wins
The story has been whispered through the Dodgers' darkest corners for years.
It's a story of arrogance, ignorance and, ultimately, loss. It's a story about one brief incident in a distant minor league, yet a story that might have forever altered the history of a franchise.
It's about the night Los Angeles lost its Dodger.
The year was 1999, the setting was the Dodgers' triple-A affiliate in Albuquerque, and the moment occurred when Dukes manager Mike Scioscia walked to the mound to make a pitching change.
At that time, Scioscia had spent virtually his entire adult life in a Dodgers uniform, 22 years of quiet devotion to The Dodger Way, a tome that not only taught him, but defined him.
He was first-round draft pick who grew up in their farm system. He played 13 seasons for their major league team while helping them win two World Series championships. He spent two years as their minor league catching coordinator, then two years moving around from bench coach to first base coach to third base coach.
He moved into the managerial seat in Albuquerque ostensibly as final preparation before eventually returning to Los Angeles to run the team. Yet by the time he reached the Albuquerque mound to remove the pitcher on that summer evening in 1999, he had found himself in the employ of strangers who didn't trust him, didn't understand him, and didn't really seem to care about any silly Dodgers legacy.
The Fox Group had taken over the Dodgers from Peter O'Malley a year earlier and cratered the club's history. It traded Mike Piazza, fired Fred Claire and eventually installed a baseball boss named Kevin Malone, who immediately announced himself as the "new sheriff in town.''
The sheriff and his posse didn't buy into the old Dodgers regime, and nobody was more emblematic of those glory days than Scioscia, so it was apparently decided his opinion no longer mattered.
Not even in the middle of the diamond, in the middle of a season, in the middle of a game.
As Scioscia walked to the mound to bring in a new pitcher that night, a Dodgers front-office emissary working in the bullpen had a different idea.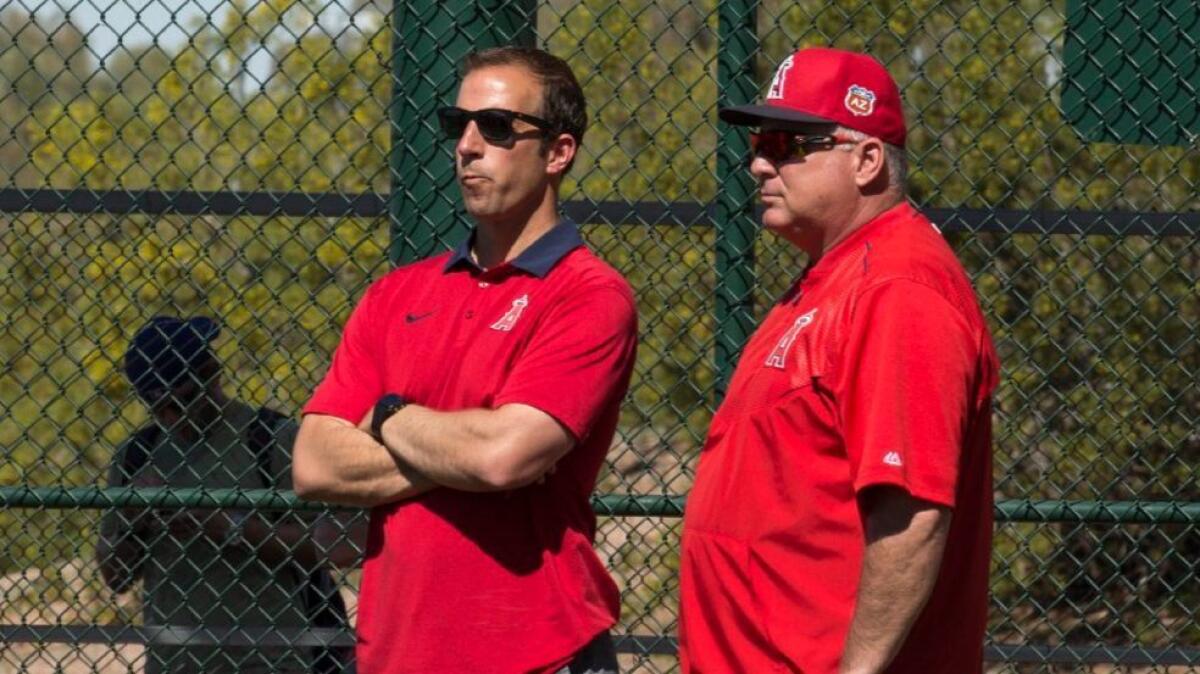 Scioscia ordered a certain reliever into the game, but, at the command of his bosses, a different reliever ran on to the field.
By the time that pitcher arrived on the mound, a stunned and angry Scioscia was essentially gone. He later resigned, creating an organizational wound that, 19 summers later, has been painfully reopened.
Any day now, Scioscia will achieve his 1,600th managerial win for the Angels, one more than his mentor Tommy Lasorda, cementing his departure as one of the Los Angeles franchise's three biggest blunders.
Trading Pedro Martinez, trading Piazza, and snubbing Scioscia.
'It was definitely a mistake,'' Lasorda said this week when asked about Scioscia. "I wanted him to follow in my footsteps."
Shortly after Scioscia and the Dodgers parted ways, Bill Stoneman was hired as the Angels' general manager, was surprised to learn that Scioscia no longer worked for the Dodgers, and called Claire for a recommendation.
"I told Bill, 'I can give you two answers — a long answer or a short answer,'' Claire said. "The short answer is, 'Hire him and you'll never regret it for as long as you live.'''
Today Claire chuckled at the prescience of that statement.
"Nineteen years later, that quote stands,'' said Claire.
Truly, the Angels have reinvented themselves around Scioscia, who, in his 19th season, is the longest-tenured manager in baseball and the second-longest tenured boss of the four major professional sports.
He was the manager of their only World Series championship team. His teams won the American League West in five of six seasons beginning in 2004. He has managed in the playoffs seven times. He has twice been named manager of the year.
Before this season, the final year of his contract, he seemed to be in a rut, the Angels having made the playoffs only once in the last eight years and coming off Scioscia's first two consecutive losing seasons.
But with a well-stocked lineup and the amazing Shohei Ohtani, the 59-year-old Scioscia has been rejuvenated, deftly handling the Ohtani circus and a depleted pitching staff while guiding the team back into seemingly certain playoff contention.
"I'm just thinking about tonight's game, to be honest with you,'' Scioscia said this week, because that's what he's said for 19 years, and, no, the interview for this story isn't going to be any different.
While Lasorda was loud, Scioscia is restrained. He doesn't want to discuss his Dodgers separation. He doesn't want to make a big deal about passing his mentor. He wants to simply thank Lasorda for giving him that Dodgers fire.
"The biggest thing that all of us took from Tommy was competitiveness," Scioscia. "Being in the Dodger organization, you understand the advantages of playing aggressively. Tommy lived that on a daily basis."
Scioscia has never veered from a singular focus of the innings directly in front of him. He's never wanted to be part of the circus. Think some time during the last 19 years of occasional sideshows, the Dodgers could have used some of that?
"I'm certainly not sitting here and looking at any kind of milestone on a personal level,'' Scioscia said. "First of all, they're not my wins. Wins are the result of the whole organization doing the right thing.''
The hiring of Scioscia was only the beginning of an Angels raid of valued Dodgers employees, including coaches Mickey Hatcher, Alfredo Griffin, Ron Roenicke and Dino Ebel, plus scouts Eddie Bane and Gary Sutherland.
Meanwhile, since Scioscia left, the Dodgers have gone through six managers — Davey Johnson, Jim Tracy, Grady Little, Joe Torre, Don Mattingly and now Dave Roberts. Only one of them, Roberts, took the team to a World Series. So far, none of them has stuck around long enough to match Scioscia for playoff appearances.
And, oh yeah, Malone lasted barely another season before resigning in April 2001 after engaging in a verbal altercation with a fan.
Several attempts to reach Malone for this column were unsuccessful, but a couple of years ago, he confessed his mistake to Steve Dilbeck in a story for The Times.
"In retrospect, I wish I'd named Mike Scioscia. I'd like the chance to do it again,'' said Malone, who initially hired Johnson while sending Scioscia to Albuquerque. "It wasn't personal, it wasn't about his ability, it was just where the team was and the consensus and where Mike was. … Should I have been able to project? Yes. I should have recognized it and I didn't."
Stoneman, in making perhaps the greatest hire of his franchise-changing regime, recognized it.
"He came across as a guy who was going to step right in and do things the right way,'' said Stoneman, now an Angels senior advisor, "He had played for the Dodgers a long time, played for good management there, he came across as really intelligent and competitive.''
Paul DePodesta didn't recognize it. The former Dodgers general manager was fired in October 2005 partially because, with a managerial opening following the firing of Tracy, he did not even ask permission to interview Scioscia.
Now, will Cooperstown see it? Some think he will have to win a second World Series championship — like Lasorda — to get into the Hall of Fame. Others feel that as a championship manager ranking in the top 20 in wins, he is headed there already.
One thing is for sure. If he goes in, a guy who played each of his 1,470 major league games in a Dodgers uniform will not go in as a Dodger.
Mike Scioscia will, instead, proudly represent the organization that let him make his own pitching changes.
Get more of Bill Plaschke's work and follow him on Twitter @BillPlaschke
Get our high school sports newsletter
Prep Rally is devoted to the SoCal high school sports experience, bringing you scores, stories and a behind-the-scenes look at what makes prep sports so popular.
You may occasionally receive promotional content from the Los Angeles Times.