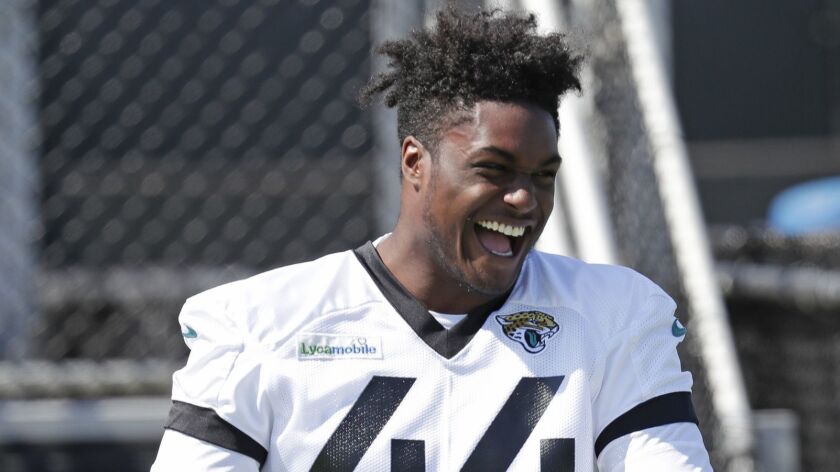 Myles Jack likes taking baths with lit candles in the room (no big deal; we're not here to judge).
Earlier this offseason, the Jacksonville Jaguars linebacker decided it would be fun to make a candle on his own. So he did some research online, concocted a small one with a lavender scent and then took it for a test drive.
"I lit it, and I was reading in the bath, and I was like, 'Oh, OK. This candle's actually all right,'" Jack told USA Today.
Jack posted a photo of that hand-poured candle on Instagram and soon found himself with a new side hustle. The former UCLA star says he's "overwhelmed by orders" for what his website describes as "11 elegant candles with a special touch and warm scents."
At first, Jack said, his teammates gave him a hard time about his new hobby/business venture, but that changed when he brought some samples to the locker room. The lavender, strawberry ice cream and Hawaii scents have proven to be quite popular among the Jacksonville players.
Jack's personal favorite scent is summer rain. Other offerings include baked milk, coffee, mint and pear vanilla.
Jack estimates he's sold close to 1,000 candles, which go for $20 each with proceeds going toward community charity events. So far, it's been a one-man operation — with Jack taking the orders, making the candles and shipping them out himself — but that will probably change once football season gets underway.
"It's only going to get bigger and bigger," he said of his upstart company.
Bleeping Packers fans
There's a cool song getting a decent amount of airplay lately called "Truth Hurts" by an artist named Lizzo.
Perhaps you've heard it? Its chorus, which is repeated three times throughout the track, features the line, "New man on the Minnesota Vikings."
No? Well, maybe you don't listen to enough top-40 radio.
Or maybe you live in Green Bay, in which case you actually may have heard the song but just not that part of it.
Like many radio stations across the country, WIXX-101 — "Your Hit Music Station" in Green Bay — has recently added to its playlist the track, which is currently No. 17 on the Billboard Hot 100. But WIXX also is the flagship station of the Green Bay Packers, whose fans aren't at all fond of their NFC North rivals.
So, unlike all those other stations, WIXX plays a version of the song with the words "Minnesota Vikings" edited out, as if they are curse words (which they basically are in Green Bay).
"Saying them on the Packers' flagship station just felt a little wrong," WIXX music director Otis Day told the Star Tribune.
Day said he considered replacing the Vikings reference with the rallying cry, "Go Pack Go!" But so as not to disrupt the flow of the song, he went with a clean edit, allowing the listeners to hear the "M" at the beginning and "S" at the end (hopefully they don't confuse it with another, actually offensive phrase that begins and ends with those sounds).
Before making the change, Day said, he got the blessing of Lizzo's label, Atlantic Records.
"They kind of chuckled," he told the Green Bay Press Gazette. "They didn't seem to fully understand the reason we couldn't play it. 'Why can't you play it?' ... Because this is Green Bay, man."
Those Packers fans are pretty intense. Can't imagine how they reacted back in 1985 to the "Super Bowl Shuffle," a nationwide hit by another hated rival, the Chicago Bears.
---