Meet Lizzo, a singer and rapper to watch in 2017
Lizzo's performance had been planned weeks ahead of election night.
As the musical guest on the Nov. 9 episode of "Full Frontal With Samantha Bee," the Los Angeles-based singer and rapper was set to celebrate the arrival of America's first female president with an elaborately choreographed run through "Good as Hell," her breakout R&B anthem of female self-reliance.
"We had power suits; we had a Hillary montage; we had red, white and blue," she said recently.
What she didn't have was the expected Hillary Clinton victory.
Yet rather than scrap the performance, Lizzo recontextualized it, opening with a bit of "Lift Every Voice and Sing," often referred to as the black national anthem, before tweaking Donald Trump's campaign slogan to tell viewers, "The only person who can make America great is you." Then she gave her all to "Good as Hell."
"Coming at the end of the show," she recalled, "I figured I could either be a period or an exclamation point."
One of pop music's most promising — and well positioned — young talents, Lizzo, 28, intends to keep exclaiming in 2017, the start of a bewildering new era she says will demand engagement from artists who believe that "this isn't Trump's America just because he's president."
She's entering the year with some wind at her back after the ultra-catchy "Good as Hell," produced by Top 40 hitmaker Ricky Reed, landed on the soundtrack to Ice Cube's "Barbershop: The Next Cut" and led to a deal with Reed's major-label imprint, Nice Life Recording Co.
In October, Lizzo released the impressive "Coconut Oil" EP, with traces of gospel and electronic dance music; she also appeared as a host of MTV's "Wonderland," a live-performance series shot at downtown L.A.'s Imperial Art Studios that just wrapped its debut season.
Now she and Reed (who's also collaborated with Meghan Trainor and Twenty One Pilots) are putting together a full-length album, and she's scheduled to launch a West Coast tour Jan. 20 at the Echoplex in Echo Park.
"It's definitely go-go-go right now," Lizzo said late one afternoon in Burbank. She'd just completed a photo shoot and was still wearing a clingy leotard as she sat curled on a sofa. "There's always somebody to see and somebody to meet."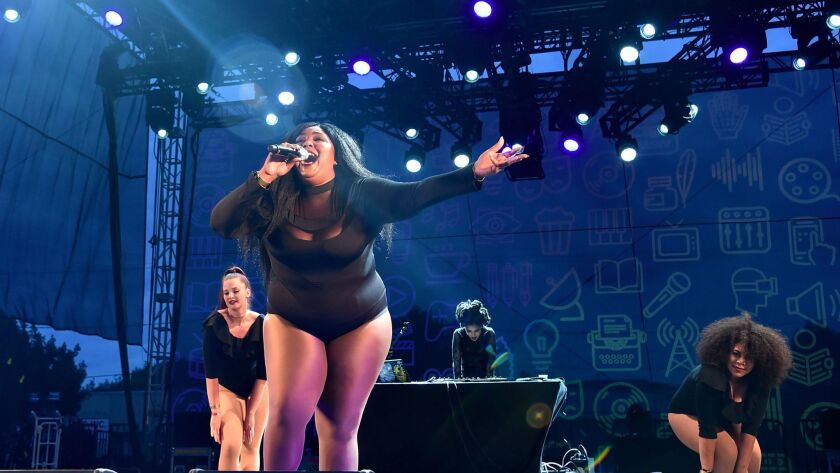 Born Melissa Jefferson, Lizzo grew up in Houston but found her musical voice in Minneapolis, where she made two albums as part of that city's underground hip-hop scene and even recorded with Prince for his 2014 record "Plectrumelectrum."
Yet L.A. beckoned in early 2016. "I was flying here every other week to work on the EP, and then the MTV thing happened," said the singer, a natural choice for television given her easy grin and gregarious manner. "I had to find an apartment in like five days."
Reed, who's nominated as producer of the year at February's Grammy Awards, remembers their first session together. Lizzo's early music had showcased her rapping, so he wasn't sure how strong a singer she was.
"I said, 'Can you hold a pitch if we do anything melodic?' " Reed said. "She was like, 'Yeah, yeah — I sang a little bit in church.' " Then she started in on "Worship," a swinging pop-soul number that ended up opening her EP. "Her voice completely filled the room. It blew my head off."
Indeed, Lizzo's big vocals inspired Reed to "fast-track her to diva-level records," as the producer put it, referring to songs like "Deep," a thumping club tune streaked with chattering West African-style guitar. "I see her up there eventually with Beyoncé and Diana Ross."
Still, "Coconut Oil" doesn't lack for smaller moments, such as the churchy title cut, in which she lays out the virtues of the balm treasured by many African American women. And despite Reed's polished production, Lizzo is still in touch with the scrappy MC's spirit that animated her first two records: "Phone," for instance, is hardly a song at all; it simply strings together Lizzo's thoughts about how she lost her cellphone.
At points, Lizzo said, she worried that the EP might be too eclectic. But it's actually well geared to the streaming age, when listeners can come to a project through any number of avenues. If there's something for everyone on "Coconut Oil," there's also a personality vivid enough to hold it all together.
Lizzo's charisma and quick wit were on display on "Wonderland," in her performances and in her disarming interviews with fellow musicians like Tove Lo. And those qualities are what led the singer's representatives to arrange auditions for other TV shows, including "Empire" and "Underground," neither of which she booked.
The rejection stung. But in the end, Lizzo insisted, she's glad she didn't get the acting gigs because she wants to focus on establishing herself as a musician.
"Right now, there's no better role for me to play than Lizzo," she said.
She means "right now" too. In the new music she's working on, the singer said she feels obliged to address the widespread anxiety about life under the incoming Trump administration.
"If the message of 'Good as Hell' was, 'Girl, you don't need that boy,' how can I make a song that stays true to that emotion but touches people on a national level?"
Her goal, she said, is to "bring people together" — including some of those whose sense of alienation is what attracted them to Trump.
"There's a lot of white people at my shows, and a lot of white people are feeling excluded," she said, adding that she could relate as someone who didn't always feel welcomed by a school of feminist thought that privileged the experiences of white women.
"I didn't like the way that felt, and so I never want to do that to anyone else. If you respect me enough to come to my show, I feel a responsibility to include you in what's going on so you can feel the heartbeat of my struggle.
"You're already here singing my lyrics. You may as well come in deeper."
Twitter: @mikaelwood
ALSO
Why Post Malone has been called 'the Donald Trump of hip-hop'
'This was divinely inspired': A Tribe Called Quest on the year's most surprising comeback
George Michael always knew he was a serious artist. Then he went on to convince the world
---
Your essential guide to the arts in L.A.
Get Carolina A. Miranda's weekly newsletter for what's happening, plus openings, critics' picks and more.
You may occasionally receive promotional content from the Los Angeles Times.