Richard Petty plays NASCAR King-maker once more with gift to Jeff Gordon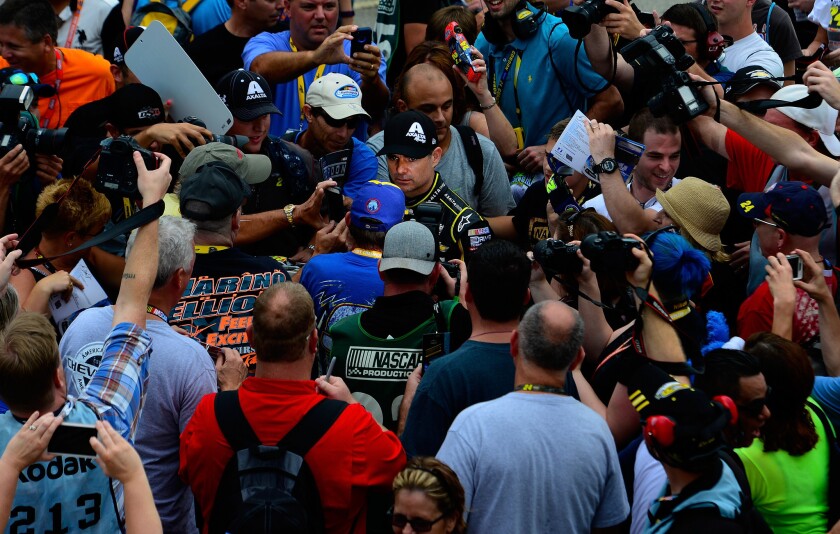 HOMESTEAD, Fla. —
Jeff Gordon still has the special memento from his first race in what is now NASCAR's Sprint Cup Series.
Gordon's debut in that 1992 race at Atlanta Motor Speedway also happened to be the final race for NASCAR's winningest driver, Richard Petty. To mark the occasion, during the drivers' meeting that day the King gave each of his fellow competitors a money clip inscribed with his name and starting position.
With Gordon preparing for his final race in pursuit of his fifth season championship, he received a visit Saturday at Homestead-Miami Speedway from the seven-time champion bearing two gifts.
To thank Gordon for his contributions to the sport, Petty presented one of his trademark cowboy hats with his signature on the brim. He also gave Gordon 93 dollar bills for the money clip, one for each of his career victories.
The encounter took place in private, away from view of crowds and media gathered for Gordon's farewell race on Sunday. Richard Petty Motorsports tweeted photos of the exchange of gifts.
Petty's son, Kyle, told the tale during the NBC broadcast, and added a final detail. Richard Petty has one more dollar that he hopes to present on Sunday.
Gordon must earn that one, just as he did the other 93.
At his final race at Atlanta this season, Gordon said, "I know I have told this story many times; I still have that money clip that Richard handed out that day with my starting position. I wasn't that proud at the moment because we started 21st, but I will remember that forever."
Historic chance
Gordon's 31st-place finish that day was no indication of what was to come. Vying with Kevin Harvick, Kyle Busch and Martin Truex Jr. for the Sprint Cup Series championship in Sunday's EcoBoost 400, Gordon will have a chance for a more memorable finale than Petty, who finished 35th in his.
Asked what it would mean to walk off with his fifth championship in his final race, Gordon said, "Is that even a question? That's crazy. I mean, that's life-changing. It's something that — I mean, I'm sure it's been done in some sport, but I don't think it's ever been done in this sport.
"But that's too much for me to think about. I have no idea. It would be the best one I ever did. I can tell you that."
For what it's worth, Gordon had the fastest lap among the Championship Four in Saturday's final practice session as drivers experimented with tires and setups for Sunday's race.
His speed of 173.321 was ninth overall, just ahead of Truex. Busch was 17th, and Harvick was 26th at 169.972.
Title for Buescher
Kyle Larson won Saturday's Ford EcoBoost 300, but the greater glory went to Chris Buescher, a 23-year-old Texan who clinched his first Xfinity Series title by finishing 11th. That was evident as Larson spurned the usual post-race burnout, leaving the celebration to Buescher, who won two races and had 11 top-five finishes among 33 starts.
"I'm not a points racer; I don't like it. It's not the most fun way to run the last 10 races of the season, but it's important. That's what we've been fighting for since February," said Buescher, who drives for Roush Fenway Racing. "No mechanical failures or DNFs; that's a huge accomplishment for this team."
Larson spent much of the race dueling for the lead with Busch, the only Championship Four driver who ran the second-tier event. Busch, known for his eagerness to race anything, any time, anywhere, won the pole and led 64 of the 200 laps before crashing and exiting with 15 laps remaining.
A penalty for an uncontrolled tire in the pits with 24 laps to go sent Busch to the back of the pack on a restart, and he bumped with Darrell Wallace Jr. soon after.
---
Get the latest on L.A.'s teams in the daily Sports Report newsletter.
You may occasionally receive promotional content from the Los Angeles Times.