Column: Her first set of clubs was whittled from branches. Now Pratima Sherpa hopes to become Nepal's first pro golfer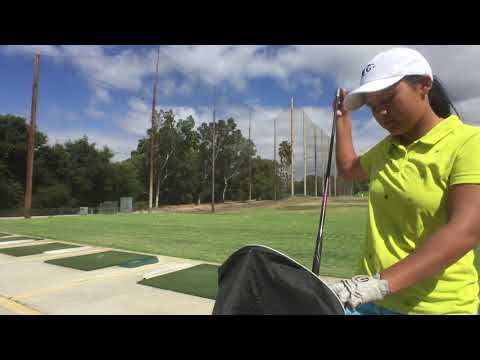 Pratima Sherpa has been working hard to become Nepal's first golf star despite being born in a poor family and challenging Nepalese cultural norms as a young female golfer.
When junior golfer Pratima Sherpa lists the Royal Nepal Golf Club as her home course, she is being literal.
The 17-year-old has lived her entire life in a maintenance shed between the third green and fourth tee.
When she talks about the pleasure of smacking drives with a wood, she is being serious.
Her first set of clubs was whittled from branches that fell from the trees lining the course.
When this 5-foot-2 powerhouse from Kathmandu says she is trying to do the impossible, she means it.
"Where I'm from, people from poor families are not supposed to even be able to touch a golf ball," Sherpa says. "I tell everyone, 'I will show you.'"
She's already shown us, this indomitable girl who grew up watching an exciting world walk past her front door and decided to join it.
"This is bigger than someone who is just good at golf," says Oliver Horovitz, a caddy and author who discovered her two years ago. "This is completely upending the very notion of what golf is."
If you were around a Southern California golf course during the last six weeks, you may have seen Pratima Sherpa. Staying in the homes of several benefactors, Sherpa played in five different junior tournaments. She won one, finished in the top six in two others, and marveled at everything.
On my home course, if you're on the fairway and look up and see a leopard on the green, you take a withdrawl.
— Pratima Sherpa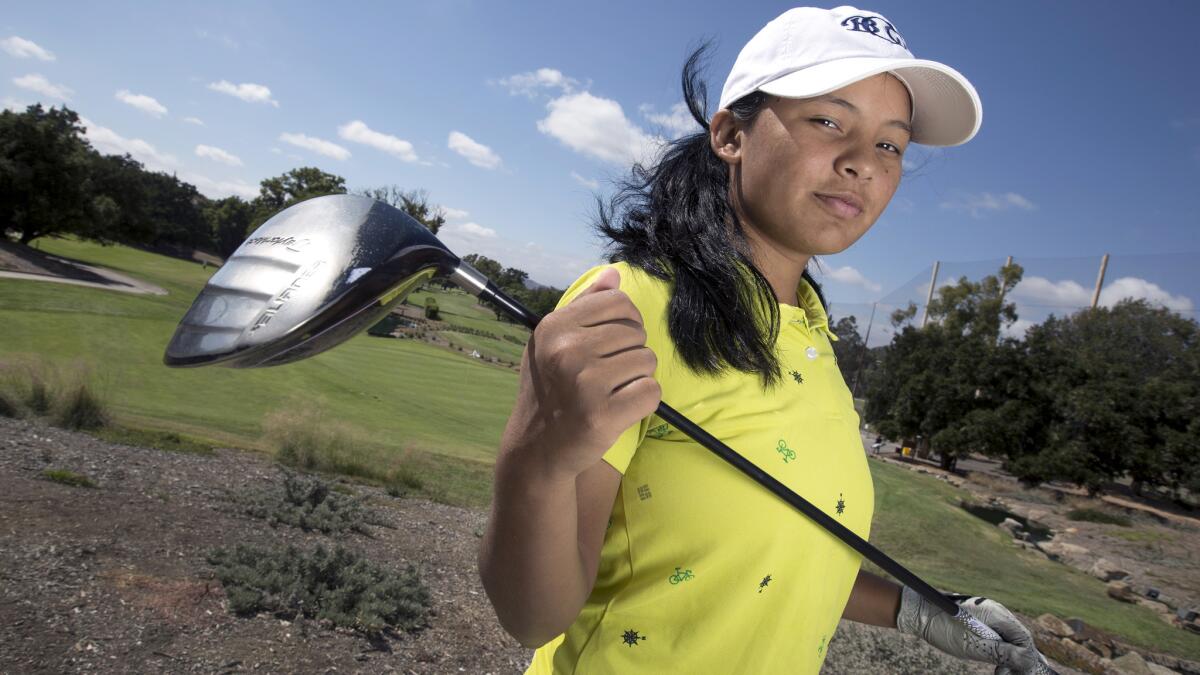 She was able to use shiny new golf balls, unlike on her home course, where locals play with dull used balls so the monkeys won't mistake them for eggs and steal them.
"A monkey steals your ball, you get a free drop," she says with a shrug.
She was able to use shiny new clubs that increased her already prodigious drives by 20 yards, 230-yard blasts that don't require strategic positioning to avoid a different sort of hazard.
"On my home course, if you're on the fairway and look up and see a leopard on the green, you take a withdrawal," she says.
For the first time, she traveled to tournaments on something other than a city bus, played rounds where people didn't stare at her, and actually saw real PGA players on television. For the first time, she saw the possibilities, and now they seem endless.
"I have confidence now," she says, laughing. "Maybe too much."
Her story is so compelling that nearly 100 people showed up Sunday to bid her farewell with a fund-raising dinner at the Himalaya restaurant in Thousand Oaks. It was arranged by Nepal native Deven Pandey, his wife Jo Anne and his children Akash and Harmony.
"Whether she wins or loses, she is already a winner because every time she steps on that first tee box, she is giving hope to underprivileged children everywhere," said Pandey, a software manager from Thousand Oaks whose family hosted her for 10 days.
Sherpa is tentatively scheduled to return to Southern California next spring to begin classes at Santa Barbara City College, where she hopes to continue her quest to become Nepal's first female professional golfer and one of the most unlikely pro athletes in any sport.
In all, about a million strokes from the fairway outside that shed.
"But at least I have a chance," she says.
Her discovery was completely by chance.
In April 2016, Horovitz was working on a story about golf in Nepal when everyone kept telling him about this teenage girl who was conquering a golf course where she literally lived.
"I met her and I was totally, totally blown away," Horovitz said.
She has lived her entire life in one room of a tin shed on the course. It's also occupied by various mowers and landscaping equipment. Her father Pasang Tsering is one of the course's longtime maintenance workers, while her mother Kalpana helps with the groundskeeping.
They share one room about the size of a large American bathroom. There is no heat, no air conditioning, and no Internet service. They shower outside underneath buckets. Sherpa used to hang outside and dream.
"Every day, I sit on the ground in front of my house and see so many people playing golf," she says. "I think, 'Why can't I become one of them?'"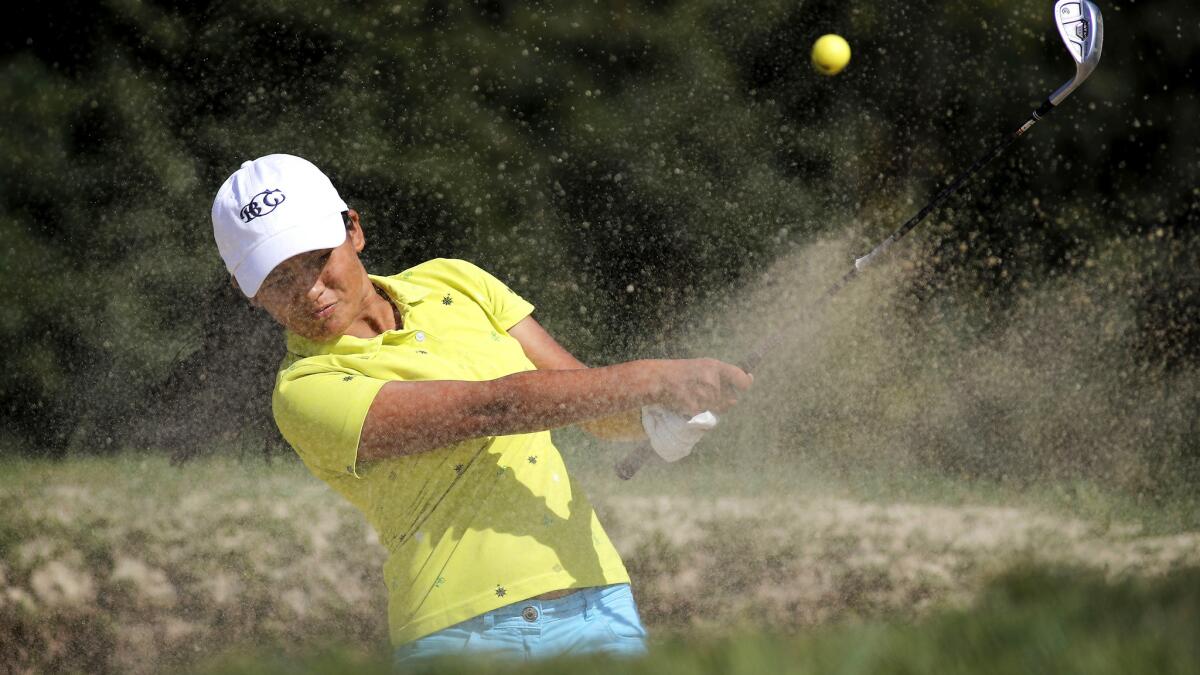 Yet for her to become a golfer would be like a kid growing up in a Rose Bowl storage room becoming a football player, or a baseball player who was raised in the Dodger Stadium bullpen.
"Golf is a rich man's game," she says. "Do you want to feed your family, or do you want to play golf?"
She decided that she wanted to do both. She began by swinging those whittled sticks at lost balls. She joined a free junior golf program. After growing up watching others play, she picked the game up fast.
"She steps up on the tee so nice and sweet, then she just rips it," Horovitz says.
Her first real clubs were donated. Her coach, Sachin Bhattarai, offered his services for free. She won seven of the first nine tournaments she played in last fall. Folks began lining up outside Royal Nepal's chain link fences to watch her play. Horovitz introduced her to the world in a Golf Digest story in October 2016. Tiger Woods sent her a personal letter. The website teampratima.com was launched. Several American families took notice. The dream took shape.
"I am now the lucky one," she says.
The luck came from constant practice that she downplays as being a regular part of her existence.
"I should be able to play a lot of golf," she says. "I mean, I live on a course."
The club workers greet her on every hole like they're her family. Her two dogs — a third was eaten by a leopard — lounge in the bunkers. She picks up her mail at the club's front desk.
Before she departed LAX this week, she hugged the Pandey family and wept. She said she will be back.
"I know it is impossible," Pratima Sherpa says with the firmness required of an uphill putt from a maintenance shed. "But I know I can do it."
Get more of Bill Plaschke's work and follow him on Twitter @BillPlaschke
Get our high school sports newsletter
Prep Rally is devoted to the SoCal high school sports experience, bringing you scores, stories and a behind-the-scenes look at what makes prep sports so popular.
You may occasionally receive promotional content from the Los Angeles Times.