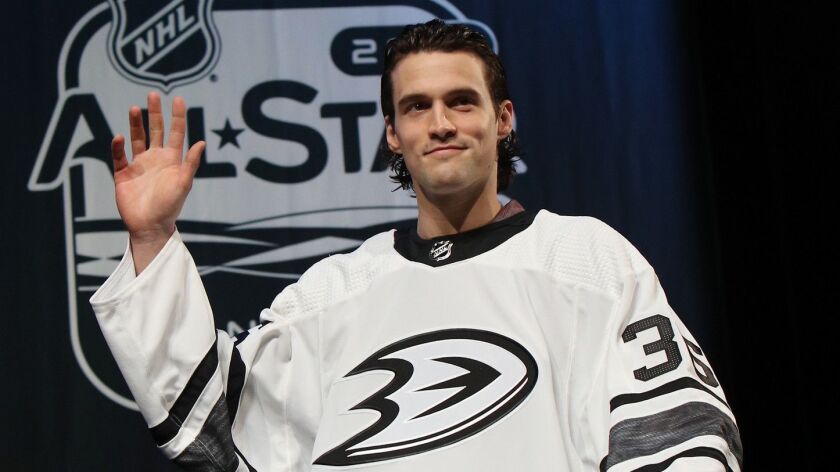 Reporting from SAN JOSE —
John Gibson was smiling, a rare sight these days. The Ducks are in a 2-10-4 nosedive and they've subjected their outstanding young goaltender to a league-high 1,361 shots, which is borderline criminal. Gibson's NHL-best 1,251 saves is the only reason the Ducks haven't completely bottomed out.
Being chosen to represent the team at the NHL All-Star weekend brought back Gibson's grin. He deserves to have some fun, and that's what the skills contests on Friday will be. Same for the division-based, three-on-three mini tournament that will be played on Saturday at SAP Center. There won't be any hitting and defense will be notably absent — kind of like most Ducks games recently, so Gibson should feel comfortable. In any case, the timing of the festivities is just right to revive his spirits. "Definitely," he said during Thursday's media day event. "As far as our team, I think it's definitely a good time to have a break."
Gibson, a two-time All-Star at 25, leads the charge of young players who will showcase their talents here. The emergence of youthful stars is an overriding theme. "It's awesome," Gibson said. "It shows the way that young guys are now able to step right in and take control and take charge of the game."
Nikita Kucherov of Tampa Bay, who leads the NHL in scoring with 78 points, is 25 years old. Colorado's Mikko Rantanen, 22, is second in scoring with 74 points, one point ahead of 25-year-old Johnny Gaudreau of Calgary and 22-year-old Connor McDavid of Edmonton. "The league is getting younger and it's getting faster as well, when you have a lot of young players," Rantanen said. "I think it's good for the league that they can make a big impact on their team. It's a lot of fun to watch."
Chicago's Patrick Kane, fifth in scoring with 71 points, is the old man of the top 10 at age 30. "It's a young man's league," he said. "Seeing these guys come in, maybe in the past their primes were 26, 27, 28. Now your prime is maybe 22, 23, 24. So it's definitely become a younger man's game."
Pacific Division coach Bill Peters of the Calgary Flames said he plans to keep together players who are already teammates, such as McDavid and Leon Draisaitl and two of San Jose's three representatives, forward Joe Pavelski and defensemen Erik Karlsson — who plans to play despite missing three games because of a lower-body injury — and Brent Burns. The same strategy will apply for the other three teams, where possible. "I think there's going to be a lot of common sense," Peters said. "It will be a lot of fun and they'll figure it out."
Two other aspects of this All-Star game will stand out. Players will wear jerseys made of recycled marine plastic materials, and those jerseys will contain tracking devices that will record data such as how fast and how far they skate and how hard they shoot. The puck also will be equipped with tracking technology. It's part of the league's drive to increase the amount of information available to fans and bettors, significant for a league that has partnered with MGM Resorts.
The applications are infinite for coaches and players too. "I'm just concerned that people are going to know how bad my shot is now," Philadelphia Flyers forward Claude Giroux joked. "It should be interesting to see the stats that they come up with."
Goalie Devan Dubnyk of Minnesota was intrigued when he saw the tracking device attached to the chest of his jersey.
"My secret is going to be out that I don't go anywhere," he said. "There's going to be a little black dot in the middle of the crease and that's going to be my total area of travel. I think it's very cool, just the idea behind it of giving fans different things to look at it and actual numbers on how guys move and how many miles they cover."
This will be the fourth time the NHL will use the three-on-three tournament format in place of a single game. The full games had become irrelevant because of the lack of physicality, but the three-on-three games keep players' interest. So does the prize money, which has been $1 million shared by the winning team. "I like the three-on-three better," Columbus and Metropolitan Division defenseman Seth Jones said. "The guys can showcase their skill a lot more. There's a lot more open ice to make plays and you see the speed for sure. Creativity and skill is most important in three-on-three."
Anything that promotes creativity and skill from young or old is welcome.
Follow Helene Elliott on Twitter @helenenothelen
---