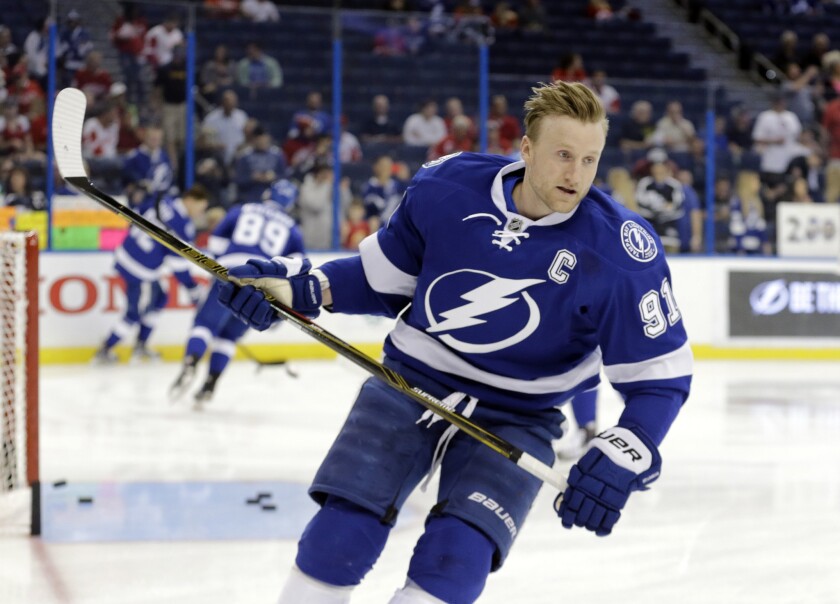 It's not often that a general manager issues a statement to say he's not going to trade a player. But speculation over Steven Stamkos' future with the Tampa Bay Lightning, which only increased after the Toronto Maple Leafs made another trade last week to create salary-cap space, led Lightning General Manager Steve Yzerman to declare that he's keeping the high-scoring center, who can become an unrestricted free agent this summer.
"As February 29 approaches, I am stating today that Steven Stamkos will not be traded before the NHL's trade deadline," Yzerman said Monday. "I have said repeatedly that it is our hope to reach an agreement with Steven on a new contract at some point, and with 27 games remaining in the season, our entire organization, Steven included, wants to focus on making the playoffs. I will keep the negotiating process strictly between the involved parties and have no further comment on the state of those negotiations."
See the most-read stories in Sports this hour>>
Taking Stamkos off the market — at least until the season ends — takes some of the frenzy out of pre-deadline trade conjecture. The biggest names left aren't very big: Vancouver Canucks defenseman Dan Hamhuis probably will draw interest, though he'd have to waive his no-trade clause. The Kings, who need defensive depth, were interested in him a few years ago; the Chicago Blackhawks are looking for a second-pairing defenseman but salary-cap issues could prevent them from making a move there or for a top-six left wing.
The Winnipeg Jets seem likely to trade left wing Andrew Ladd before he hits free agency and the Edmonton Oilers have made a healthy scratch of once-coveted defenseman Justin Schultz. But the Ducks, who last season gambled by keeping left wing Matt Beleskey before losing him for nothing in free agency, might decide to keep impending restricted free agent goaltender Frederik Andersen as insurance behind currently injured John Gibson. Although useful left wing Chris Stewart will be sidelined for about a month because of a broken jaw, the Ducks (16-4-2 since the Christmas break) have been getting more scoring from more sources lately and could be in good enough position to make only a minor move or two before the deadline.
Wild thing
The only surprise about the Minnesota Wild's firing of Coach Mike Yeo is that it took General Manager Chuck Fletcher so long.
Fletcher waited until Saturday, after the Wild's eighth consecutive loss and 13th in 14 games left the team five points out of a wild card playoff spot with 27 games left. Yeo was replaced by interim Coach John Torchetti, a name that is familiar to Kings fans. Torchetti was the Kings' interim coach after then-General Manager Dave Taylor fired Andy Murray with 12 games left in the 2005-06 season. Taylor's desperate attempt to get the Kings into the playoffs failed when Torchetti went 5-7, and both were gone before the next season.
Fletcher's motivation is the same as Taylor's was then, and the outcome probably will be the same for a team that has been much less than the sum of its players' talents.
The Wild, which hasn't advanced past the second round of the playoffs since 2002-03, has a top-heavy payroll led by the $7.538 million salary cap hits of left wing Zach Parise and defenseman Ryan Suter. Like them, forwards Mikko Koivu ($6.750 million), Thomas Vanek ($6.50 million) and Jason Pominville ($5.60 million) have no-movement clauses. Fletcher has given himself little flexibility to shake things up.
Fletcher had the decency to accept responsibility for the current mess. But that doesn't fix the problem, or explain why the Wild seems to struggle around mid-season and lose confidence.
"Clearly when you let somebody go, there's a tendency to point the finger at him," Fletcher told reporters in Minnesota. "But where we're at resides with all of us, starting with me, with the players, with the leadership group, with everybody. We all need to be better, and that's the goal going forward."
Torchetti, 10-12-4-1 as interim coach of the Florida Panthers during the 2003-04 season, made his Minnesota debut Monday at Vancouver. He had been coaching Minnesota's top farm team in Iowa and was familiar with some of his players, but that might not mean much. Changing a defeatist attitude is more important than changing bits of strategy.
In Torchetti's first game, the Wild beat the Canucks, 5-2.
Slap shots
Montreal Canadiens goalie Carey Price, sidelined since Nov. 25 because of a knee injury, has been skating but hasn't been wearing pads or other gear. The French newspaper La Presse reported that Price is finished for the season because of a torn knee ligament, but Coach Michel Therrien has disputed that.
Florida Panthers forward Jaromir Jagr celebrated his 44th birthday Monday with typical humor. "I feel 24 today," he told reporters. "It doesn't matter how many birthdays you've had in your life. It's all a matter of how you feel." Jagr ranks fourth all-time in the NHL with 739 goals and fourth with 1,842 points. He ranks sixth in assists with 1,103 and 10th in games played with 1,604.
NBC and NBCSN will combine for a tripleheader Sunday as part of Hockey Weekend Across America. NBC will broadcast the Penguins at the Buffalo Sabres and the outdoor Stadium Series game between the Blackhawks and Wild at TCF Bank Stadium at the University of Minnesota. NBCSN will close the day with the Detroit Red Wings at the New York Rangers.
Follow Helene Elliott on Twitter @helenenothelen
---