Column:: Women lead remarkable U.S. medal resurgence at the Olympics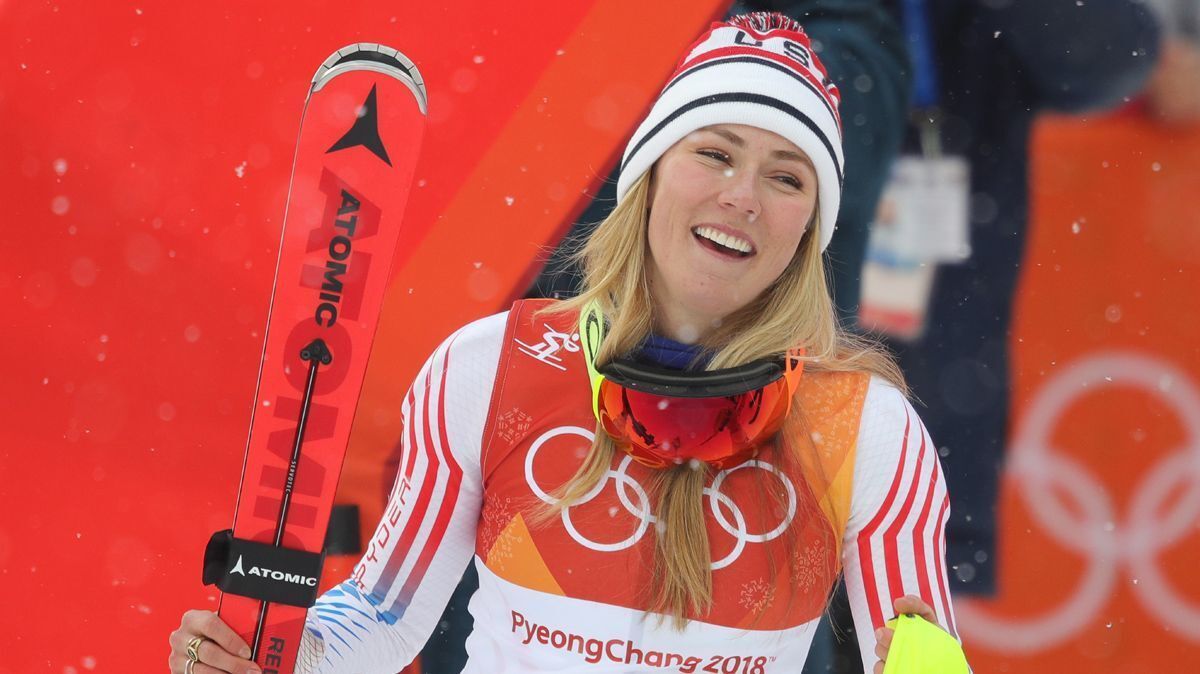 Mikaela Shiffrin collected another stuffed Olympic mascot Thursday, the plush toy an IOU of sorts for the silver medal she will later receive.
Shiffrin is one of the United States' signature athletes and the Alpine combined is one of her signature events. Her second-place finish at the Jeongseon Alpine Centre was significant on its own.
Her return to the podium, however, was part of something larger.
The U.S. has started to win medals.
Shiffrin was part of a U.S. female contingent that has reversed a trend of American futility through the first 11 days of these Games. The U.S. entered Wednesday with only 12 medals, including Shiffrin's gold in the giant slalom.
The U.S. won four medals Wednesday, among them the country's first in cross-country skiing, a gold in the women's sprint free final. The run continued Thursday. Snowboarder Jamie Anderson claimed silver in the women's big air. Freestyle skiers David Wise and Alex Ferreira followed by finishing 1-2 in the men's halfpipe.
The highlight came in the afternoon, when the U.S. women's hockey team defeated four-time defending champion Canada in a shootout to win its first gold medal since 1998.
The women have taken center stage, continuing what has become a custom in the Winter Games.
Women were responsible for every U.S. medal won Wednesday, with Lindsey Vonn awarded bronze in the downhill; Elana Meyers Taylor and Lauren Gibbs silver in the bobsled; Heather Bergsma, Brittany Bowe, Mia Manganello and Carlijn Schoutens bronze in the speedskating team pursuit; and Kikkan Randall and Jessica Diggins gold in the cross-country skiing team sprint free.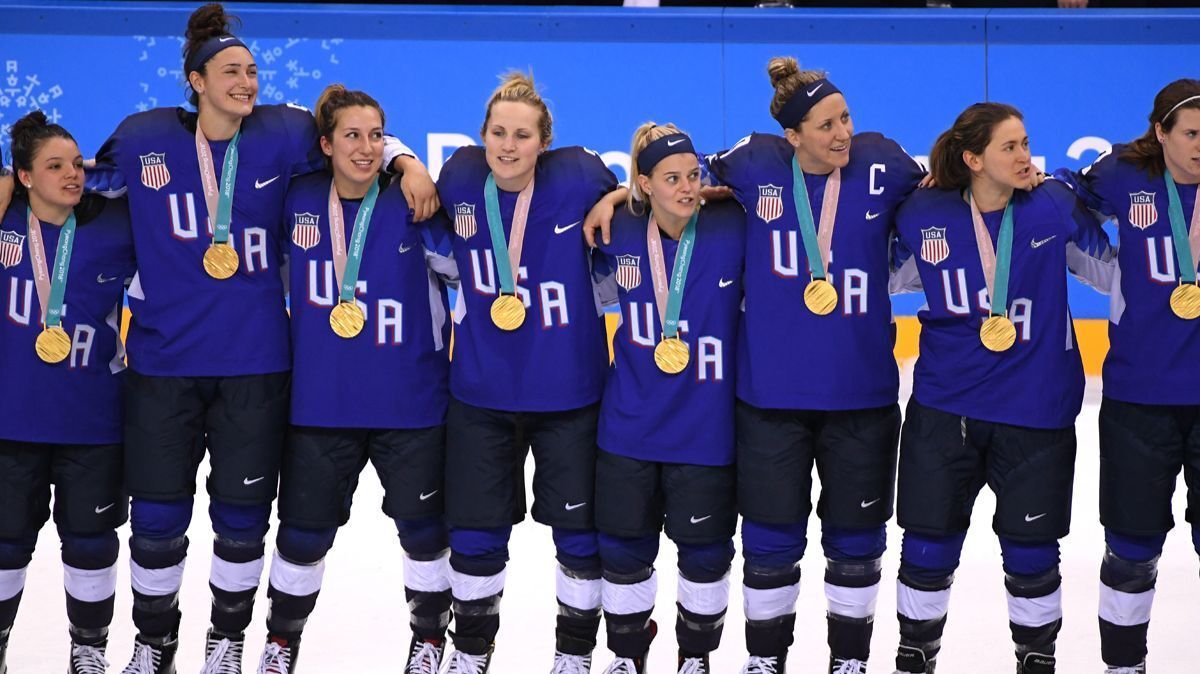 "To be part of that group of powerful women, it's a dream come true," said Meyers Taylor, who is now a three-time Olympic medalist. "To win our medal on the same day as some of these incredible women, it was, you know, 'Yes, girl power, women roar.' It was such a magical day."
The hours after winning a medal can be frantic.
"Good thing we're endurance athletes," said Randall, one of the cross-country skiers.
For the cross-country skiers, there were multiple television interviews, including an appearance on the "Today Show," as well as a party at the USA House and a reunion with teammates at the athletes' village.
But unlike Vonn, who has major endorsement deals, most of these women will return to relatively humble and anonymous lives. Fame and fortunate are not a part of their futures.
Corny as this might sound, their greatest reward is to learn of the effect they have on others.
Asked what her gold medal could mean for cross-country skiing in the United States, Diggins said, "I really hope it's as inspiring as Bill Koch's medal was for me. I still have his poster above my bed at home. It's still there."
Koch won a silver medal for the United States at the 1976 Innsbruck Games. He was the only North American skier to win an Olympic medal until Wednesday night.
"I'm excited to think maybe we could be those people for the next generation," Diggins said.
Her relay partner, Randall, wondered whether their upset triumph could increase the number of casual participants in their sport.
"I think there's a great opportunity here to get out and enjoy the sport of cross-country skiing," Randall said. "Not all Olympic sports can be done by the regular person. You can't always go in a bobsled or go off a ski jump but everybody can cross-country ski."
The medal was a reward for Randall's perseverence. The Alaskan was 44th in a field of 58 in her first Olympic race, the individual sprint at the 2002 Salt Lake Games.
"It was a belief that started as a glimmer and grew into a flame," she said.
Randall spoke of the culture the U.S. cross-country skiing program has developed since then.
"I know the culture we've been able to create here is going to create champions long into the future," she said.
Gibbs didn't commit nearly as many years as Randall to become an Olympic medalist. She was working in Colorado as the manager of an online retailer when she was recruited to bobsledding.
She still thinks her story has a significant message about the power of commitment.
"When I graduated from college, I was told I could do great things and be great, but I didn't know what that meant and what it would feel like and the work that it would take," Gibbs said. "I went to a good school, played sports, things came relatively easy for me. Whenever I would get faced with adversity, I would always go do something else. Bobsled is the first time I decided win, lose or draw, I was all-in for all four years. I figured if I was going to step away from a very lucrative career, I owed it to myself and my family to see this through to the very end."
At 34, Gibbs is an Olympic medalist.
The driver of her sled, Meyers Taylor, participated in PG&E's "Love Over Bias" campaign leading up to the Olympics. In a short video, she spoke of the difficulties she encountered growing up as a tomboy.
"I got a letter from a mom and she was telling me about how her daughter is a tomboy and the trouble she has in classes and being around boys," Meyers Taylor said. "She herself had the same kinds of problems growing up and how inspired they were by me. That was such an incredible email to receive."
Meyers Taylor had her own problems in the months leading up to the Games, as she was grief stricken over the death of close friend and bobsled icon Steve Holcomb. A three-time Olympic medalist, Holcomb was found to have prescription sleeping pills and alcohol in his system, according to a toxicology report.
The medal was therapeutic for Meyers Taylor, but she knows it could mean something else to the little girls who watched her race.
"Hopefully, it does inspire more young girls to do what we do and go out and live their dreams," she said. "I think it's more important in the days of the Me-Too hashtag that we have role models going out there succeeding that are female."
Follow Dylan Hernandez on Twitter @dylanohernandez
Get our high school sports newsletter
Prep Rally is devoted to the SoCal high school sports experience, bringing you scores, stories and a behind-the-scenes look at what makes prep sports so popular.
You may occasionally receive promotional content from the Los Angeles Times.