Oscar De La Hoya is fighting to rebuild life and career as boxing promoter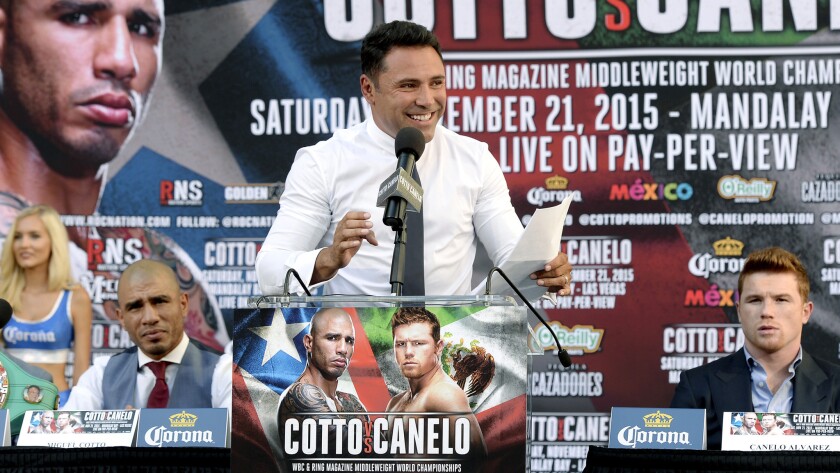 The proud father, Oscar De La Hoya, grabbed his phone to display a vacation video of his 19-month-old daughter standing atop swimming pool tile in Puerto Rico.
"You've gotta see this," De La Hoya said.
Victoria De La Hoya, smiling widely, bent her knees, let out a shout and jumped into the water with no floaters. She began swimming, smiling the whole time.
Her dad can relate.
More than a year removed from the throes of alcoholism and a bitter split with Richard Schaefer, longtime chief executive of De La Hoya's Golden Boy Promotions, the former six-division world-champion fighter has taken daily control of his boxing company.
Many in boxing doubted De La Hoya was capable or motivated to perform the everyday duties of fight promotion. But De La Hoya, 42, has already staged one of the best fights of the year, a victory by his junior-welterweight fighter Lucas Matthysse over Ruslan Provodnikov in April.
And Golden Boy will close 2015 with other big promotions, including at Madison Square Garden on Oct. 17 when De La Hoya's International Boxing Federation middleweight champion David Lemieux fights undefeated World Boxing Assn. middleweight champion Gennady Golovkin. And next month, Golden Boy's most popular fighter, Saul "Canelo" Alvarez, takes on World Boxing Council middleweight champion Miguel Cotto on Nov. 21 in Las Vegas.
Beyond that, the "Golden Boy" is a constant presence at his crammed, twice-monthly downtown club fights at the Belasco Theater, and in local gyms as he looks for promising fighters.
De La Hoya waves off the idea of a cushy retirement, noting that he shortened the Puerto Rico vacation because of his obsession with work.
"Because I can. Because I found it in me," he said. "I cleared my head. It's like I've taken the whole car apart to put it back together again.
"Those grungy gyms where I started? That's where I'm going to discover the next Oscar De La Hoya."
That resolve was hatched in one of his darkest moments, De La Hoya recently told The Times.
NEWSLETTER: Get the day's top headlines from Times Editor Davan Maharaj >>
Nearly two years ago, a week into his third rehab effort to find sobriety, De La Hoya said Schaefer arrived at a treatment facility with an offer to sell Golden Boy to a Kansas City investment group.
"I had just checked in, under medication, in a fog, a freaking zombie, and [Schaefer] took those papers to me and said, 'I have a buyer for your company,' " De La Hoya said. "Something just told me not to. I got this bad feeling, this intuition, 'No, I cannot.' This is my baby. Golden Boy is my baby."
De La Hoya declined to reveal the price, but when he factored in his company's partial ownership of Major League Soccer's Houston Dynamo, a franchise valued at $125 million, The Ring Magazine and other projects, he says the offer was "laughable."
The Kansas City group later backed Al Haymon's Premier Boxing Champions promotions company. Haymon, a powerful, reclusive figure in boxing, is Floyd Mayweather Jr.'s manager.
Premier Boxing Champions has time-buy broadcast deals with NBC, CBS, ABC and ESPN, among others. And the new firm has a roster stacked with fighters formerly promoted by Golden Boy, including unbeaten WBC heavyweight champion Deontay Wilder, unbeaten featherweight champion Leo Santa Cruz, unbeaten welterweights Keith Thurman and Danny Garcia, and former three-division world champion Abner Mares.
While De La Hoya was battling personal demons, he claims Schaefer allowed Golden Boy's promotional contracts with Haymon's fighters to expire, giving the manager leverage to negotiate fight-by-fight deals.
"Contracts were coming up. I asked, 'This is our business. How can we promote a fighter who's not signed to us?' " De La Hoya said.
He said Schaefer routinely replied, "I'll take care of it."
"Never happened," De La Hoya said. "We let so many contracts expire. After a few, you're thinking to yourself, 'Hmm, well OK, maybe he's too busy. Maybe he'll get to it next week.' But after 10, 15 fighters, you're like, 'What's happening here?' "
Schaefer disagrees with De La Hoya's account.
"Oscar's 'selective' memory does not surprise me, but disappoints me," Schaefer wrote in an email to The Times. "We had a great run together and I am very proud of what I have achieved during my time at Golden Boy. But I have moved on. Golden Boy is in my rear-view mirror."
Added Shaefer: "I wish Oscar and his team at Golden Boy all the best and hope that all his dreams are coming true."
De La Hoya and Schaefer worked together a dozen years, after the fighter's split with veteran promoter Bob Arum's Top Rank Inc. They built up Golden Boy by promising better deals for boxers, giving some shares in the company.
But the partnership deteriorated amid De La Hoya's unstable behavior.
"But when I finally cleared my head, when I found myself, he knew it," De La Hoya said. "I saw a change. He couldn't look at me in the eyes, didn't want to be around me."
De La Hoya said he met Schaefer at Golden Boy offices in June 2014 for a climax.
"When he came to … resign, he was so nervous, came in shaking," De La Hoya said. "He says, 'Oscar, I don't feel comfortable around here anymore,' gave me the papers and left … just like that.
"Then, I just saw everything. Everything just flashed. No fighters. This was all staged. All a master plan."
By January, with a mediator, Golden Boy, Schaefer and Haymon struck a settlement deal in which Haymon kept his fighters and Schaefer agreed to stay out of boxing promotion until August.
Later, Golden Boy sued Haymon in federal court, claiming he's violating the Muhammad Ali Act that forbids a manager from acting jointly as a promoter for his fighters.
Schaefer told The Times recently that Premier Boxing Champions could use "a face, a voice," but added that he is evaluating his career options and stressed he doesn't have anything to do "officially or unofficially" with the company.
SIGN UP for the free Dodgers Dugout newsletter >>
De La Hoya insists he's focused on future business, with his childhood friend and matchmaker Eric Gomez and fellow Golden Boy executive Robert Diaz as lead assistants.
Yet, the Schaefer episode, plus the departure of at least five others from Golden Boy, left scars.
"The betrayal, it's a stab in the back," De La Hoya said. "Because what happened to me in my personal life in that period of time was sad, difficult for a lot of people to handle, especially me. But when you see a friend down on the canvas, you don't step on him."
Going ahead, De La Hoya insists he'll work with any promoter, other than Premier Boxing Champions. And Golden Boy's upcoming bouts for Alvarez, Matthysse and Lemieux are all co-promotions.
De La Hoya also expects to grow his stable of young Southland-based boxers, including his cousin Diego De La Hoya, Frankie Gomez and Julian Ramirez, along with San Antonio's Hector Tanajara.
"I have an eye for talent. No other promoter in the world has laced up the gloves like I have. Nobody," De La Hoya said. "We built a lot of fighters. We can do it again. This time, I'm going to do it my way: Be smart and sign them all and be sure we're on top of re-signing them."
The future, not the past, is his primary focus.
Last month, as De La Hoya drove out of his daily, early-morning Alcoholics Anonymous meeting, he noticed Schaefer was in the lane to the right, waiting for the traffic light to turn green.
"He didn't see me because my windows are black, but I was going to roll them down and say, 'Hey, what's up?' " De La Hoya said.
Instead, De La Hoya just took a long look at his former partner, then accelerated away.
MORE
Juergen Klinsmann doesn't hold back when talking about U.S. soccer
USC hopes season gets off to a sunny start
Angels show a sense of urgency against Rangers after August blues
---
Get our high school sports newsletter
Prep Rally is devoted to the SoCal high school sports experience, bringing you scores, stories and a behind-the-scenes look at what makes prep sports so popular.
You may occasionally receive promotional content from the Los Angeles Times.