Column: USC seems to be unwavering in its fond remembrance of former Trojan O.J. Simpson
O.J. Simpson reacts after learning he was granted parole at Lovelock Correctional Center in Lovelock, Nevada.
(Pool / Getty Images)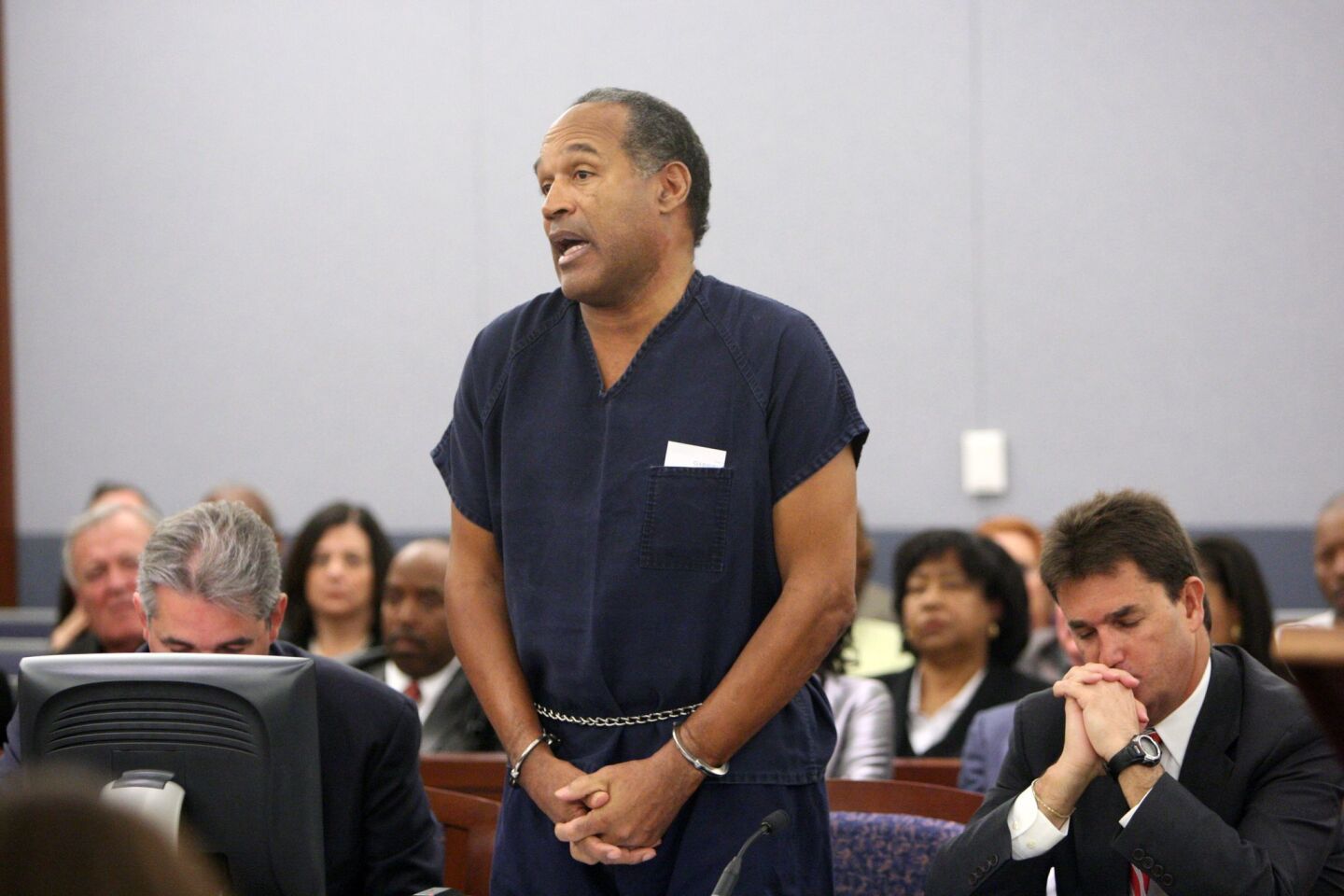 Simpson speaks Dec. 4, 2008, before his sentencing at the Clark County Regional Justice Center in Las Vegas.
(Isaac Brekken / AFP/Getty Images)
Simpson sits May 14, 2013, during a break on the second day of his evidentiary hearing in Clark County District Court in Las Vegas.
(Ethan Miller / Associated Press)
Simpson is handcuffed and escorted away from the witness stand during a break in his evidentiary hearing in Clark County District Court May 15, 2013 in Las Vegas.
(Pool / Getty Images)
Simpson listens during his premineary hearing November 14, 2007, as a judge orders him stand trial in Las Vegas, Nevada.
(Pool / Getty Images)
If his past is any indication, O.J. Simpson will soon be paroled into a world of questionable friends, nasty onlookers and only one consistently reliable and historically deep outside connection.
The most notorious athlete in U.S. history can count on the fact that he'll always be a USC Trojan.
USC promotes it. Simpson embraces it. And when he is finally set free from his Nevada prison cell as early as Oct. 1, with this year's celebrated Trojans football team in the middle of national title and Heisman Trophy chases, he will once again be bonded to it.
Simpson, 70, was granted parole Thursday after serving more than eight years for a Las Vegas robbery. He told four members of the Nevada Board of Parole that he intended to move to Florida and live a quiet life with his family. But even in the years following his controversial acquittal of the 1994 slayings of his ex-wife Nicole Brown Simpson and Ronald Goldman, Simpson has never been far from USC.
Simpson is still honored in the campus' Heritage Hall with a glittering display of a copy of his 1968 Heisman Trophy.
Simpson is still remembered in the Coliseum with the giant display of his No. 32 jersey draped across end zone seats.
Then, last month, thanks to a $15 million anonymous private donation, USC named a residential college after Al Cowlings, who infamously drove then-fugitive Simpson in a white Ford Bronco that led police on a nationally televised low-speed chase throughout Los Angeles in June 1994.
Cowlings claimed that his close friend Simpson held a gun to his own head and threatened to kill himself unless Cowlings drove him to Simpson's Brentwood estate. It was during this chase that Cowlings screamed through a cell phone to police with one of the legendary quotes of the Simpson saga, "My name is AC! You know who I am, goddammit!''
Cowlings was eventually charged with a felony for aiding a fugitive, but those charges were subsequently dropped due to lack of evidence.
And now, in the new USC Village project, there is Cowlings Residential College.
"This remarkably generous gift enhances USC's world-class living and learning environment and will carry Mr. Cowlings name, in tribute to his tremendous passion for his alma mater and for our students,'' said USC President Max Nikias in a statement.
Simpson has not only been remembered through artifacts and old friends, but once he was also personally welcomed by the Trojans football team.
Fifteen years ago in Miami, before the 2003 Orange Bowl, Simpson suddenly showed up at the Trojans' first contact practice at the request of Trojans running back Justin Fargas.
He was not turned away at the gate. In fact, he was welcomed by coach Pete Carroll and his players with handshakes and hugs. It was Simpson's first appearance at a USC event in the nearly 10 years since his murder trial.
"It's good to have him out here,'' Carroll told reporters. "At SC, our guys hold a Heisman Trophy winner in the highest regard. For them to get a chance to see him and visit with him was very special for them."
It was even more special for Simpson, who seemed to revel in the attention.
"I don't think I could ever feel disconnected from SC, I really don't,'' Simpson told reporters at the time.
Carroll was widely criticized for allowing Simpson access to his team, and rightfully so. These days it's hard to imagine Clay Helton would even dream of opening his doors to that sort of mayhem.
But Carroll never backed down from his opinion that, to USC folks, Simpson represented only football. Since then, even though Simpson has become a convicted felon, USC also has remained firm in its belief that this connection should at least symbolically remain. Even though all signs of former Trojans great Reggie Bush have been scrubbed from the university as an NCAA punishment for crimes against that governing body, Simpson's honors will continue to be displayed.
"USC recognizes O.J's accomplishments as a football player,'' a university spokesperson said Thursday. "What happened after USC is beyond our scope.''
Is it? Shouldn't the entire portrait of O.J. Simpson comprise the entirety of their scope? The Heisman Trophy and the jersey cover only two years of a narrative that has long since been transformed into a saga of murder and robbery and madness.
Does USC really still want that in their end zone?
Simpson was paroled despite showing little remorse during the nationally televised proceedings. He was, at times, combative, dismissive and seemingly unaware that his freedom was on the line.
He still doesn't get it. When he leaves that prison in a couple of months, he will again stumble his way through the darkness of a ruined life, looking for any friendly face, perhaps taking comfort in one of the last places that stubbornly insists on remembering him as he briefly once was.
Leaving the light on for him will be USC.
Get more of Bill Plaschke's work and follow him on Twitter @BillPlaschke
---
Get our high school sports newsletter
Prep Rally is devoted to the SoCal high school sports experience, bringing you scores, stories and a behind-the-scenes look at what makes prep sports so popular.
You may occasionally receive promotional content from the Los Angeles Times.