Reporting from phoenix —
Dave Roberts was asked about the most delicious of opening day scenarios, and he bit.
With Clayton Kershaw and Walker Buehler both moving slowly through spring training for physical reasons, could Rich Hill be the opening day starter?
"It could be,'' the Dodgers manager said Friday afternoon at Camelback Ranch. "Rich is in the mix. When you're talking about Rich, yeah, it could be Rich."
Wouldn't that be, well, rich?
The guy whose departure from Game 4 of the World Series essentially ended the 2018 season is the guy whose arrival will signify the start of the 2019 season?
The pitcher who is symbolic of the last straw of 2018 would throw out the first ball of 2019?
"It's out of my control,'' Hill said, his trademark quote accompanied by his trademark grin.
It figures that would be his philosophy, because in a Dodgers career that has extended through parts of three seasons, his three most memorable moments were out of his control.
In September 2016, he was pulled after throwing seven perfect innings against the Miami Marlins over worries of a potential blister on his left index finger.
In Game 2 of the 2017 World Series, he was pulled after four strong innings against the Houston Astros and the Dodgers eventually lost the game.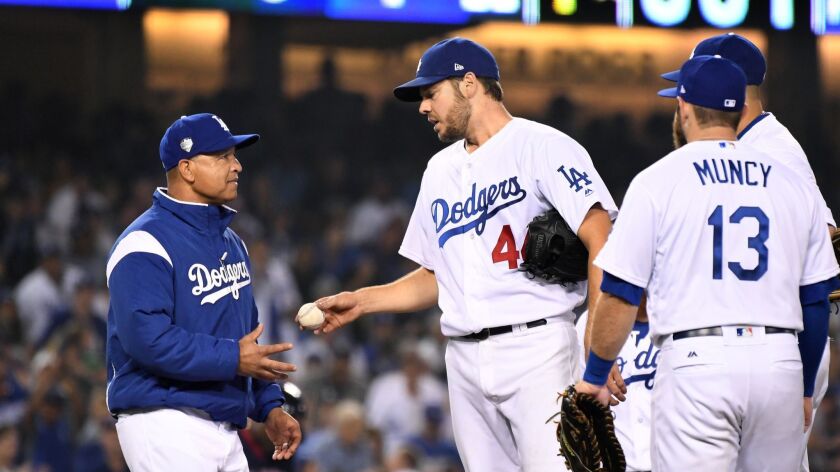 Then came the hook of all hooks, in Game 4 of the 2018 World Series against the Boston Red Sox. You remember it. You booed until you were blue. This columnist ripped it in print. Even President Trump mocked it in a tweet.
With a runner on first, one out in the seventh inning and the Dodgers leading 4-0, Hill was pulled by Roberts despite allowing just one hit with seven strikeouts in 91 pitches.
The Red Sox offense was reborn. The Dodgers' bullpen collapsed. The Red Sox scored three runs that inning on a home run by Mitch Moreland against reliever Ryan Madson, tied it one inning later on a Steve Pearce homer off Kenley Jansen, then scored five in the ninth to take an eventual 9-6 victory and an insurmountable three-games-to-one series lead.
The next day, Boston clinched the World Series championship and, even though the Red Sox were clearly a better team, the blame for a second consecutive October failure was placed on that seventh inning and squarely on the shoulders of … who exactly?
After Game 4, Roberts revealed that in the dugout before the start of the seventh, Hill told him, "Keep an eye on me … let's go hitter to hitter and just keep an eye on me."
Roberts said he was surprised to encounter such apparent doubt in such a big situation.
"I've never heard it," Roberts said.
Then, when Roberts went to the mound, the manager said he was simply going to check on Hill's strength and give him a pep talk, but Hill handed him the ball before he could get to the rubber and walked off.
By the time the late night ended, there were questions as to whether Roberts made the move because he thought Hill wanted to come out of the game.
A day later, Hill held an impromptu news conference in an attempt to squelch the growing questions.
"We need to change the narrative of this where it's being insinuated that I wanted to come out of the game," Hill told reporters. "Understand that when I said, 'Keep an eye on me,' I never said, 'tired' [or] 'I wanted to come out of the game.' I never want to come out of the game."
Hill told reporters he was just reminding Roberts that he understood the situation and would selflessly do what was necessary.
"You're thinking about the 25 guys and understanding that if things get haywire out there, and saying, 'Hey, if there's a better option coming out of the bullpen, I'm going to be on board with that because of the gravity of the situation,'" Hill said.
So what really happened? It will remain one of the biggest mysteries in Dodgers history because we'll never really know the absolute truth, but the reality probably is found somewhere in the middle of the dueling perceptions.
If Hill wanted to keep pitching indefinitely, he probably should not have said anything in the dugout that even remotely implied otherwise.
Then again, if Roberts had done a better job of communicating with Hill, he would not have taken the pitcher's words so literally.
If Hill really wanted to stay in the game, once the mound visit occurred, he shouldn't have handed the ball to Roberts, he should have waited for the manager to take it from him.
Then again, if Roberts really didn't want to give Hill the impression he was coming out of the game, he should not have gone to the mound in the first place, because he rarely went to the mound that season for just pep talks.
It was essentially a complete communications breakdown during the most tenuous moment of the season, one that could have been prevented by either party, one that will live with both forever.
Roberts acknowledged this week that he was willing to own the responsibility. As the man who has the ultimate control of who steps on the field during the game, it is indeed his burden to bear.
"Ultimately, if there is some kind of communication that isn't conveyed, that's my fault, and I'll leave it at that," he said. "I'll take it. It's OK."
When told that Roberts was accepting responsibility for the mess, Hill said he had moved beyond such discussions.
"We can all sit there and play Monday morning quarterback and try to decipher what could have, should have, would have, but we're in 2019," Hill said. "To be perfectly honest with you, the past is over with; we move on into 2019."
It will be an interesting year for Hill even without the controversial backstory. At age 39, he could begin the season as the oldest pitcher in baseball. In the final year of his contract, he will be playing not only for a championship, but also to extend his career.
"It's all relative to what you think age is," Hill said. "I feel great; I don't really know where there is a point of enough is enough. I feel like I can keep going for a while."
The Dodgers will keep him going by pitching him the usual five innings for about 25 starts to keep him fresh for the playoffs. This has sometimes been criticized, but it's helped prevent his chronic blisters and saved his arm. He has responded with a career playoff earned-run average of 3.04, including a World Series ERA of 1.80 in three Dodgers starts.
"These are the greatest years of Rich's career, even if people gravitate toward those three games," Roberts said, referring to those three early hooks. "Rich has pitched a lot for us, and I think I've managed him very well, in his best interest, and in the best interest of the Dodgers."
It will be pretty cool if Roberts starts him in the March 28 opener against the Arizona Diamondbacks at Dodger Stadium, if only for the sound.
One can only imagine resounding cheers from Dodgers fans after the first pitch when they are struck by the delightful realization that Hill is still in the game.
Sign up for our daily sports newsletter »
Get more of Bill Plaschke's work and follow him on Twitter @BillPlaschke
---