Column: Serena Williams would be a more fitting Grand Slam record holder than Margaret Court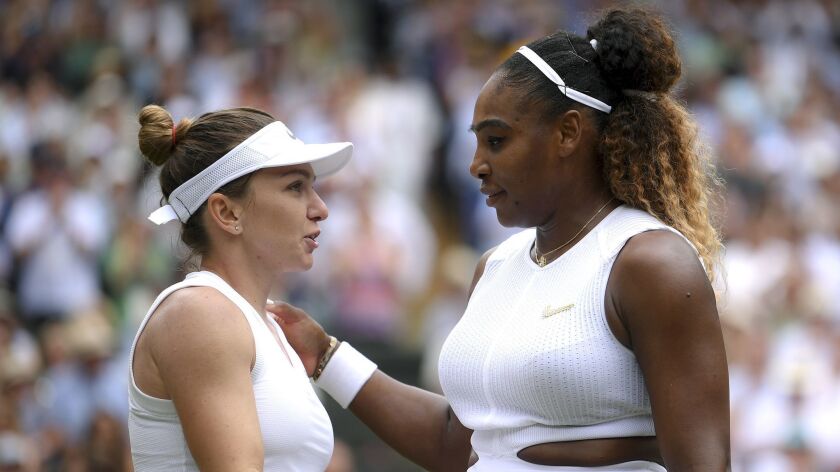 In 1970, Margaret Court said that South Africa's apartheid system enabled the country to have a better handle on the "racial situation" than any other country.
In 1990, she said Martina Navratilova was a poor role model because "it's very sad for children to be exposed to homosexuality."
In 2017, she compared same-sex marriage as akin to the policies of Adolf Hitler.
There were a thousand and one reasons why tennis fans wanted Serena Williams to beat Simona Halep in the women's final at Wimbledon. Inching a step closer to displacing Court as the all-time Grand Slam singles winner ranks fairly high in many people's books.
Before giving birth, Williams was 23-6 in major finals. She is now 23-9. The optimist would say no other player has appeared in more such finals since her return. The pessimist would say she's lost three consecutive major finals for the first time in her career and at 37, there's not a whole lot of career left to change that.
As the saying goes, Father Time is undefeated, and there were rallies during her 56-minute match with Halep in which it looked as if he and the 27-year-old Romanian were partners. Couple that with her older sister Venus losing to a 15-year-old Coco Gauff in the first round of the tournament and we're cruelly reminded that sports doesn't care who our (s)hero is.
Admittedly, it is ridiculous enough to ask an athlete to stand for something greater than themselves. The notion that any athlete needs to win for the culture is not only unfair but unrealistic. But then Williams, after being crushed on the most iconic court in her sport, dropped this nugget in her post-match interview: "The day I stop fighting for equality and for people that look like you and me will be the day I'm in my grave."
That was her response when a reporter, loosely using the words of Billie Jean King, asked if she needed to focus more on tennis than being a celebrity or fighting for equality. King tweeted a clarification stating she never would suggest Williams shouldn't engage in such a fight. Nonetheless, the story is not about the question but the response.
A racist and homophobe rests on top of the WTA mountain and the only way to remove her is by winning two more majors. Unlike the trend of removing Confederate statues or changing Columbus Day to Indigenous Peoples Day, the only way to correct past mistakes in sports is by winning.
Removing Court's name from the Australian Open stadium in Melbourne is cosmetic. Eclipsing her in achievements is far more lasting.
Babe Ruth played in an era in which people of color were excluded from MLB. His name atop the all-time home runs list wasn't supplanted via protest but rather Hank Aaron surpassing a mark aided by institutionalized racism. This is the unfair task many have rested on Williams' shoulder. She's the game's best player. But that one mark eludes her. And if what she said in the post-match interview is true, haunts her.
No one who is a champion of equality could be at peace with a person like Court holding such a record. Even if 13 of her 24 majors were won at a time in which players were not professional. Even if most of the majors won were at a time in which international players rarely made the trek to Australia, where most of her titles were won. History doesn't acknowledge context. It acknowledges numbers.
Stats.
Wins.
Since she and her sister Venus rolled up on a predominately white sport rocking cornrows and beads more than 20 years ago, their victories felt more like proclamations of what humanity could be if given a chance.
Does it really matter after 31 appearances in a major final what happens in the 32nd? Normally, no.
An athlete's legacy is set in stone long before then. But this conversation isn't about one athlete's place in a sport. It's about a sport's place in society. Right now, a beautiful game is being marred by an ugly presence at its pinnacle.
Williams, a self-proclaimed fighter for equality, is oh so close to removing her. But there were moments during her match against Halep in which even the most ardent of fans must admit it looked as if the door on a tremendous career was nearing closure.
My hope, my prayer, is when she finally gives her Hall of Fame speech the name at the top of the mountain is hers and not that other person.
---
Get our high school sports newsletter
Prep Rally is devoted to the SoCal high school sports experience, bringing you scores, stories and a behind-the-scenes look at what makes prep sports so popular.
You may occasionally receive promotional content from the Los Angeles Times.