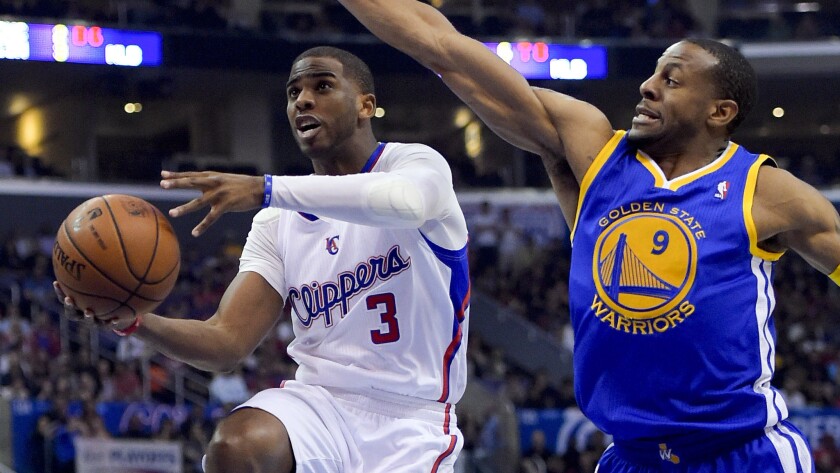 Indeed. They were one.
The Clippers latched on to their impromptu "We Are One" slogan and beat the Golden State Warriors, 113-103, on the day their owner, Donald Sterling, was barred for life from the NBA for making statements about blacks on an audio recording that surfaced last week.
DeAndre Jordan was the Clippers' unquestioned top performer, not Chris Paul or Blake Griffin, as the Clippers took a 3-2 lead in the first-round matchup.
Jordan had a double-double in the first half and finished with 25 points, 18 rebounds and four blocked shots at Staples Center. The Clippers can end the series Thursday in Game 6 at Golden State.
Griffin had 18 points, but missed almost all of the third quarter because of foul trouble. Paul didn't shoot well, making six of 17 attempts, and had 20 points. He also added seven assists, six rebounds and five steals.
The Clippers led by five going through three quarters but Griffin made two stellar fadeaway shots to push them to a nine-point lead near the midpoint of the fourth. They were never threatened after that.
Fans wore a litany of anti-Sterling T-shirts and displayed anti-racism signs that were continually shown on the scoreboard. They also chanted "We Are One" during a fourth-quarter timeout, with prodding from the public-address announcer.
The Warriors tried to get back into the game by fouling Jordan on purpose but he made three of four from the line after Golden State started employing the tactic with 5:08 to play.
Klay Thompson had 21 points for the Warriors. David Lee and Andre Iguodala each had 18.
Clippers 77, Warriors 72 (end of third quarter)The Clippers have endured a lot the last few days. Foul trouble and an injury to a key backup were part of their in-game issues Tuesday against Golden State.
They still held a slim lead even though Blake Griffin left after picking up his fourth foul with 8:33 to go in the third quarter. Griffin tried unsuccessfully to stop Draymond Green from taking an offensive rebound and went to the bench with 10 points on two-for-10 shooting in Game 5 of the first round.
Then the Clippers lost Griffin's backup, Hedo Turkoglu, when he took a hard fall after drawing an offensive foul on David Lee with 7:47 to go in the quarter. Turkoglu was helped off the court by teammates and went into the locker room because of a bruised lower back.
The Clippers weren't alone in their woes. Lee picked up his fifth foul with 3:55 to play in the third quarter and went to the bench with 12 points, seven rebounds and four assists.
The Warriors then took a brief lead on Stephen Curry's fastbreak three-pointer but Chris Paul answered with a three-pointer and Jamal Crawford scored on a fastbreak dunk.
DeAndre Jordan has 19 points and 16 rebounds in 31 minutes. Chris Paul had 10 points in the quarter, including a three-pointer over Curry with 1.2 seconds left. He has 15 points, six assists, five rebounds and five steals through three quarters.
Anti-Donald Sterling signs kept being shown on the scoreboard. "For Sale: Racists need not apply," read one held up by a Clippers fan.
Clippers 55, Warriors 50 (halftime)
The Clippers' public-address announcer continually reminded fans at Staples Center that "We Are One," the team's impromptu slogan Tuesday after the Donald Sterling lifetime ban was announced by the NBA.
The Clippers, however, didn't always play like a team in the second quarter after a strong start in Game 5 of their first-round playoff series against Golden State.
Blake Griffin had trouble with his shooting accuracy, making only one of eight shots, as the Clippers lost half of the 10-point lead they held after the first quarter.
DeAndre Jordan already had a double-double in the first half, getting 15 points and 11 rebounds.
David Lee had 10 points and Klay Thompson added nine for the Warriors, who were uncharacteristically poor from the free-throw line, making only seven of 13.
The Clippers had no problem putting anti-Sterling images on the scoreboard.
One fan was shown wearing a T-shirt that said "I'm here for Griffin, not for Sterling." Sterling's name was crossed out on it.
Another fan was shown with a sign that said, "It's time for some Magic," a reference to Magic Johnson's interest in joining with Guggenheim Partners to buy the Clippers if they are put up for sale.
Clippers 31, Warriors 21 (end of first quarter)
The Clippers led the Golden State Warriors by 10 at the end of the first quarter in the first game after Clippers owner Donald Sterling was banned for life from associating with any NBA team.
DeAndre Jordan had 10 points, including four dunks, as the Clippers looked to break a 2-2 series tie Tuesday.
Sterling's wife, Rochelle, attended the game and entered Staples Center with bodyguards surrounding her.
Earlier Tuesday, NBA Commissioner Adam Silver barred Donald Sterling from attending NBA games and practices, as well as making business and player-personnel decisions in the league. Sterling was also fined $2.5 million after making statements about African Americans in a racially charged audio recording that surfaced last weekend.
Clippers fans were keyed up for the game. One wore a black shirt with a crossed-out image of Donald Sterling and the words, "Go Clippers." He was shown on the Staples Center scoreboard before the game and drew applause from the crowd.
Another fan held a sign that said: "Everyone is different. Respect the difference."
Andre Iguodala was off to a slow start for the Warriors, making only two of six shots. Normally a decent free-throw shooting team, the Warriors made only two of six in the first quarter.
The Clippers made all eight of their first-quarter free throws, a surprising start for one of the league's worst teams from the line.
---