Pat Haden, USC's athletic director, will have medical procedure after being hospitalized Wednesday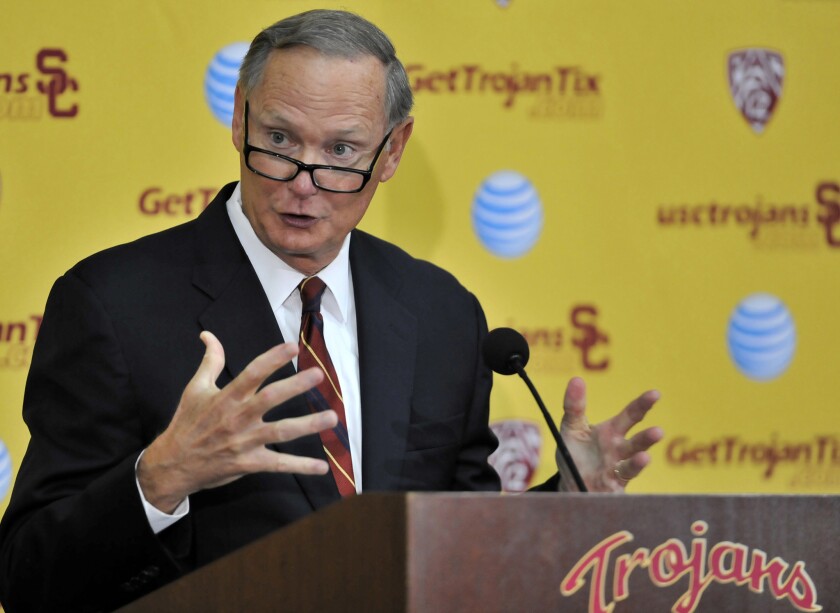 Retiring USC Athletic Director Pat Haden, beset by recurring health issues during the last few years, was hospitalized Wednesday and is scheduled to undergo an unspecified procedure in the next few days, a person with knowledge of the situation said.
Haden was walking to Heritage Hall after attending a meeting elsewhere on campus when he felt light-headed, a university spokesman said.
Medical personnel attended to Haden, who then walked upstairs to his office, where he was evaluated further before being transported from campus, according to Tim Tessalone, USC's sports information director.
"He was alert and talking," Tessalone said.
The Los Angeles Fire Department confirmed it was notified of a medical emergency in the area at 10:44 a.m., offered on-scene care, and transported "a patient to an area hospital," said a spokesman who, citing privacy laws, declined to give other details.
Haden, 63, was taken to L.A. County-USC Medical Center and was discharged soon after, said the person with knowledge of the situation, who spoke on the condition of anonymity because of the personal nature of the developments.
Haden was taken from the county facility to another local hospital and is scheduled to have a procedure, the person who knows the situation said, adding that while the former football star experienced similar light-headed symptoms that were attributed to dehydration while at a football game at Notre Dame last fall, it had been determined the cause this time was different.
USC, in a statement late Wednesday afternoon, said Haden was "resting comfortably."
"His condition is stable and he is undergoing medical tests," it continued. "He plans to be back soon watching his Trojans in action. He thanks all for their concern."
Haden has a pacemaker and required medical attention several times in the past 18 months.
In August 2014, Haden was absent from the annual "Salute to Troy" event on campus because he was being treated for exhaustion.
A month later, he told The Times that he was "not in good health." However, Haden described his health as "fine" in an interview with USC's website three months later.
The last four months have been particularly tumultuous for USC and stressful for Haden.
In August, Haden allowed Steve Sarkisian to continue as head football coach despite an incident at "Salute to Troy" where the coach slurred words, denigrated opponents and used an expletive while on stage.
Less than two months later, he placed Sarkisian on indefinite leave after the coach attended a team meeting in the morning but failed to appear for practice that afternoon. Haden fired Sarkisian the next day.
Hours before the firing, The Times published a lengthy account of the coach's use of alcohol during five seasons at the University of Washington before Haden hired him at USC in December 2013.
Before the Notre Dame game on Oct. 17, five days after he fired Sarkisian, Haden required medical assistance on the sideline.
Two weeks later, he resigned from the College Football Playoff selection committee, which required weekly trips to Texas during much of the season, saying doctors advised him to reduce travel.
He missed seven of USC's final eight football games.
In December, Sarkisian filed a lawsuit against USC, claiming that Haden fired him instead of permitting him to be treated for alcoholism.
Haden's work outside USC -- he is a member of several corporate boards and charitable foundations -- also has come under scrutiny.
In reaction to last week's announcement that Haden would retire, several former Trojans players now on NFL rosters referenced his health while wishing him well.
"Pat is a great Trojan," safety Dion Bailey of the New York Jets said in a text. "I'm extremely proud I was able to build a relationship with one of the greatest Trojans ever during my time at USC. Happy he can just focus on his health now and just enjoy life."
Rams safety T.J McDonald, in San Francisco during the run-up to the Super Bowl, also praised Haden and mentioned his health.
"He was always personable and I appreciate the conversations I had with him," McDonald said. "It's sad to see him go. I hope his health is OK. … He's definitely one of the most personable people I've met and definitely had our best interests at heart."
USC has said that after he steps away as athletic director, Haden will serve for one year to guide the $270-million renovation of the Los Angeles Memorial Coliseum. The venue, operated by USC, will be the temporary home of the NFL's Rams beginning this fall.
Sean Kennally, president of the San Gabriel Valley Trojan Club and a member of USC's Board of Counselors, which serves as an advisory board for the athletic department, said Wednesday that Haden has done a "great" job as athletic director and that he should put his health before USC.
"I'm more concerned about Pat Haden as a father, husband and grandfather than worried about whether he can carry on as USC's athletic director," Kennally said. "I don't think it's worth the risk unless the doctor says it's OK. If he's going to step away in June, don't put yourself out there. If the doctor says, 'Slow down,' slow down now."
ALSO
Pat Haden will step down as USC athletic director on June 30
USC could go 'outside the family' for Pat Haden's successor as athletic director
Pat Haden's biography: Highlights from the soon-to-retire USC athletic director's career
---
Get our high school sports newsletter
Prep Rally is devoted to the SoCal high school sports experience, bringing you scores, stories and a behind-the-scenes look at what makes prep sports so popular.
You may occasionally receive promotional content from the Los Angeles Times.