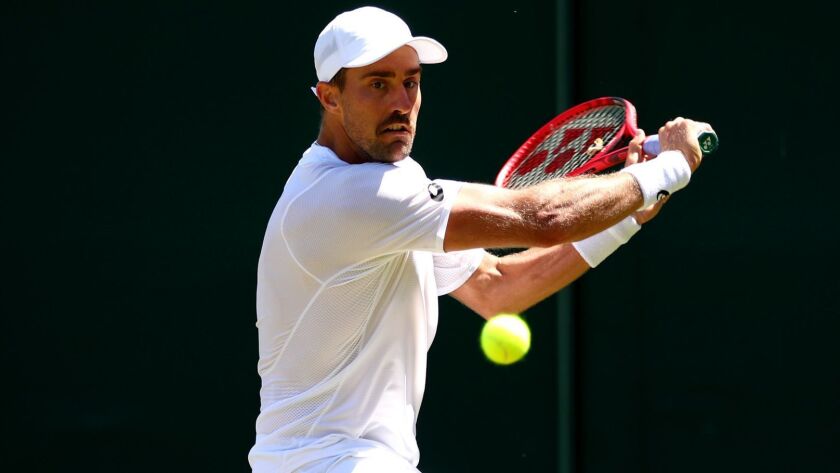 Reporting from wimbledon, england —
Losing was once a foreign concept to Steve Johnson.
He won six NCAA titles at USC — four team, two singles — and at one point tore off 72 victories in a row.
But that was a simpler time. Now, at 29, he has dealt with his share of losses on the court and a searing one off it, the unexpected death of his father, Steve, who succumbed to a heart attack two years ago at age 58.
"It's still an emotional time," said Johnson, 29, who will play Kei Nishikori on Saturday in the third round of Wimbledon.
"Still a lot of things I'm trying to deal with. It's tough when somebody who was so involved with my life and my tennis isn't there."
The reminders are constant. After his grueling five-set victory over Alex De Minaur, Johnson clenched his fist in triumph and glanced to the sky, later noting of his father, "There's no doubt in my mind he was watching."
Johnson, ranked as high as 21st in the world three years ago, is becoming increasingly watchable after weathering a wobbly stretch in the last year during which he lost nine consecutive matches.
He's currently ranked 71st and has a chance Saturday to match his best finish in a major championship, having made it to the fourth round of Wimbledon in 2016 before losing to Roger Federer.
Sign up for our daily sports newsletter »
Johnson is 1-7 in third rounds of Grand Slam events, with six of those defeats coming to top-10 players. Nishikori is ranked seventh.
It's not as if Johnson had illusions that he'd continue his dominance after USC. He understood the challenge before him.
"I don't know how many guys haven't had a roller coaster career, just with the way sports works," said Johnson, one of three American men remaining in the draw. "There's always going to be ups and downs, times when I thought I'd hit rock bottom, and there was still farther to fall before I climbed back out of it.
"That's what makes sports so hard and so rewarding at the same time. I haven't had the best year by my standards this year, but still every day I'm trying to put my best foot forward and turn it around."
New year
South Africa's Kevin Anderson, who made it to the final last year against Novak Djokovic, was eliminated in a shocking upset Friday by Guido Pella, 6-4, 6-3, 7-6 (4).
"I haven't played him before," Anderson said of the Argentinian. "I've only hit with him once in Miami a few months ago. So it's a little tricky playing somebody for the first time."
Unbreakable
Big servers have a particular advantage at Wimbledon, playing on the fast grass surface. Sam Querrey of Thousand Oaks, a semifinalist two years ago, is the only player remaining in the men's draw whose serve hasn't been broken.
Follow Sam Farmer on Twitter @LATimesfarmer
---