10 Images
Speedo's fashion splash
Alain Bernard of France wears the LZR Racer suit at last weekend's European championships.
(Michael Sohn / Associated Press)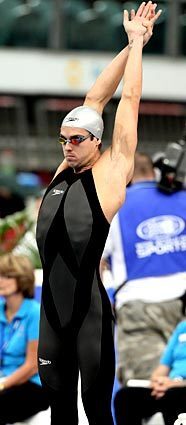 Australia's Eamon Sullivan, wearing the LZR Racer, broke an 8-year-old record last month. That mark has since been topped by Alain Bernard, who also wears the suit.
(Greg Wood AFP/Getty Images)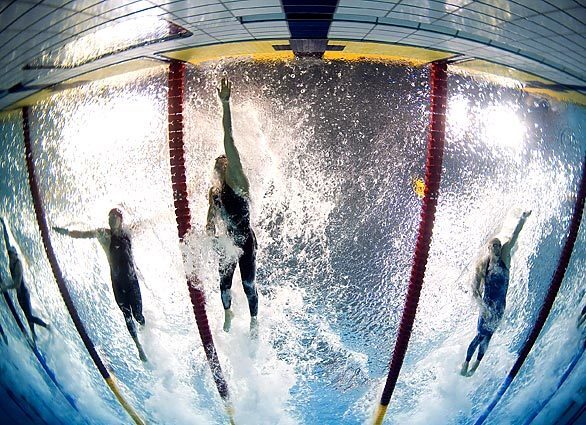 Croatia's Duje Draganja, left, France's Alain Bernard and Sweden's Stefan Nystrand compete in the 50-meter freestyle in the European championships last weekend. Bernard set the world mark. Some wonder whether the high-tech suit he wears provides an unfair advantage in challenging records.
(Patrick B. Kraemer / European Pressphoto Agency)
South Korean swimmer Park Tae-Hwan, left, models the new Speedo swimsuit LZR Racer alongside Australian swimmer Michael Klim during a press conference in Tokyo to introduce the high-tech, seamless body suit.
(Toru Yamanaka AFP/Getty Images)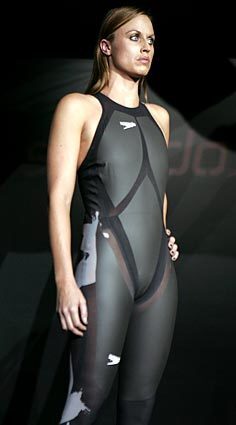 Three-time Olympian Amanda Beard models the new suit in New York City. Amid the splashy marketing campaign, some people cautioned against giving the item magical sports powers while others decried the importance placed on such high-tech material.
(Mike Stobe / Getty Images)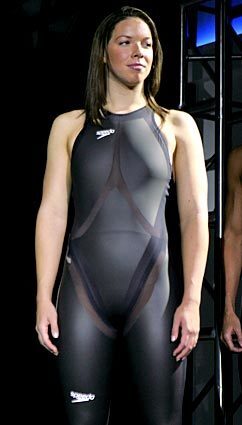 Swimmer Katie Ziegler in the form-fitting suit.
(Mike Stobe / Getty Images)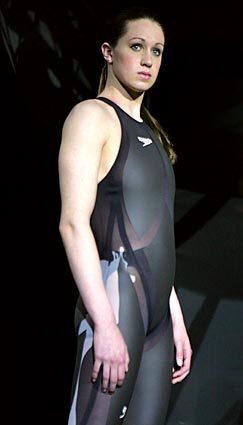 Katie Hoff, who struck triple gold at the 2005 and 2007 World championships, was one of the test athletes for the suit.
(Mike Stobe / Getty Images)
Five-time Olympic medal winner Natalie Coughlin set a world record in the 100-meter backstroke during a preliminary race at the Missouri Grand Prix in Columbia, Mo., last month, where the LZR Racer made a big marketing splash.
(Mike Stobe / Getty Images)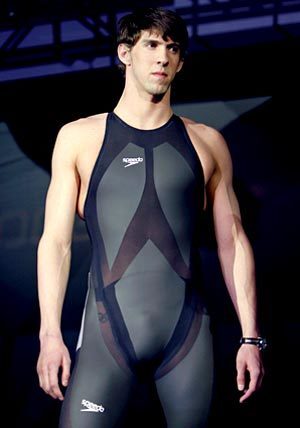 Michael Phelps, known as the best swimmer in the world after setting four individual world records last year and winning seven gold medals at the 2007 World Championships in Melbourne, Australia, is a convert to the suit.
(Peter Foley / EPA)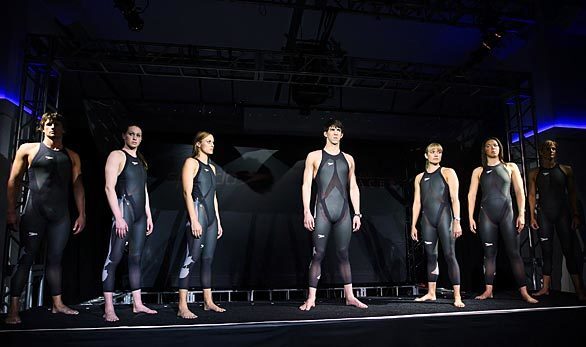 Swimming's best turned out to model the new suit in New York City. From left: Ryan Lochte, Katie Hoff, Amanda Beard, Michael Phelps, Natalie Coughlin, Kate Ziegler and Dara Torres.
(Mike Stobe / Getty Images)