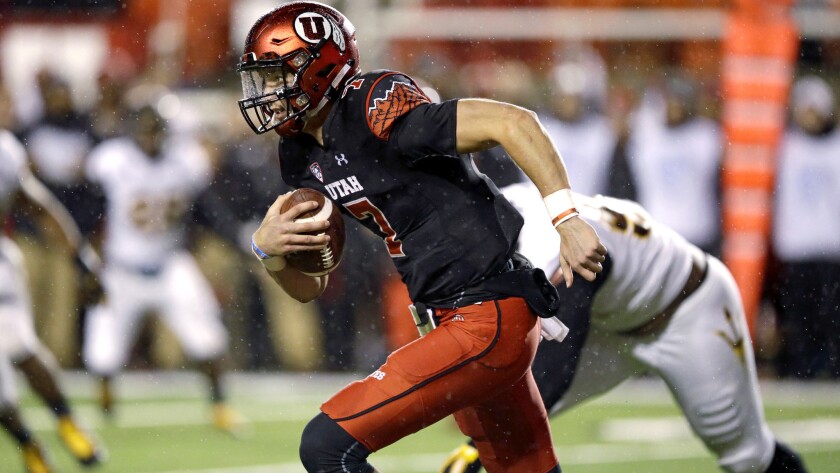 In 2008, when Travis Wilson joined the varsity football team at San Clemente High, his coaches didn't know whether he would play quarterback or linebacker.
As a freshman, he had started at middle linebacker, but before the opener the next year, the team's quarterback was injured. Wilson filled in, and he muddled the decision further.
"Travis got pounded," San Clemente Coach Jaime Ortiz said.
And, the coach added, he performed admirably.
San Clemente won, and Wilson's toughness earned his teammates' respect. He'd shown he could hit, and take a hit, and he could pass pretty well, too.
So the confusion remained: quarterback or linebacker?
In a way, it still does.
Wilson has been the starting quarterback for Utah for the better part of four seasons now, but a little bit of linebacker remains in him.
At 6 feet 7, he looks like a prototype quarterback — until the game starts. When he throws, he drops to a sidearm motion, as if he were serving a plate of food. When he runs, he has an unusual gait, his long limbs typically looking a bit out of sync — and masking deceptive speed.
With typical stoicism, he has weathered early inconsistency, personal tragedy and an injury that nearly ended his career to become one of the conference's most valuable players. He has led undefeated and third-ranked Utah to an early South Division lead in the Pac-12 Conference heading into Saturday's game at the Coliseum against USC.
"Just playing hard and competing," Wilson said during a phone interview, in his usual understated way.
Even in high school, Ortiz said, Wilson never used three words when one would do. "Gentleman-like," the coach recalled. He would gravitate to kids at youth camps, and during team meetings Wilson always sat with Ortiz's young son.
But he also had a quiet intensity, and he flourished in San Clemente's pro-style system.
Wilson threw over high school defenses with his sidearm motion. He ran sparingly, but with great effect. Once, against Dana Hills, he hurdled a tackler who then collided with a second defender. Another time, he ran over a cornerback and knocked him out the game.
Wilson received scholarship offers from about half of the Pac-12, including UCLA, but USC never seriously recruited him. The Trojans, limited by sanctions, didn't sign a quarterback the year he graduated..
Out of high school, Wilson said, "I kind of wanted to try something new and live somewhere else."
At Utah, he could help build a program in its first years in the Pac-12. And Norm Chow, then the Utes' offensive coordinator, figured he could work around Wilson's throwing motion.
Wilson isn't sure how his mechanics originated. "I've always played like that," he said. And Chow let him continue.
"Chow made a point of saying, 'If it ain't broke, don't fix it,' " Ortiz said. "He did the same thing with Philip Rivers."
Wilson started almost immediately at Utah, though his progression was halting. As a sophomore in 2013, the Utes nose dived as Wilson had 16 passes intercepted.
Early that season, Wilson's best friend, UCLA receiver Nick Pasquale, was struck and killed by a car. And later, during a game against Arizona State, Wilson sustained a head injury that kept him out of the final three games and threatened his career: During concussion testing, a CT scan revealed preexisting damage to an artery.
He was prohibited from workouts for more than five months, and his development was stunted. Still, when he was cleared for the following season, he completed 60.7% of his passes and threw 18 touchdowns with five interceptions.
"The off-season that he had two years ago it really, I mean, that set him back," Utah Coach Kyle Whittingham said. "He wasn't able to do much. He couldn't train for a long time there. They wouldn't let him in the weight room. That really impeded his progress."
This season, his completion percentage is up to 67.9%, and he has thrown for seven touchdowns with three interceptions.
"I think you would've seen that last year had he not had the issues that he had in the off-season," Whittingham said.
Wilson beat USC for the first time last year with a mistake-free passing performance and some tough running at the end of the game. This season, he has rushed for 203 yards, including 100 yards and a touchdown against Oregon.
"When he does pull the ball, he's a big dude," USC defensive coordinator Justin Wilcox said. "You draw Xs on the board, but he's 6-7 and 235 or 40. I don't know how much he's weighing these days, but he's a heavy guy. You still have to tackle him."
USC linebacker Scott Felix was impressed by Wilson's toughness, a vestige of his time as a linebacker.
In a game in 2012, Wilson flattened a California linebacker with a crack-back block on a reverse.
"You don't see many quarterbacks play the way he plays," Felix said. "You see it on film: He'll take hits. He's not scared to get hit.
"Most quarterbacks will try to slide. He'll stay up and keep running for extra yards. I admire that, as a quarterback, but it gets me a little excited to hit him, too."
Times staff writer Gary Klein contributed to this report.
---