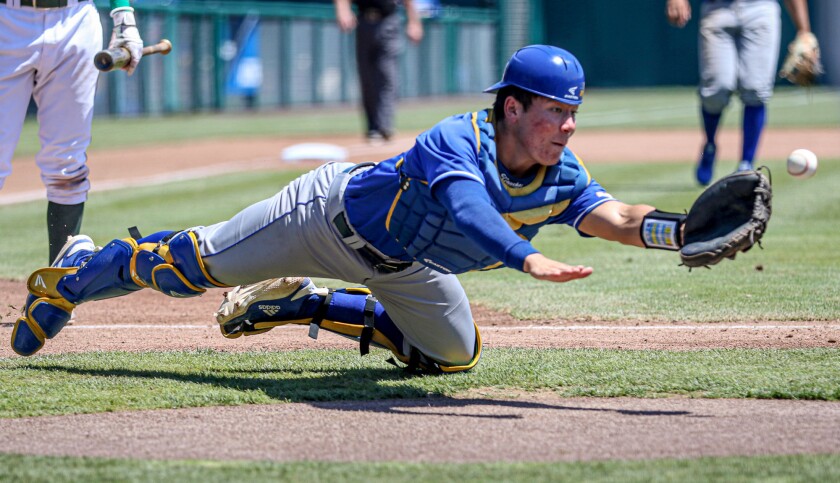 Reporting from Palo Alto —
UC Santa Barbara had an outstanding regular season, collecting the most Division I wins in school history and its first Big West title since 1986. The Gauchos' postseason didn't go as well. It came to a quick close with a 6-4 loss to Sacramento State on Saturday afternoon in the Stanford Regional at Sunken Diamond.
The Gauchos (45-11) were down 4-0 after four innings, but rallied to tie the score with a run in the fifth inning, two in the sixth and one in the eighth inning. Only one run came on a hit. McClain O'Connor got the Gauchos on the board with a run-scoring double.
The runs in the sixth inning came on a Marcos Castanon sacrifice fly and a hit by pitch of Tevin Mitchell with the bases loaded. Christian Kirtley doubled in the eighth inning and scored after two wild pitches.
Sacramento State (40-24) blew a lead but wouldn't roll over. The Hornets are used to rallying. The "Heart Attack Hornets," as the team has grown to calling itself, lost their WAC tournament opener last week and had to win six straight games to earn their conference's automatic berth into the NCAA tournament.
"Our motto in the fall was 'Find a way,'" Sacramento State coach Reggie Christiansen said. "Even if we do get behind or they tie it up, there was no panic in the dugout. You've got a special group of kids, man. It's been a special ride."
Following last week's script, Sacramento State answered Santa Barbara's run. It got two runners on in the bottom of the eighthinning, forcing Santa Barbara to go to closer Chris Lincoln, who tends to take a few pitches to get in the groove.
He grooved a fastball to No. 9 hitter Trevor Doyle, who drove it off the right-center field wall to score both runners.
Santa Barbara couldn't recover and its season came to a close with losses in four of its last five games.
Creighton 4, Oregon State 1
The defending national champion was the first national seed eliminated, marking the first time the No. 2 Beavers have gone 0-2 in regionals in 14 appearances since 1985.
---