UCLA shares the ball in second half to pull away from Cal State Bakersfield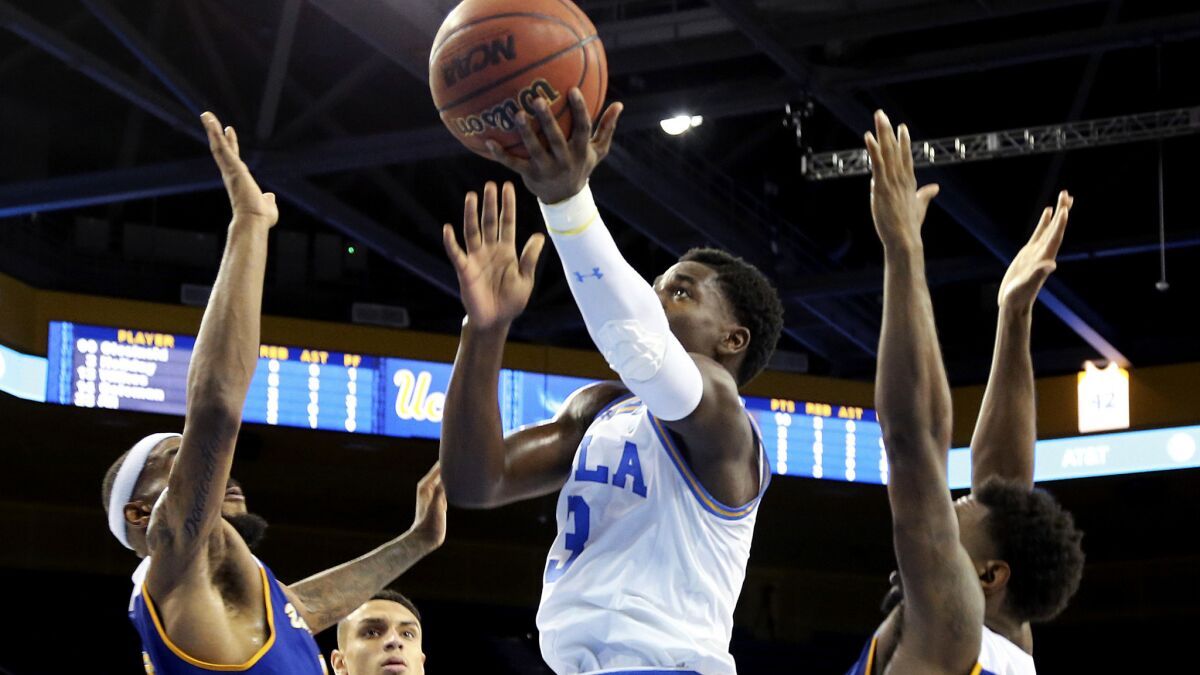 UCLA coach Steve Alford sounded this week as if he was describing a game for preschoolers when he talked about the young Bruins learning the difference between "good shot, bad shot."
The Bruins resembled a bunch of stubborn 4-year-olds in the first half Wednesday night, recognizing only the latter.
UCLA's offense featured mostly one-on-one play, with dribble penetration and pull-up jumpers galore but little ball movement against a defense that applied continual pressure. Alford checked with assistant coaches during the second media timeout and was informed the team did not have its first assist, something it would not log for nearly 11 1/2 minutes.
The Bruins finally learned to share in the second half of a 75-66 victory over Cal State Bakersfield at Pauley Pavilion.
Aaron Holiday threw a lob over the top of the defense to Gyorgy Goloman for a dunk. Kris Wilkes flung an inbounds pass to Holiday for a layup. Goloman found a cutting Wilkes for a layup.
UCLA exceeded the five assists it had in the first half in the first 71/2 minutes of the second half, allowing the Bruins (6-1) to pull away during a game that was in doubt at halftime.
"When the ball movement picked up," center Thomas Welsh said, "we got good shots for everybody."
Holiday had 16 points and six assists. UCLA collected 10 assists in the second half and won with relative ease despite making only two of 17 (11.8%) three-point shots overall.
Alford said he was most pleased with how the team continued to defend without being distracted by its shooting struggles.
"I think three weeks ago we lose this game because so much of what our defense was about was how we were doing offensively," Alford said. "And tonight, as bad as we were offensively at times, our defense was consistently pretty good and that's a positive, that's growth on the defensive end."
The Bruins eventually tightened up the perimeter defense that had allowed Bakersfield (4-4) to make six of 11 three-point shots in the first half; the Roadrunners made only four of 22 shots from behind the arc in the second half.
Welsh finished with 13 points and 10 rebounds, and point guard Jaylen Hands had seven points and four assists in his return from the sprained left foot that sidelined him Sunday against UC Irvine. Hands came off the bench and played only 24 minutes because he was still rounding back into playing shape.
Alford appeared to sense the team had seized the momentum despite holding only a 29-27 halftime lead when he walked off the court clapping his hands as he headed toward the locker room.
Hands had just found Holiday cutting toward the basket for a layup before the Bruins forced a shot-clock violation in what might have been their best offensive and defensive sequence of the half.
Prince Ali provided the highlight of the early going when he eluded a defender with a behind-the-back dribble in the backcourt before stutter-stepping near the free-throw line and going in for a finger-roll layup.
But the play was indicative of a first half in which there was far more individualism than team play.
"We forced a little bit too many times because they were up in us," Wilkes said of the Bakersfield defense, "so they just made us go to the rack more, shoot more contested stuff."
Guard Jarkel Joiner had 20 points for the Roadrunners, who made only 29.9% of their shots.
It was the seventh consecutive game the Bruins played without freshmen LiAngelo Ball, Jalen Hill and Cody Riley, who remain suspended indefinitely for their acknowledged role in shoplifting from a mall in China this month.
UCLA continued to shoot poorly at the free-throw line, making 19 of 28 (67.9%) attempts. That was only slightly better than the 64.6% the Bruins had shot entering the game.
"We still got that free-throw situation that we've got going on," Alford said.
They made some progress when it comes to sharing the round orange ball.
UP NEXT
VS. DETROIT MERCY
When: Sunday, 6 p.m.
Where: Pauley Pavilion
On the air: TV: Pac-12 Network; Radio: 1150
Update: The name on the visitors' jerseys could make longtime Bruins fans shudder considering Detroit Mercy upset fifth-seeded UCLA in the first round of the 1999 NCAA tournament in the teams' last meeting. These Titans (4-3) are coming off a 91-82 loss to Fort Wayne.
Get our high school sports newsletter
Prep Rally is devoted to the SoCal high school sports experience, bringing you scores, stories and a behind-the-scenes look at what makes prep sports so popular.
You may occasionally receive promotional content from the Los Angeles Times.