Katelyn Ohashi and Kyla Ross thrill home crowd in UCLA gymnastics' win over Stanford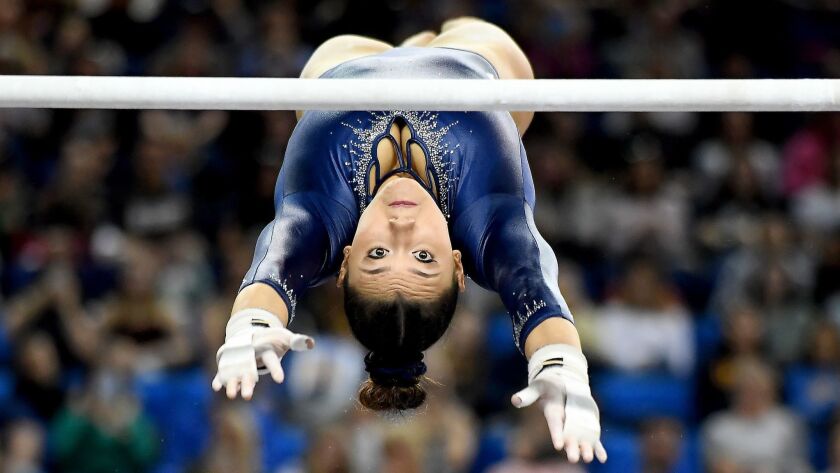 When UCLA gymnast Katelyn Ohashi delivered the final salute of her floor routine, coach Valorie Kondos Field pointed at her approvingly. Beside her, a UCLA student also pointed with the same mock serious expression as the crowd roared.
The student was one of six Kondos Field had pulled from the audience to join her in watching the Bruins' floor routines. They were part of a program-record crowd of 12,907 that watched as the Bruins defeated Stanford 198.326-196.275 on Sunday.
Kondos Field, who before each floor routine suggests ways UCLA's student section can participate, got a "crazy notion" before freshman Margzetta Frazier's floor routine — to bring a student down from the stands.
The first student she chose trembled as he joined her.
"I said, 'Are you shaking?' and he said, 'I am,' " Kondos Field recalled. "And I said, 'Great, that means you're an athlete. You should get nervous. This is important.'"
UCLA made the most of each routine. In the final two rotations, only one gymnast scored lower than 9.9. The Bruins posted a season-high team score, with a season-high 49.7 on beam.
Junior Kyla Ross led the Bruins early, with a 9.95 on vault, and Nia Dennis carried the team's momentum into the uneven bars. In the final two rotations, it was the roaring crowd that energized the team.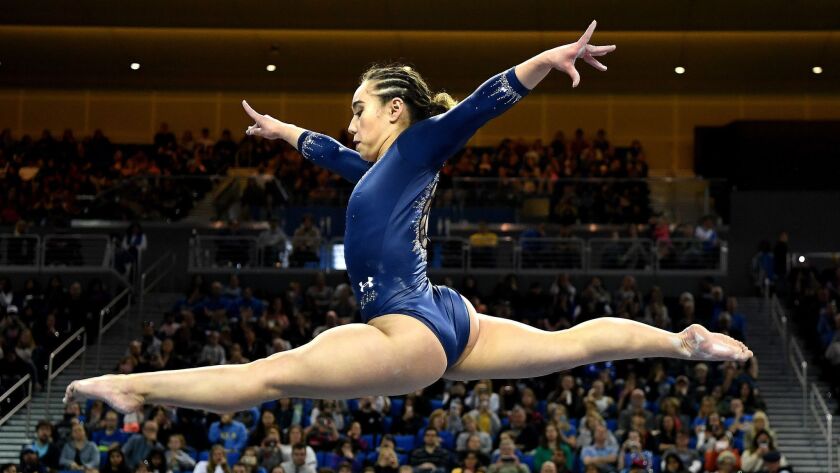 "I think this was the best crowd we've had, but not just peoplewise," Ohashi said, referring to the crowd's size. "Everyone together."
The fans clamored for a 10 after Ross' vault and uneven bars routines, and on beam they got their wish. Ross stuck her landing for her eighth perfect 10 of the season, her first on beam. It was her sixth straight week with a 10.
"I love to feed off the crowd," Ross said. "It was so amazing to have that many people there supporting us today."
Ohashi is battling an upper respiratory infection, and she spent the first part of UCLA's warmups sleeping in the locker room. The coaching staff had to adjust her beam routine, because Ohashi had been dizzy.
She still earned a 9.975 on the apparatus and on floor.
"I was just glad I could breathe throughout it," Ohashi said of her floor routine.
As Ohashi joined Frazier and junior Felicia Hano in earning 9.95, Kondos Field instructed each student beside her. She hugged them and whispered in between routines to stand in a power pose, with their hands on their hips, as the gymnasts tumbled toward them.
Sign up for our daily sports newsletter »
"They all said, 'This is the coolest thing I've experienced in my time at UCLA,'" Kondos Field said of the students.
Her reason for bringing them beside her was the same reason she instructs her gymnasts to run around the stadium high-fiving audience members after each routine. To express gratitude to the Pauley Pavilion crowds that keep growing.
"It's really important that we give back," Kondos Field said.
---
Get the latest on L.A.'s teams in the daily Sports Report newsletter.
You may occasionally receive promotional content from the Los Angeles Times.