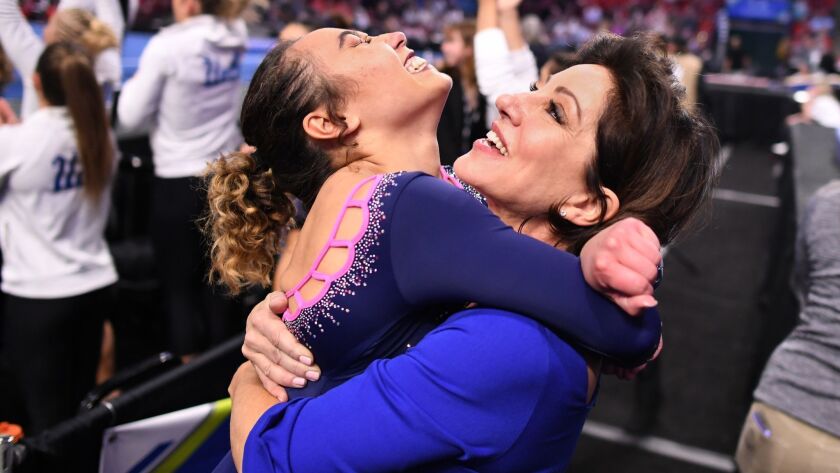 Reporting from ann arbor, mich. —
As the UCLA gymnastics team cruised to a first-place finish at the NCAA regional final, it was obvious to coach Valorie Kondos Field what allowed her team to reach this point.
It was there in the spontaneous substitutions that kept the Bruins rested in back-to-back competitions, and in their relentlessness after teammates erred. It sweetened the celebration, as they embraced and danced after securing a spot in the NCAA championships.
"Resilience," Kondos Field said. "Absolute resilience."
A team score of 198.975 Saturday boosted the No. 1-seed Bruins to convincingly secure their spot in the championship meet. They will defend their title in Fort Worth, Texas, starting April 19. The weekend offered them a glimpse of the national championships, where they would have to excel in back-to-back meets in order to win.
"We still got a 198 tonight," senior Katelyn Ohashi said, "and there was still so many more things we can improve on."
The Bruins had shaky moments Saturday, starting with junior Grace Glenn's uncharacteristic fall leading off on beam. But the early adversity was good for the team, Kondos Field recalled Ohashi saying. The Bruins learned they could trust one another to deliver when the moment demanded it.
The mistake did not rattle UCLA. The team finished the rotation scoring 49.4, and junior Kyla Ross earned her second perfect 10 of the season on beam. The performance completed a second Gym Slam for Ross, a 10 in each rotation, and marked her 10th straight meet scoring a 10.
Sign up for our daily sports newsletter »
UCLA had only one loss all season, but Kondos Field said her team still faced plenty of adversity, from a loss to Oklahoma to team meetings that took on a serious tone. Following last season's national championship victory, this year's team had an entirely different dynamic.
"We had to work a lot harder to get where we were today," Ohashi said. "Last year's I think came really, really easily. And that's how we thought it was gonna happen this year. But it hasn't been like that. And so I think all the extra hard work and hours that we've put in on making the team how it is today has paid off."
Each member of the team is strong, Ohashi said, but also different. They had to learn to find unity in their uniqueness. It took meetings, team challenges and time outside the gym to build that trust, Kondos Field said. They bonded through obstacles and long conversations.
"We didn't start off as trusting of each other and as connected," Kondos Field said. "But the struggles have connected us."
By the Pac-12 Championships, it finally clicked. Kondos Field saw how her athletes did not hesitate when performing, and how they found joy in competing together.
"We had to fight through a lot of obstacles, and I think that made us even stronger and even closer than maybe even last year's team," sophomore Nia Dennis said. "But it's still based off of love; we still love each other. But that bond that we have is unbreakable."
The Bruins demonstrated that Saturday in their consistency. Five gymnasts scored 9.9 or better on floor, and no one scored below 9.8 on vault or the uneven bars. Ross led the team with a 39.85 all-around score, with a second perfect score on bars. But it was the team's depth that brought the high score.
Each gymnast delivered.
When Michigan also qualified, Bruins and Wolverines embraced by the vault runway, jumping as video cameras tracked their movements. UCLA congratulated the fellow competitors and posed for a team photo on the vault runway.
When asked to describe the team's identity, Ohashi said that was "really hard." Their personalities were so different. But she realized there was a common thread.
Said Ohashi: "I would say we're all very, very strong, powerful, unique women."
---