Dorian Thompson-Robinson becomes more vocal as a leader for the Bruins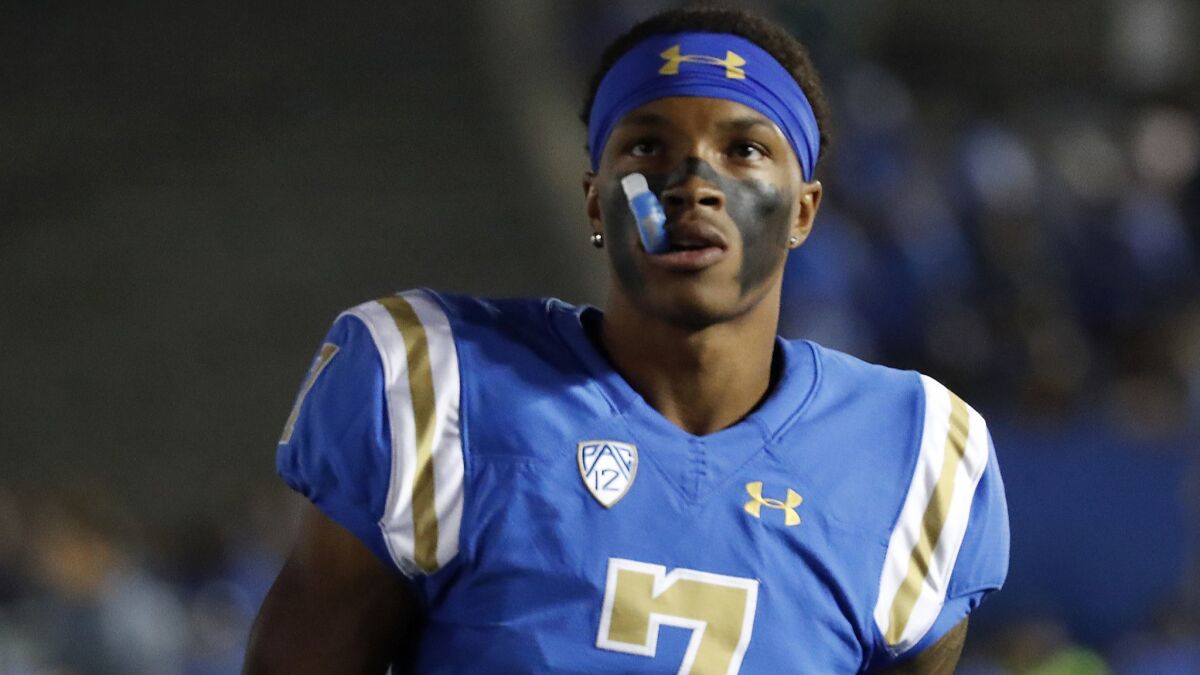 Once UCLA's coaches spread word of winter workouts to the football team, quarterback Dorian Thompson-Robinson rallied the wide receivers in a group text.
Almost daily, Thompson-Robinson worked on routes with receivers. He did the same with them last summer, but winter was different. This time he threw at Wasserman Football Center, the Bruins' state of the art practice facility.
Last summer, he went to UCLA's intramural field.
"I wasn't comfortable being out here [last season]," Thompson-Robinson said Saturday.
That has changed. Offensive lineman Michael Alves began noticing Thompson-Robinson's growth during the winter. The quarterback has taken charge of the offense this spring, and corrects his teammates when they err. Alves said Thompson-Robinson was among the top three leaders on the team, a quality that hasn't surprised coach Chip Kelly.
"He's always had that trait in him since he got here," Kelly said. "He has the whole intangible package that you want."
Thompson-Robinson only recently became comfortable expressing himself.
When he started in UCLA's early season games, he was antsy on the field. "Thrown into the fire," as he put it. Even though the offensive line afforded him more time, he would flee the pocket too early as he struggled to adjust to the college game.
He would sit apart from his team. His criticism and casual conversations were kept to a minimum.
"Do I do it? Do I not? Is it the right time?" Thompson-Robinson said, bulging his eyes and bearing his teeth to mimic his initial discomfort. "Yeah, you just don't feel comfortable with it."
When Thompson-Robinson is tough on his teammates now, they respond. After all, as quarterback Josiah Norwood noted, they see the effort Thompson-Robinson gives, the extra workouts and film sessions.
Kelly and quarterbacks coach Dana Bible have made it clear to Thompson-Robinson that the role of starting quarterback is still up for grabs. Chase Griffin, who graduated high school early to enroll before spring practice, is among the players vying for the role.
Griffin hasn't thrown a pass because he sustained an injury in his right wrist during a workout, but he has made an impression with his hustle. He asks plenty of questions, sprints from one drill to the next and bounces behind each quarterback as he mimics their movements while taking mental reps.
"Once I get back to it, it's full go," Griffin said of the competition.
Sign up for our daily sports newsletter »
Norwood attributes Thompson-Robinson's leadership improvements to the confidence he displays on the field, from a fist pump after a pass to his self-assuredness in the pocket.
"He'll just throw the ball with great conviction," Norwood said, "I think that a lot of the confidence comes from him being prepared."
Thompson-Robinson pointed to his authenticity when he gives feedback. He believes his teammates can tell he has embraced his leadership role.
"Just being comfortable," Thompson-Robinson said. "Just being out here and just knowing that this is my team now."
'Eight-clap eighth'
On the eighth day of every month — and only on that day — Kelly makes scholarship offers to prospective players.
It's a new initiative by UCLA called the "eight-clap eighth," named for the Bruins' eight-clap cheer. Kelly said the players seem to enjoy it, and that the pattern has not interfered with their recruiting process. He said the coaching staff spends enough time deciding whether to make an offer that the eight-clap eighth is not limiting.
"Unlike other schools, when we offer someone, that means the kid can actually commit and come here," Kelly said. "We're not throwing [offers] out there like manhole covers."
Etc.
For the third consecutive practice, linebacker Josh Woods, receiver Dymond Lee and defensive backs William Nimmo and Kenny Churchwell wore yellow jerseys, indicating that they were still recovering from injuries. … Griffin described his wrist injury as a "little tweak," and that it felt slightly stiff. He is doing physical therapy for the injury and said it would be reevaluated during the Bruins' spring break.
Get our high school sports newsletter
Prep Rally is devoted to the SoCal high school sports experience, bringing you scores, stories and a behind-the-scenes look at what makes prep sports so popular.
You may occasionally receive promotional content from the Los Angeles Times.