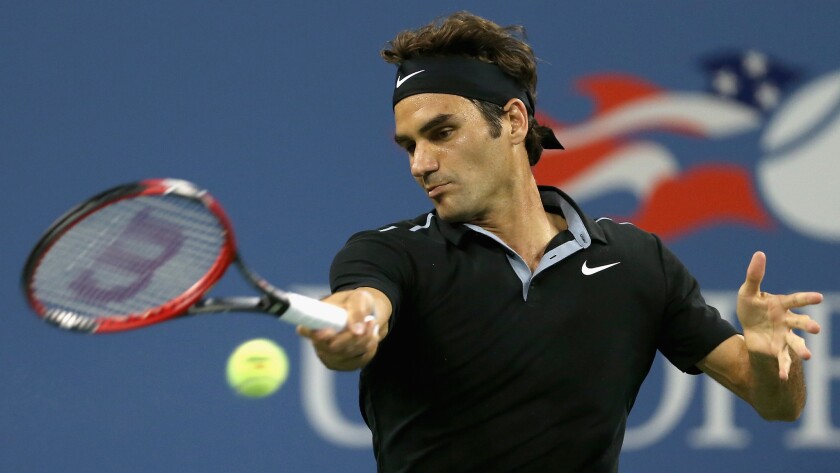 Reporting from New York —
The best result of Tuesday's action at the U.S. Open was that victories by Roger Federer and Gael Monfils will put them on the same tennis court in two days.
That should be good for tennis.
Everybody knows Federer, the No. 2-seeded player here and the consensus best-ever, with his 17 major titles. He beat a rising Spaniard in the fourth round Tuesday night, dispatching with his usual ease No. 17 Roberto Bautista Agut, 6-4, 6-3, 6-2.
Not everybody knows Monfils, a veteran and talented Frenchman, who is so nimble, athletic and creative on the court that his success, over 10 years on tour, often gets lost in the shadow of his skills and antics.
Tuesday, No. 20 Monfils beat future star Grigor Dmitrov, the No. 7-seeded Bulgarian, 7-5, 7-6 (6), 7-5.
Afterward, Monfils called Federer "the best player ever" and said that playing him will be special and something he can tell his children. When informed of that, Federer shook his head, grinned and said, "I hope the match will be memorable then, especially for his unborn children."
The other quarterfinal in the bottom half of the men's bracket will match No. 6 Tomas Berdych of the Czech Republic and No. 14 Marin Cilic of Croatia.
Berdych took only 1 hour 38 minutes to oust No. 45 Dominic Thiem of Austria, 6-1, 6-2, 6-4. Cilic had a much tougher battle with No. 26 Gilles Simon of France. On yet another day of stifling heat and humidity here, Cilic and Simon soldiered on for 4 hours 13 minutes before Cilic prevailed, 5-7, 7-6 (3), 6-4, 3-6, 6-3. Cilic hit 23 aces and 70 winners.
China's Peng Shuai continued to be the surprise of the women's draw. She is unseeded and entered the tournament ranked No. 39. She has not lost a set here, not even come close, and her 6-2, 6-1 victory over Belinda Bencic of Switzerland, in just over an hour, continued that trend.
Peng is 28, has never won a WTA title and had never before been to a Grand Slam quarterfinal. Now, she is in her first Grand Slam semifinal, where she will face Caroline Wozniacki.
Wozniacki, on a recent roll, had too much power for doubles specialist Sara Errani of Italy, seeded No. 13 and an earlier victor over Venus Williams. Wozniacki, the former No. 1 player from Denmark, moved back into the top 10 with her 6-0, 6-1 victory, one round after she took out Maria Sharapova. Since the French Open, Wozniacki has put together a 24-5 record.
Tennis fans were still buzzing Tuesday about Monday night's late-night marathon that ended around 2:30 a.m. Tuesday. In it, No. 10 Kei Nishikorio of Japan outlasted big-serving Milos Raonic of Canada, the No. 5-seeded player, in 4 1/2 hours, 4-6, 7-6 (4), 6-7 (6), 7-5, 6-4.
---