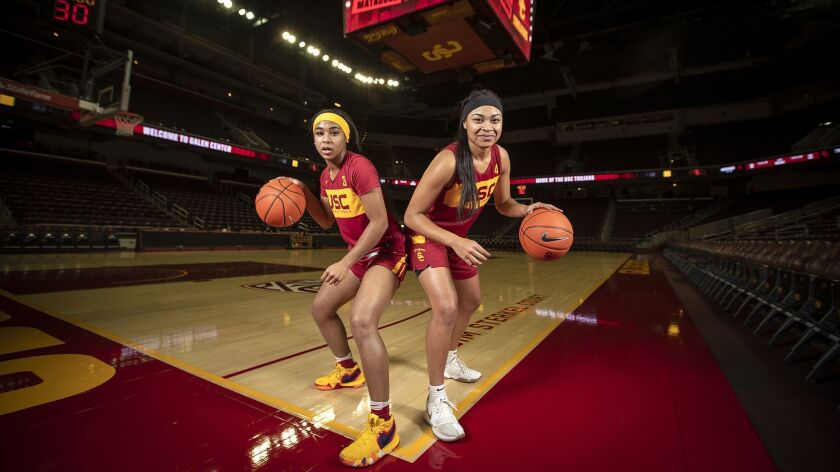 The Galen Center is quieter than USC senior guard Mariya Moore is used to for basketball games.
When Moore was a junior at Louisville, the Cardinals drew more than 8,000 fans per home game. But when games ended and the fans departed, Moore was usually alone, too far for her mother to visit from Hercules, a town in Northern California, more than once a month. Moore would normally return home and watch "Friends."
In her first season playing for the Trojans, the largest home crowd Moore has played in front of was 1,194 for a game against Cal State Northridge. The average attendance at the Galen Center for women's games is 542.
But among the sparse crowds, Moore's mother, Cenne Carroll-Moore, watches in a courtside seat. Mariya meets her and other family members for postgame dinners at a nearby restaurant, talking about anything but basketball. Beside her is her sister, Minyon Moore, a junior point guard for the Trojans.
"It's nicer just having that stability," said Mariya, who at 22 is two years older than Minyon. "That ongoing support."
USC is 10-1 going into the Pac-12 opener Sunday against UCLA (7-5) at the Galen Center. Minyon leads the Trojans in scoring (14.9 points a game), rebounds (5.4) and assists (6.6). Mariya is third in scoring (12.3).
At a practice earlier this month, Minyon's voice carried across the gym as she hurled passes and drove to the rim. When a shot bounced off the basket she reacted with a shout and grinned as she reset the play. Mariya studied the court quietly, cutting to position with the precision of someone running across a balance beam.
"I guess you would call Minyon fire, because you can just see the passion," USC coach Mark Trakh said, "and Mariya's ice … a little cooler, a little more even."
The sisters contrast yet complement each other on the court, Trakh said, Minyon's speed and aggression with Mariya's finesse and court vision. And after years of daily pick-up games in their backyard and at the park, each knows how to exploit the others' strengths.
"They feed well off each other," Carroll-Moore said. "They both compete."
Watching her daughters play together for Salesian High's summer league team in Richmond, Calif., before Minyon's freshman year made Carroll-Moore excited to watch them become teammates. Until one game in August, when Minyon tore the anterior cruciate ligament in her left knee.
Minyon returned for the final two games of her freshman season, but during the North Coast Section title game, she tore the ACL in her right knee. As Mariya was being pursued by colleges, interest in Minyon lagged.
"I'd rather be the underdog any day, rather than someone that's highly recruited and stuff like that," Minyon said. "So you can prove people wrong and work hard, always have a chip on your shoulder ... I've always played like that."
As Minyon succeeded in high school, her recruitment gained momentum, though doubts lingered about her injuries and scoring ability, said Steve Pezzola, her high school coach. But the USC coaching staff pursued Minyon, and the school's community, academics and Los Angeles location allured her. She committed during her senior year at Salesian.
"They saw what I saw," Pezzola said of USC.
When Minyon finally recovered from her injuries, Carroll-Moore was too preoccupied with her daughters' health to enjoy watching them play together.
Pezzola delighted in coaching them. They were too competitive to pit against each other at practice and only grew more focused under pressure.
"You saw this almost symbiosis," Pezzola said. "They very much had each other's back."
Mariya decided to attend Louisville, excited to play for a community galvanized by women's basketball and to experience life outside California. But she quickly grew homesick. When Carroll-Moore visited she could see the distance wearing on her normally cheerful daughter.
"She just seemed very torn down," Carroll-Moore said. "Her smile didn't reach her eyes."
Following a detail-oriented decision to commit, Carroll-Moore encouraged Mariya to persevere at Louisville. Mariya began to consider transferring after her sophomore year, but waited another season to decide, as Carroll-Moore advised Mariya to choose logically.
"We're not gonna make any decisions based on emotion, and we're gonna stick it out," her mother told her. "And if you feel this way again next year, then we'll discuss it."
When Mariya's junior season ended, she grew confident in her choice. Despite being a starter for three seasons and earning all-conference honors three times, her days at Louisville were done.
"Homesick and ready for something new," Mariya said. "I appreciated everything that I learned and experienced when I was out there, but I was just ready."
As Mariya announced her decision, USC was in between coaching staffs. Minyon told her family she would consider transferring if she did not click with USC's new coach — and whatever school her sister chose, Minyon would follow.
The decision culminated in a meeting at a restaurant with the sisters and their parents near their home.
Minyon said she loved USC, her team and the new coaches, whom she had recently met. Los Angeles offered opportunities off campus, USC's academic rigor, and a close-to-home location. Minyon said she would stay, and Mariya decided to join her.
"We wanted to play together," Minyon said, "and we wanted that, kind of, dream."
Some of Mariya's credits from Louisville did not transfer, leaving her to take six classes both semesters as a redshirt at USC, along with a heavy summer course load. But she earned the grades to remain eligible, and her mother watched Mariya's spirit renewed with her family nearby.
"I think it was a hard decision for her to make, but it was the best decision for her," Carroll-Moore said. "Since then, she's been thriving."
Carroll-Moore has attended all of USC's home games and almost every road game, soaking up each moment as her daughters share hugs and high-fives, make plays and smile on the court.
Because of her accelerated class schedule, Minyon will graduate alongside Mariya in May. Minyon will begin working on a master's degree in entrepreneurship or communication in her final year of eligibility.
Mariya and Minyon each endured hardship, but Carroll-Moore said this season has made it worthwhile.
"Minyon was very gung-ho about the Moore sisters," Carroll-Moore said. "About both of them leaving a legacy, about both of them leaving their names behind, of something they did together."
---