Competition for USC's starting cornerback job has formed a friendship between the two competitors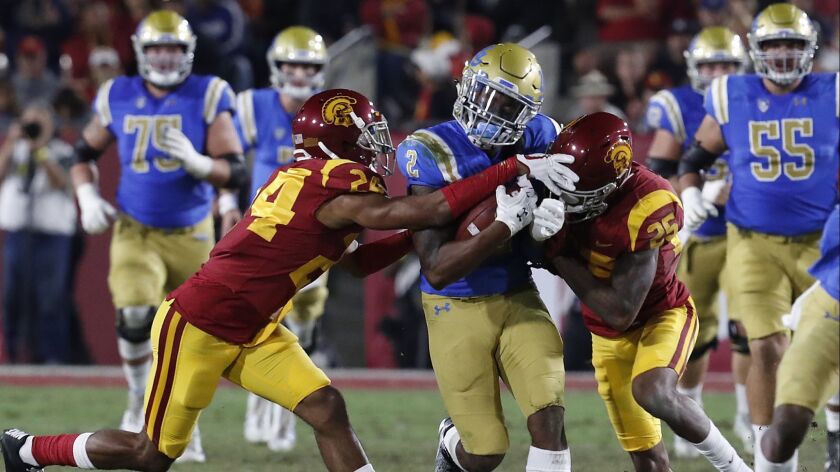 As a freshman in 2017, Greg Johnson arrived at USC with a plan — get close to the veteran cornerbacks.
He aimed to learn their expectations for young cornerbacks like himself, study their mind-set and gain advice for excelling at the position. Along the way, Johnson found he connected with his mentors, and the players he emulated became his friends.
One of those cornerbacks was Isaiah Langley. The pair clicked quickly in Johnson's first weeks on campus.
"He's just funny," Johnson said. "I don't know, I can't really explain, but once I got to know him, he's just a real cool dude. Genuine, genuine person. And that's my guy. That's all I can say, really."
Now, the two friends are also competitors. Only one will start for the Trojans. Iman Marshall has a lock on the other corner spot.
It's easy to see that Langley has proved himself — just check his Twitter account. Pinned to the top are three words: "Senior Campaign Loading..." Below them, a video flashes highlight clips from Langley's years on USC's defense. Langley has started in four of the 37 games he's played, with 38 tackles and six deflections in his career. It's an on-the-field rapport Johnson has not established.
Johnson is inexperienced by circumstance. He appeared in four games in 2017 before becoming a medical redshirt, sidelined because of season-ending shoulder surgery.
Langley is seasoned, but Johnson is hungry. Bolstered by the thrill of finally being healthy, Johnson has pored over the playbook and grown more physical through the team's weightlifting, making the contest close.
Johnson said he hasn't let the competition affect his friendship with Langley, and he has tried to keep the flip-flopping between starter and backup at practice from hurting his focus. USC coach Clay Helton's mantra this season is the best player will start. There is no room for speculation with the competition so tight.
"I just got to show the coaches that I'm ready," Johnson said. "So it doesn't change my mentality at all, just look to work every day, work hard."
But Helton has noticed a difference in both cornerbacks. Johnson was always talented, but he now has the knowledge, and the confidence, to back it up. But Langley's expertise has shone, too, with three years playing in defensive coordinator Clancy Pendergast's system under his belt.
The harder they have battled to start, the more difficult it has become to name a winner.
"I've loved how those two have competed…" Helton said. "I think they've made each other better the way they're competing. So I can see them both playing in the opening game with the performances that they've had."
It's just a matter of who will be the first to get that chance.
Quarterback contest still tight
Helton has no timetable on when he will name the starting quarterback. He wants to see the three contenders compete in a second scrimmage — maybe a third, if the choice is still unclear.
"When it feels like a definite separation, then I'll make that decision," Helton said.
J.T. Daniels breezed by the others at Saturday's scrimmage, but Matt Fink battled back into contention with an impressive week of practice. During the scrimmage on Saturday, Helton will watch their decision-making speed — a weak spot last week that resulted in several sacks.
With the competition heating up, Helton knows only that he needs more time.
Multifaceted battles
The battle between potential starters is one of many contests at each practice. As the offense and defense square off during drills, players in opposing positions also challenge each other.
To Helton, one of the more exciting of such showdowns is between receiver Tyler Vaughns and Marshall.
"I mean, there's two future pros in my mind… and those guys are getting better 'cause they're competing against each other," Helton said. "So competition is great. Those guys may be the best they see all year, against each other. It's great to have it in your own position group, but it's also great to have it across from you."
Etc.
Helton said Porter Gustin (knee) ran well on an anti-gravity treadmill on Friday. The plan is to have Gustin run on turf next week, full speed, changing direction and also working against a sled. "We'll see after that week where we're at for Game 1," Helton added.
---
Get our high school sports newsletter
Prep Rally is devoted to the SoCal high school sports experience, bringing you scores, stories and a behind-the-scenes look at what makes prep sports so popular.
You may occasionally receive promotional content from the Los Angeles Times.