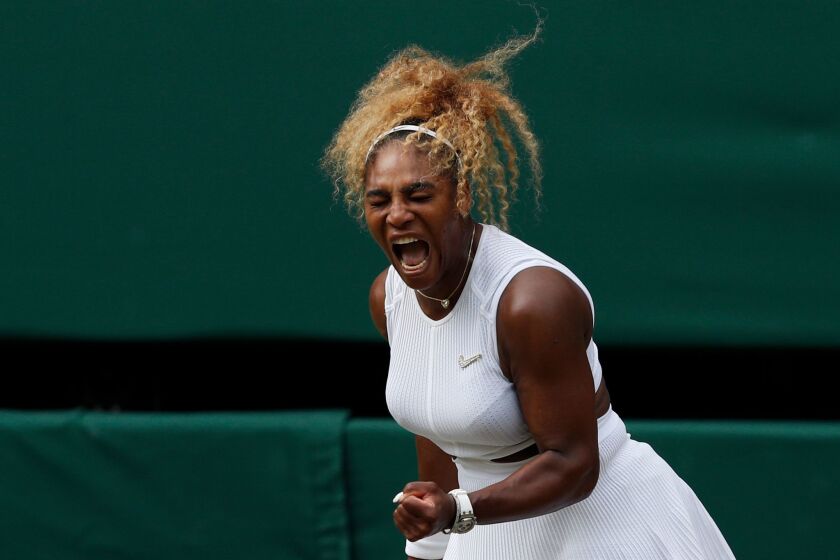 Reporting from WIMBLEDON, England —
Sometimes she breaks records. Sometimes she breaks rackets.
This year, it could be a little of both.
Serena Williams, who is one match win away from becoming the oldest woman to reach a Grand Slam final in the Open era, was fined $10,000 for damaging one of the grass courts with her racket before the tournament.
"I just threw my racket; I got fined," said the seven-time Wimbledon singles champion, clearly eager to change the subject Tuesday in the wake of her 6-4, 4-6, 6-3 victory over fellow American Alison Riske in a quarterfinal match.
Asked what specifically she did that damaged the court, Williams said: "I guess if you could tell me, I would appreciate it. I mean, I have always been an Avenger in my heart. Maybe I'm super strong, I don't know."
That strength has never been in question, nor has the intensity that percolates within her. Motherhood hasn't mellowed her much. Time hasn't either. Should she get past unseeded Barbora Strycova in a semifinal, Williams would be participating in Saturday's final at 37 years, 300 days. Martina Navratilova set the record by reaching a slam final at 37 years, 258 days.
In the other women's semifinal Thursday, Elina Svitolina will play Simona Halep. Both won in straight sets Tuesday, whereas Williams needed three.
"I definitely gave it everything I had," said Riske, who Monday upset No. 1-ranked Ashleigh Barty. "I'm really proud of my effort today. I definitely thought maybe I had a peek here and there at a couple openings. But Serena really upped her level, as only a champion would."
Williams, who reached the finals last year and is seeking her 24th grand slam victory, has struggled with a knee injury in recent months but says that for the first time since February she's feeling good.
"I haven't had a tremendous amount of time to prepare for this," she said. "But like I said at the beginning of this tournament, each and every match for me has to count as, like, five or 10 matches because I haven't played a lot.
"This is the first time since Australia that I actually felt good. It's been a really, really long year for me already, and a hard year, because I'm not typically injured."
Reminded that Navratilova once said she felt more pressure as she aged, Williams agreed but joked, "Now that I'm past older, I feel a little bit less pressure."
She might be "past older," but Williams hasn't budged from the spotlight.
Especially in the tabloids here, Williams is getting plenty of attention for her mixed-doubles play with two-time men's champion Andy Murray, a British hero. Not surprisingly, those two get the Centre Court treatment, just as they typically do in singles.
Williams eventually completed another two-win day at Wimbledon on Tuesday, teaming with Andy Murray to beat Fabrice Martin and Raquel Atawo 7-5, 6-3 to reach the third round in mixed doubles. Earlier, Williams reached the semifinals in singles at the All England Club for the 12th time. Williams also won two matches on Saturday, first in singles and then in mixed doubles.
More Williams news trickled out Tuesday, when it was revealed she sent an apology to Naomi Osaka for her behavior in last year's U.S. Open final. Williams was given three code violations by chair umpire Carlos Ramos and was docked a game.
Williams was penalized for a coaching-from-the-box violation, smashing her racket, and for calling Ramos "a thief."
In a Harper's Bazaar article, Williams said she wasn't able to "find peace" after the incident and began seeing a therapist for it.
"I was searching for answers, and although I felt like I was making progress, I still wasn't ready to pick up a racket," she said. "Finally I realized that there was only one way for me to move forward. It was time for me to apologize to the person who deserved it the most."
Williams, who told Osaka she was a fan and "truly sorry," said "tears rolled down my face" when the Japanese player answered her message.
The intensity of Williams hasn't dulled over the years and championships, and that's a big part of the reason she's in position to win yet again.
"I just keep fighting," she said.
---