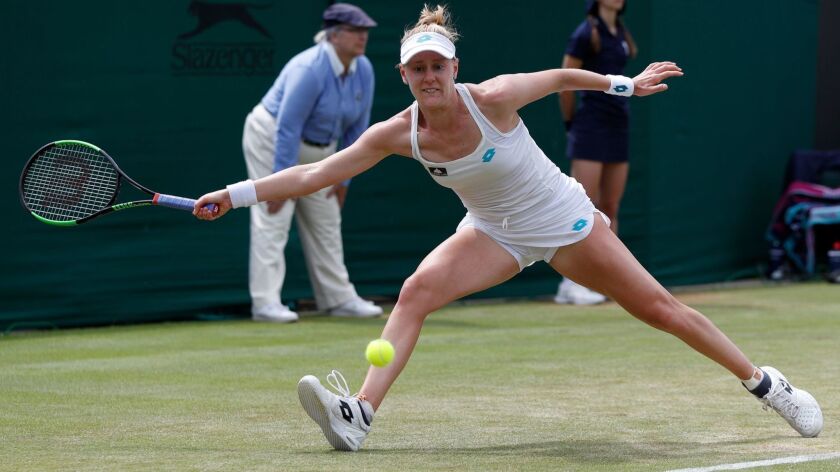 Reporting from Wimbledon, England —
Ashleigh Barty, ranked No. 1 in the world, opened her match Monday with four aces. But it was Alison Riske who had the winning hand.
After dropping the first set, Riske rallied for a 3-6, 6-2, 6-3 victory that halted the Australian's winning streak at 15 matches in a row.
"I think honestly the biggest key for me has just been to battle from start to finish of every match that I've been a part of," said Riske of Pittsburgh, who advanced to her first quarterfinal in a major championship. "Judging by the score line, they haven't all gone perfect. I feel like I've been there in every moment, looking to impose myself."
Barty had been 11-0 against Americans this year, knocking off five on her way to a victory at the French Open, her first grand slam title.
"Tough one," Barty said of the loss. "I think I started well. I was sticking to how I wanted to play. Then in the second set, I think my serve let me down. I let Alison get back into the match too many times, having looks at second serves.
"Overall, I didn't play a poor match. When I needed to, when the big moments were there, Alison played better today. Tough one to swallow but I lost to a better player."
On Tuesday, Riske will play Serena Williams, who beat Carla Suarez Navarro, 6-2, 6-2.
SLIM PICKINGS — Just four men seeded in the top 10 reached the round of 16, the fewest since 2008 when there were also four: Roger Federer, Rafael Nadal, Richard Gasquet and Marcos Baghdatis. That year, Federer and Nadal were the only top 10 seeds to advance to the quarterfinals. Every year since, at least four of the top 10 seeds advanced to the quarters — until this year.
SURFACE PRESSURE — Experience counts, especially on the ultra-fast courts of Wimbledon, the highlight of a blink-and-you'll-miss-it summer grass season.
"I do believe it's nice to have experience on this surface," said Federer, winner of eight singles titles here. "The problem is it's not like you can play a ton of tournaments, just say, 'I'm going to focus on the grass court season this year.' You can, and play three tournaments leading in, then maybe you'll be tired by the third match. It's just not so simple. The panic can set in quickly on this surface. I don't know if that's got something to do, and if age calms the nerves there. I'm not sure."
---