Oliver Luck, the commissioner of the rebooted XFL, was standing on an outdoor downtown terrace introducing the world to the new Los Angeles franchise Tuesday when a most appropriate omen appeared below.
Sirens. Lots of sirens. Deafening sirens. The noises from firetrucks and police cars were so overwhelming, one could no longer hear Luck.
It didn't matter. He never stopped talking.
"In the spirit of collaboration, our broadcast partners and several senior production and technical …WAIL! BLARE! WHINE! … we appreciate the incredible input and suggestion from our broadcast partners as we re-imagine the... WAIL! BLARE! WHINE!"
His words were incomprehensible, his message was mottled, but the metaphor was perfect.
Despite the obvious warning signs, this new spring football league is going to plow right through, shrugging off history, blowing off precedent, ignoring the noise.
With the audacity of one of league owner Vince McMahon's wrestlers, the yet-unnamed Los Angeles team will kick off at Carson's Dignity Health Sports Park as one of eight squads in a 10-game season that will begin in 2020 and run from February through April.
Yeah, crazy, huh? The XFL came to town once before, in 2001, in a rowdy venture that featured Coliseum end zone hot tubs filled with strippers. There were wrestling sideshows. There were dirty dancing cheerleaders. The fights in the stands were legendary. The games were voted as one of the worst shows in TV history. The nightmare lasted one season and folded.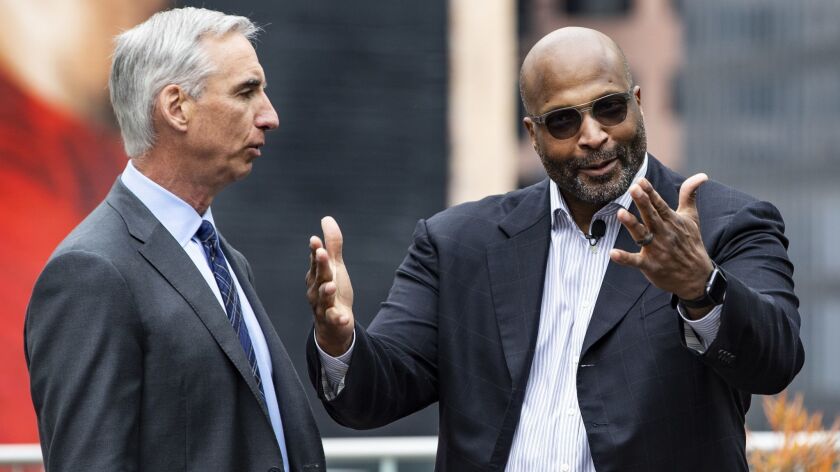 "Vince realizes they made some terrible mistakes back in 2001," said Luck, a longtime respected sports executive and father of Indianapolis Colts quarterback Andrew Luck. "You don't need more bravado in football. The testosterone is already sky high. You don't need more."
So this new league will be cleaned up. No more scantily clad cheerleaders. No more cheerleaders, period, which seems like a bit of an overcorrection, but can you blame them?
"This is a completely different product," said Jeffrey Pollack, XFL president and former Chargers consultant. "We are focused on the fundamentals."
This new league will also be fundamentally sound, backed by McMahon's millions — he's pledged $500 million — and broadcast on ESPN/ABC and Fox.
But that doesn't change the fundamentals of history.
Spring football doesn't work. Scrub football doesn't draw. The money doesn't last. The initial interest dies. Look no further than this spring, when the Alliance of American Football began with great reviews and lasted less than two months before going bankrupt.
Then there is the issue of pro football in Los Angeles, which barely works. The Rams were in the Super Bowl and they're still struggling for fans. The Chargers have been here two years and people still think they play in San Diego.
Finally, there is the competition for the spring sports dollar around town. There are two NBA teams, two major league baseball teams, and two NHL teams fighting for wallets. A game with anonymous prospects wearing helmets is going to have a hard time winning that fight.
Where on this Southern California earth is this unnamed team going to fit? While the games will be faster paced than NFL games, with cooler kickoffs and overtime duels, it will still be regular football with mostly NFL practice squad players or castoffs — "We'll try to make them semi-stars," said Luck — and how are they going to make that sell?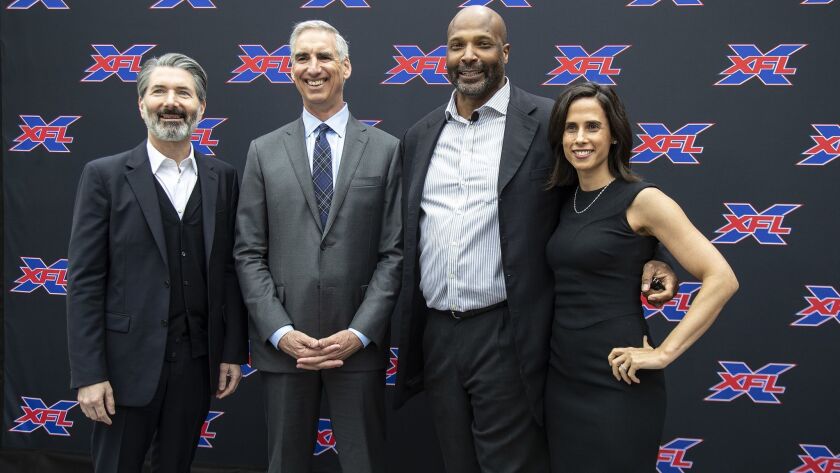 Judging from their two main local hires, they will try to fit into a fan space that combines the intimacy of the successful LAFC fan experience with the passion of Raider nation at prices cheaper than the Rams or Chargers.
The LAFC part comes from their new president, Heather Brooks Karatz, who was hired from a successful stint as executive vice president of the innovative MLS team. She hopes to recreate the 3252 supporters' group atmosphere at Dignity, for a different kind of football.
"L.A. looks for these authentic great game-day opportunities… this is going to be a new game-day experience," she said. "The LAFC story was an incredible story, and part of my vision is how can we find those fans who want to authentically connect with XFL in LA."
The Raider component comes from coach and general manager Winston Moss, who spent four years with the Los Angeles Raiders as a linebacker and most recently 13 years as a Green Bay Packers linebackers coach.
He comes with the prerequisite Raider baggage, having been fired from the Packers last winter, two days after the surprising firing of head coach Mike McCarthy, when he tweeted that the staff needs to be tougher on star quarterback Aaron Rodgers.
"I'm a straight shooter and I tend to say what I feel… but not so fast… I got relieved because of that," he said after being introduced Tuesday. "Looking back I wish I didn't do it, I regret it, and I own up to it. I sincerely wish it didn't happen and it made me very humble and very thankful for the new opportunity."
Sign up for our daily sports newsletter »
The opportunity for rebirth won't just be in the coaching ranks. Perhaps the key to the league's success will be to pick up disgruntled players from college campuses. Instead of signing fallen stars, they could be in a position to create stars.
Luck confirmed that the league is not under the NFL mandate that prohibits an NFL player from entering the league before the completion of his third college season. They can grab a top freshman quarterback who is ready to get paid. They can snatch an unhappy sophomore receiver who wants to transfer.
"What I don't want to do is go on campus and recruit, but if we find guys who are interested in coming to our league and our coaches think they're good enough… I'm looking forward to a little bit of disruption in that space," Luck said.
The XFL space still looks precarious. Their future is still an uphill climb. If nothing else, the Los Angeles franchise has one thing going for it. When they kick off next February, it will be in the unique position of beginning an inaugural season as a defending champion.
Remember? Back in 2001, the LA Xtreme won the XFL's title with a 38-6 victory over the San Francisco Demons at the Coliseum in an event known as the Million Dollar Game.
The game attracted only 24,153. Even though kickers were the lowest-paid players in a league that allowed no extra-point kicks, the game's MVP was a kicker named Jose Cortez.
Afterward, McMahon came down to the field, took the microphone and announced to the fans, "See you next year."
Nineteen years later, for better or worse or whatever, he's back.
Get more of Bill Plaschke's work and follow him on Twitter @BillPlaschke
---