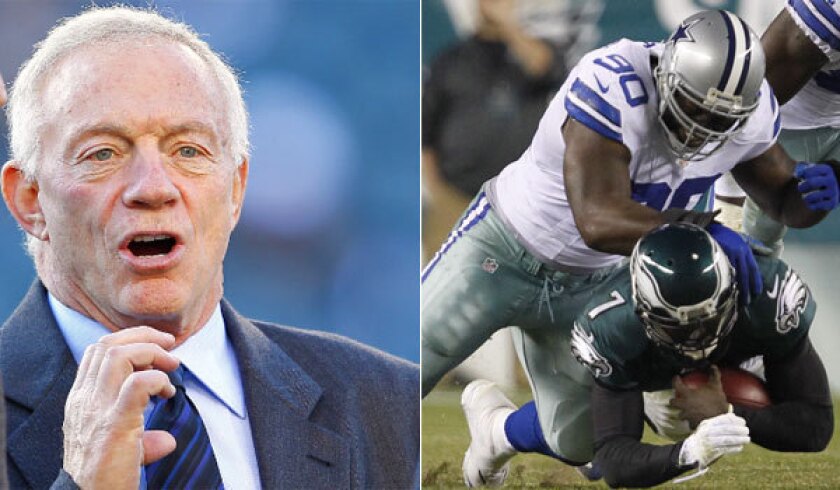 Jerry Jones is 70 years old, but he's not a guy you'd want to get into a confrontation with.
Especially if he's the one who signs your paycheck. Even if you are a 6-foot-3. 300-pound defensive lineman, you might want to think twice about doing something like that.
But that's just what nose tackle Jay Ratliff allegedly did in the locker room following the Dallas Cowboys' Dec. 2 victory over the Philadelphia Eagles. According to a report on CBS 11 Dallas-Fort Worth website on Sunday, Jones approached Ratliff, who hasn't played since Nov. 18 due to injury, and told him, "We need you."
Ratliff allegedly rose to his feet and physically challenged the Cowboys owner, who did not back down in what was described by anonymous sources as a "volcanic" confrontation.
[Updated at 8:23 a.m.: Jones confirmed the confrontation Tuesday morning. "Well, you've heard the old deal, 'What goes on in there, stays in there.' Obviously it didn't," Jones said on 105.3 The Fan. "I think the world of Jay and I think of him as a competitor. I know how hard he's worked to be where he is.
"Jay has had injuries this year that are just mind-boggling, considering the player that he's been for us. We let the emotion of the game the other day get to us, but that's just the way things work sometime. He wants to win. He wants to do everything he can for the team, and that's the way I want it."]
"They're both passionate men and great men and they want to win, that's all it is,'' one source said. "But they were in each other's faces. People had to intervene.''
The Cowboys really do need a healthy Ratliff now, even more than at the time Jones made his remark. Backup nose tackle Josh Brent faces charges of intoxication manslaughter stemming from a car crash that claimed the life of teammate Jerry Brown on Saturday.
The CBS 11 report says Ratliff "was a rather brooding presence" at team headquarters last week. He did not play in the Cowboys' 20-19 victory over the Cincinnati Bengals on Sunday, still due to his groin injury.
Coach Jason Garrett said Monday that Ratliff won't be facing any disciplinary actions over what may or may not have happened with Jones.
"I don't want to get into any specifics about a situation like that," Garrett said. "I do know this: Jay Ratliff loves to play football. He loves to be out there. He loves to compete. I think he loves his teammates and this team, and if he was able to play, he'd be out there playing."
ALSO:
Cowboys' Josh Brent releases statement, remains in custody
Jerry Jones is locked out of the Cowboys' locker room following loss
It might be time to pass the torch to the NFL's rookie QB class of 2012
---