Wake him when the Steve Alford era is over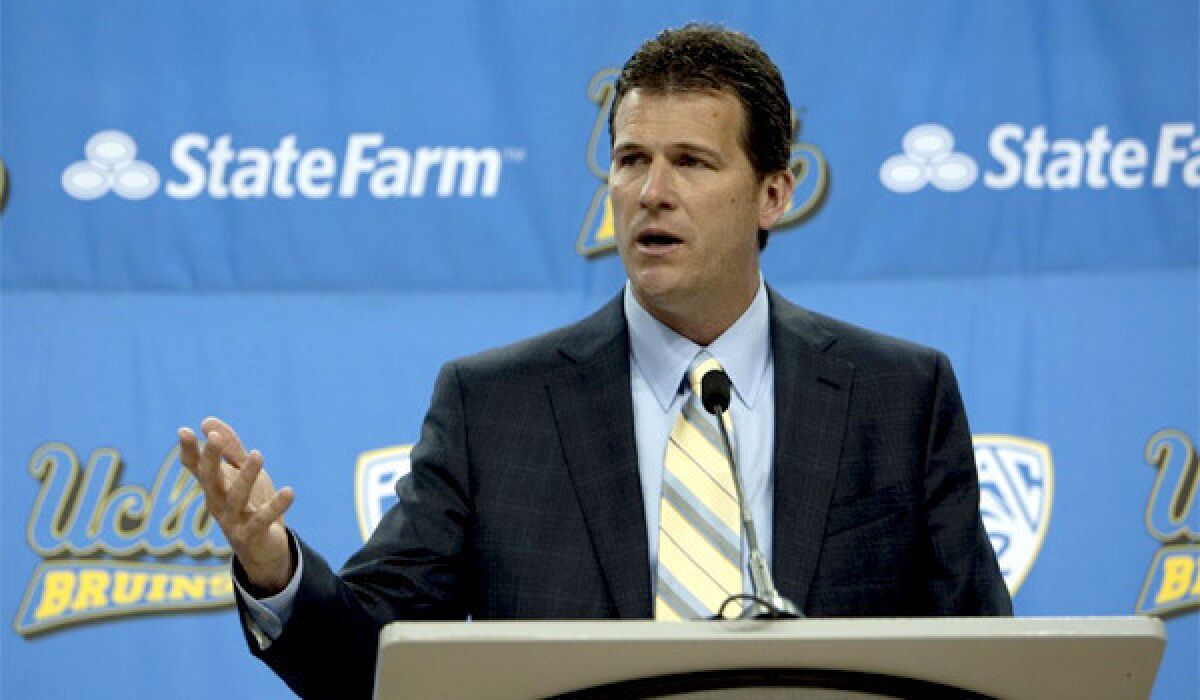 I saw the guy working on TV, his team surprising folks in the NCAA tournament, but honestly I don't even know his first name now that he has become USC's basketball coach.
But he has to be more interesting and exciting than the dolt introduced as UCLA basketball coach Tuesday.
It's pretty well understood that whoever coaches UCLA basketball is a dead man walking, it being only a matter of time before the alumni agree he'll never be another John Wooden.
But this might be the first time UCLA actually hired a dead man.
Yeesh, the John Wooden statue outside of Pauley had more life to it than Steve Alford, the robot who sputtered nonstop platitudes while never once answering a question directly.
He wouldn't even say if Bob Knight had called him since he was named UCLA's coach.
When he was asked about his role in defending an Iowa player from sexual assault charges and allegedly bullying the victim into not pursuing the case, he blamed school administrators for his behavior.
The player later pleaded guilty to intent to commit sexual assault on another victim and served time. Protesters expressed their disapproval at Iowa's basketball games, but on the bright side they had to buy tickets to attend the games. And that's very important to UCLA.
Obviously there hasn't been anything in town much more irrelevant than USC basketball, but that was before talk of dunk city, a wife who's a model and fun.
Never heard fun mentioned once at UCLA's somber get-together.
Who is the better risk? The guy from Florida Something Or Other who got everyone in the country excited with two tournament wins? Or the guy who has taken his team to the NIT six of the last 12 years, going 4-6, while compiling a 5-7 mark in the NCAA tournament?
Maybe that explains the lack of energy at UCLA's introductory affair with Alford. These things are supposed to be more pep rallies than news conferences with UCLA supporters, alumni, cheerleaders and mascot overwhelming the number of media in attendance.
But when it came time for Athletic Director Dan Guerrero to introduce the dolt, Alford got a standing ovation. From one guy.
Everyone else remained seated. And they were given no reason to come to their feet or break out in an eight-clap as UCLA's new basketball leader droned on and on about himself.
We know this much, he has a sizable ego in explaining how successful he has been, and yet he shouldn't even be mentioned in the same category as successful as Ben Howland has been.
When it came time to meet with the media in small groups, Alford took on all questions while looking at his feet. It was as if he had previously rehearsed this and was trying to recall what to say without making eye contact.
"Are you on automatic pilot?" I asked the robot.
"I just like looking around," he said.
That would explain how he ended up at UCLA a few days after agreeing to a 10-year contract extension at New Mexico and telling Lobos fans, "There is no other place I would rather coach than UNM, representing the best fans in the country."
Nice to see I'm in agreement with Alford, and UCLA doesn't have the best fans in the country.
When Ben Howland came to UCLA, he did so out of love for the school and Wooden. When he talked about "Coach," he oozed Wooden.
When Alford said, "Coach is always someone I could talk to," he was referring to Knight.
Knight never spoke very highly of Wooden and Wooden once said, "I wouldn't want anybody I love to play for Bob Knight."
But now UCLA has hired a Knight disciple to lead its basketball program, and I can only imagine how much Knight is smiling with delight.
And I'm surprised Bruins' fans have no problem with it.
At the very least if a UCLA coach lost to Harvard we would have been attending a news conference to announce his dismissal.
"Jim Harrick lost to Princeton, didn't he, and he won a national championship," Guerrero fired back.
"Harrick won a national championship, then lost to Princeton and that was the beginning of the end for him," I said.
"Oh," Guerrero said.
Alford, meanwhile, was talking like someone who has already enjoyed incredible success.
"We did things at New Mexico that had never been done before," Alford said.
"Like lose to Harvard," I said, and welcome to L.A.
Get our high school sports newsletter
Prep Rally is devoted to the SoCal high school sports experience, bringing you scores, stories and a behind-the-scenes look at what makes prep sports so popular.
You may occasionally receive promotional content from the Los Angeles Times.