Kobe Bryant makes Lakers give it to Pau Gasol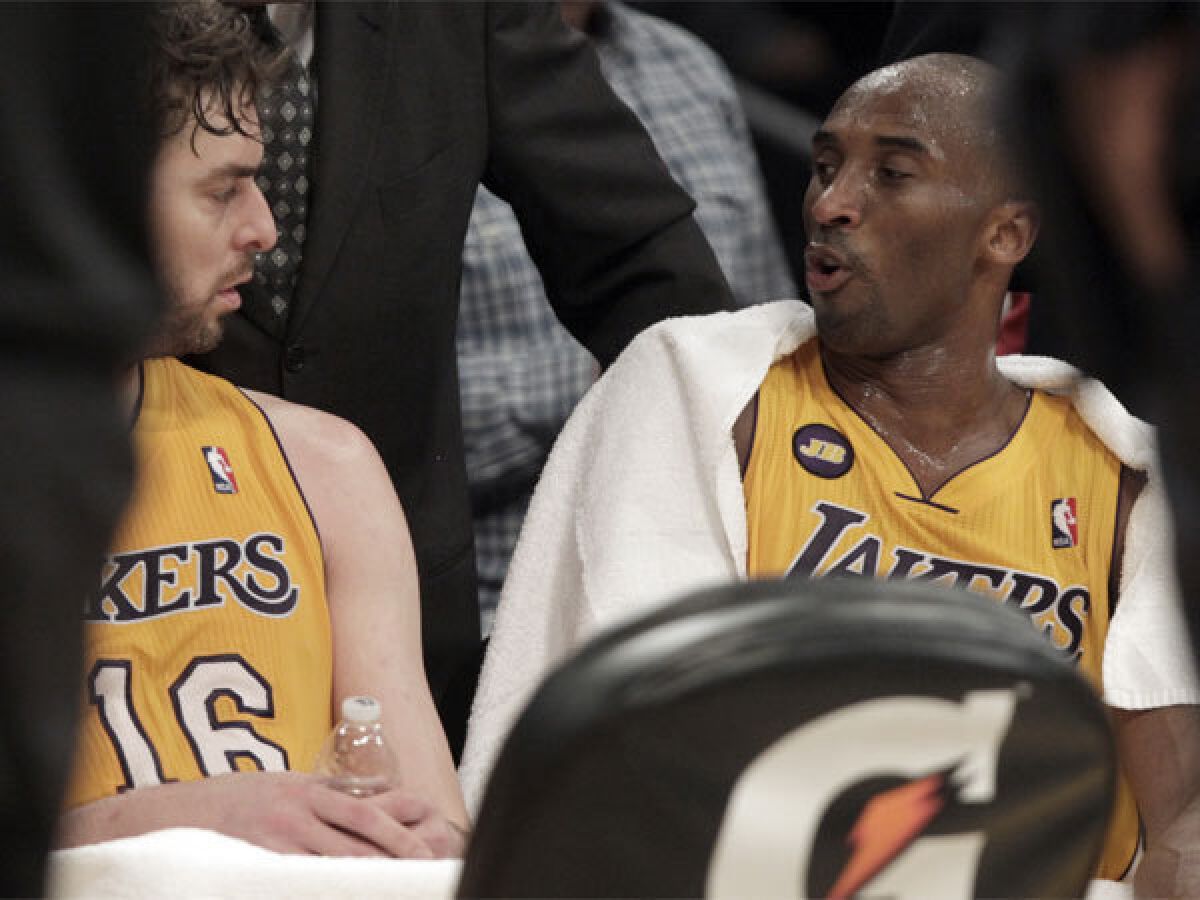 During a timeout in Tuesday's game against New Orleans, Kobe Bryant had a talk with Pau Gasol.
"I basically told him, dude, especially when I'm not in the game, you just gotta go to the block and not move," Bryant recalled. "When I'm out there, I can slow the game down, call plays off, and just give it to him -- but if I'm not, then listen, you just gotta go to the block and not move. Just stand there."
Gasol reluctantly followed Bryant's advice.
"That's not my personality," Gasol said. "I like my team and my coaching staff to want me to be there instead of positioning myself there. But hey, it is what it is."
Bryant's instructions may have made Gasol a bit uneasy, but they worked.
Gasol finished with 22 points on nine-for-15 shooting and a team-high 11 rebounds in the Lakers' 104-96 win. Those numbers are a far cry from the 13.1 points (a career-low) and 8.1 rebounds that he has averaged this season.
Bryant knows Gasol as a four-time All-Star, as one of the most skilled big men in the game, as an agile and talented post-player who helped lead the Lakers to championships in 2009 and 2010.
With the Lakers in danger of not making the playoffs, Bryant apparently decided to put an end to all plans for Gasol but his own.
"That's my dude," Bryant said. "I know what he brings to the table. He's 2010 Pau."
That means no more threes. That means goodbye elbow. That means farewell to the passive facilitator role.
Lakers Coach Mike D'Antoni apparently liked what he saw from Gasol and, according to Bryant, told the players during a timeout in the second quarter to stop "trying to do things on the perimeter" and dish the ball inside to Gasol.
At halftime, Gasol led the Lakers with 12 points and five rebounds. At the top of the third quarter, in a one-minute span, Gasol scored six consecutive points to erase the Hornets' biggest lead of the game and tie the score at 53-53.
Gasol has struggled with his role all season. At one point, he was even consigned to backup center.
Throughout the confusion, Bryant has consistently advocated for Gasol, insisting that he's an invaluable asset when used properly.
With four games remaining in the regular season, and the Lakers only 1/2 game ahead of Utah for the final playoff spot, Bryant has apparently decided to stop advocating and start commanding.
"It helps that Kobe, who has a lot of control over what happens out there, wants me to be there, and sees that it works, and is supportive," Gasol said.
---
Get our high school sports newsletter
Prep Rally is devoted to the SoCal high school sports experience, bringing you scores, stories and a behind-the-scenes look at what makes prep sports so popular.
You may occasionally receive promotional content from the Los Angeles Times.