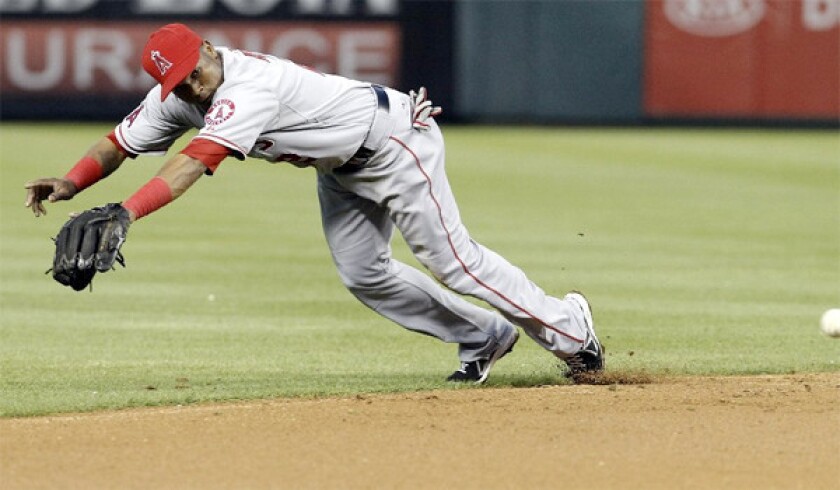 Angels shortstop Erick Aybar appears headed for the disabled list because of a left-heel contusion the switch-hitter said "hurt a lot more" Wednesday than it did Tuesday night, when he suffered the injury while beating out an infield single in the third inning against the Oakland Athletics.
"Today, it's more sore," said Aybar, who was awaiting results of an MRI test and X-rays early Wednesday evening. "I'm not sure if anything is broken. I just know it hurts right now. I'm pretty worried. I want to play and help the team win. I don't like to miss games."
The speedy Aybar, who did not dress for batting practice Wednesday, was off to an excellent start, batting .321 in his first seven games in the No. 2 spot. But when his heel hit the front of the bag as he lunged for first base Tuesday, "it hurt right away," Aybar said.
Brendan Harris replaced Aybar on Tuesday and was in the lineup for Wednesday night's game. If Aybar goes on the DL, Manager Mike Scioscia said Harris, who bats right-handed, and utility infielder Andrew Romine, who hits left-handed, would share the position. At the very least, Aybar will be out for several days.
"I'm just guessing right now, but we're going to have to give this thing a couple of days," Scioscia said. "If he doesn't make progress, he'll go on the DL."
ALSO:
Angels' weaknesses might be exposed
Jered Weaver out at least four weeks with broken left elbow
Angels' high-wire pitching act ends badly in 9-5 loss to Oakland
---