He's just the man to lead the Lakers: Phil for president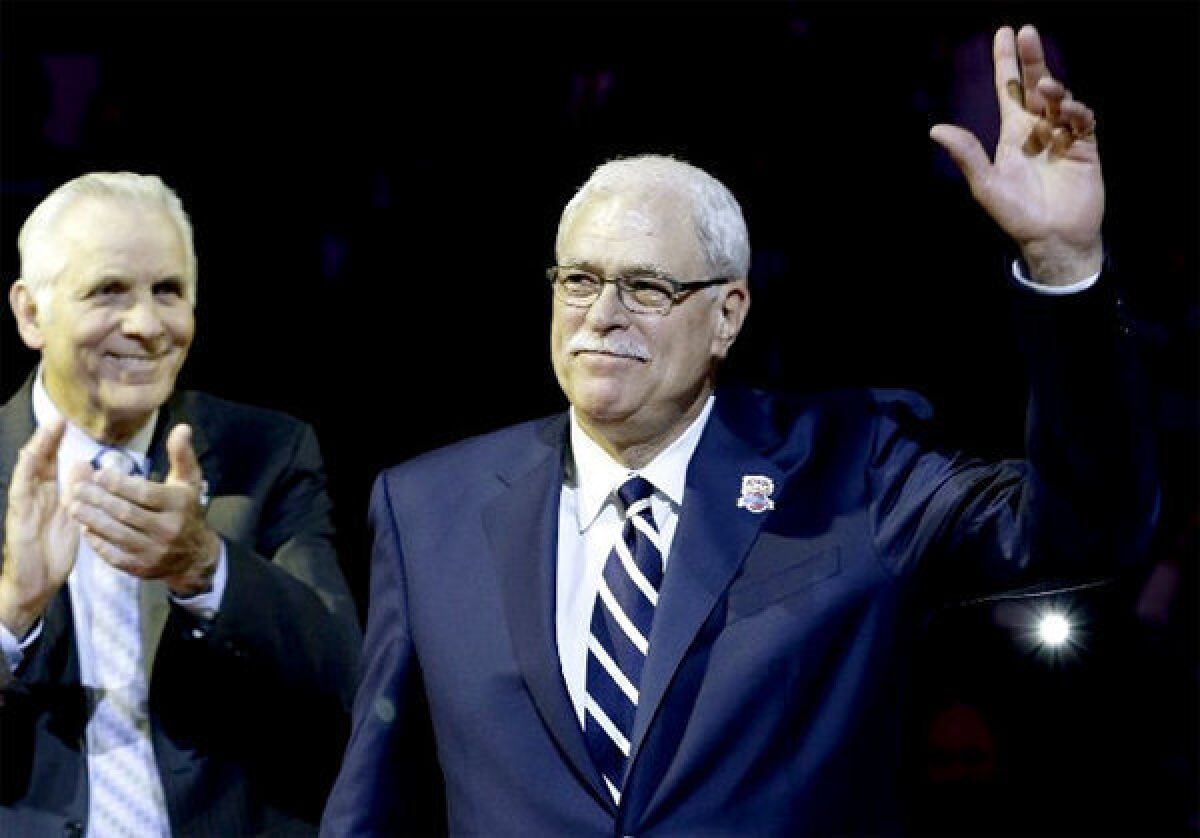 On farewell day, they waved until their hands hurt.
Kobe Bryant pleaded for Lakers management to pay millions to Dwight Howard, millions to Pau Gasol, millions for the luxury tax, anything to keep the Lakers together for the final year of his contract.
"It's a lot on the table for them . . . it's a tough call to make," Bryant said. "But then again, it is one more year . . . it's one more year."
Mitch Kupchak confirmed the Lakers still want to re-sign Howard, then pleaded for him to make his decision quickly so they can figure out if they can keep Kobe happy.
"Maybe he'll call me tomorrow, call me in a week, maybe it will be in a month, I don't know," Kupchak said. "The sooner the better for everybody."
Dwight Howard pleaded for everyone to just leave him alone while he makes up his mind and, by the way, did you know the sun doesn't always shine in Los Angeles like everyone says?
"Some days it's good when I have a good game . . . some days it's not so good," he said. "It's the best place to be when you win. When you're losing, it's not so good."
Two days after the Lakers ended the most disappointing season in franchise history by being swept in the first round by the San Antonio Spurs, their practice facility still reeked of the shock Tuesday, its inhabitants still staggered by the blow, the small rooms and narrow hallways lined with uncertainty and doubt.
The only person in the organization who didn't do an exit news conference was perhaps the only person who should have done one. Her name is Jeanie Buss, and as team governor she should meet with the media this week, and bring her fiance with her.
With the organization at a potholed crossroads, it's time again to summon Phil Jackson, only not in the way thousands of chanting Staples Center fans want him. It should be Phil Jackson, as Lakers president and godfather and guru.
C'mon, Jeanie, just ask him. C'mon, Jimmy, just let him.
Jackson wouldn't coach the team, but if he didn't think D'Antoni would continue to adjust, he could hire a coach in his image.
Jackson wouldn't draft the players or work the contracts, that's Kupchak's expertise, but he could certainly recruit the best talent and motivate it once it arrived.
If LeBron James is really available next summer, Jackson is the one with the credibility to persuade him to come here. Heck, if Chris Paul is available this summer, Jackson is the one who could get him to move across the hall.
If the Lakers are indeed set on re-signing Howard — which would preclude Paul — Jackson is the best person to shape Howard into a champion, working with him in much same the way Jerry West once worked with Bryant.
Even when Jackson was on the bench, his best attribute was not calling plays, but establishing a championship culture. After three consecutive early exits — the Lakers' two wins in their last 12 playoff games is the worst postseason span in club history — that culture could require some tweaking. With Bryant entering an uncertain final season, the Lakers don't have anybody who could tweak it.
Jimmy Buss won't hire him? Even he isn't that silly. Buss tried not hiring Jackson once, and his leading investors — season-ticket holders — have been chanting ever since.
Kupchak won't work with him? Kupchak thrived when he worked with Jackson, and still considers him a friend despite their pillow talk last fall, when Kupchak had to rouse Jackson in the middle of the night to tell him he wasn't being hired.
"I've developed a strong relationship with him," Kupchak said in answering a general question about Jackson. "If he does choose to do something, I hope it's something he finds significant enough to challenge him. I think he'd do a great job."
Jackson appeared headed to Seattle this summer before the league intervened to apparently keep a team in Sacramento, and now there are rumors that he would go to Toronto to run the Raptors for former Staples Center boss Tim Leiweke. Here's guessing Leiweke could woo Kupchak north with a bigger title before he persuades Jackson to take such a chance with something so unknown.
The last time Jackson took over the Lakers, it looked and felt like Tuesday. It was the summer of 2005, they had just won 34 games under Rudy Tomjanovich and Frank Hamblen, and they were struggling to survive the leadership transition from Shaquille O'Neal to Bryant. Three years later, Bryant had won an MVP award and the Lakers had won their first of two consecutive championships. What Jackson did on the bench then, he could do in the front office now. He's an expert at pulling shiny things out of the mud and making them shiny again.
"This franchise will continue to be run as a model franchise," Kupchak promised.
Then give Jackson the glue.
---
Get our high school sports newsletter
Prep Rally is devoted to the SoCal high school sports experience, bringing you scores, stories and a behind-the-scenes look at what makes prep sports so popular.
You may occasionally receive promotional content from the Los Angeles Times.