Dodgers aim to improve, but not at the cost of losing prospects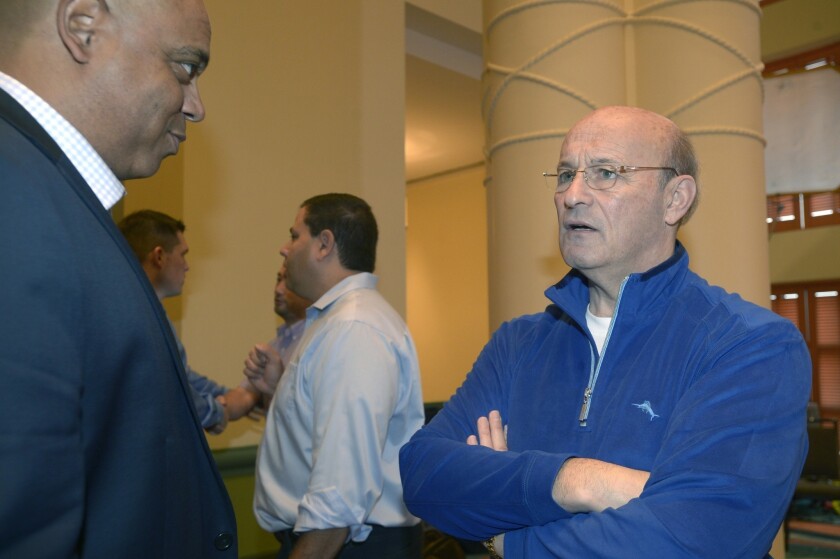 LAKE BUENA VISTA, Fla. — In lieu of major activity at the winter meetings, the Dodgers celebrated two anniversaries.
Thursday marked one year since the Dodgers signed Hyun-Jin Ryu, a purchase that cost $62 million. Tuesday marked one year since the Dodgers signed Zack Greinke, for $147 million.
The Dodgers have done no business like that this winter.
So far, they have resisted the urge to spend big, in money and especially in prospects. Under new ownership, the Dodgers are rebuilding a decimated minor league system, adding and keeping prospects rather than trading the best ones away.
"There comes a time when you have to bite down hard and say you're going to do it," Dodgers President Stan Kasten said Thursday.
The names to watch include infielder Corey Seager, outfielder Joc Pederson, and pitchers Zach Lee, Julio Urias, Chris Reed and Ross Stripling. If those six all report to Camelback Ranch in Arizona in February, then the Dodgers indeed have bitten down hard.
Of course, if the Tampa Bay Rays decide to trade ace David Price this winter, the Dodgers might bite on that instead.
"There are deals on the table that include top prospects," Kasten said, speaking generally. "I can't say we have any plans to move them."
Under General Manager Ned Colletti, the Dodgers have done an excellent job separating the prospects from the suspects. In the 20 months since Guggenheim Baseball bought the Dodgers, Colletti has included 16 minor leaguers in eight trades.
The only prospect to blossom thus far: pitcher Nathan Eovaldi, part of the package that landed Hanley Ramirez from the Miami Marlins.
"We had plenty of temptation," Kasten said. "We kept adding pieces while keeping the guys we valued the most. Ned did a great job."
Kasten said the Dodgers fully expect to open spring training with all four outfielders — Matt Kemp, Andre Ethier, Carl Crawford and Yasiel Puig.
"I've always thought that was the most likely outcome," Kasten said. "We don't feel the need to move one like the people who write about us apparently feel we do."
The Dodgers have a hole at third base, so gaping that even the team website features a blank rectangle where the picture of a third baseman would go. They have a half-empty bench, a bullpen short of left-handers, and no insurance if Cuban rookie Alexander Guerrero cannot handle second base.
They have time to fill those needs, but Kasten said it was unlikely that they would do so by trading one of the outfielders. In fact, the Dodgers would rather trade an outfielder and pay off part of his contract to acquire young players — that is, buy prospects to further develop the farm system.
"What would have interested us — and might still — is to trade one of our veterans," Kasten said, again speaking generally, "if we can get back young, controllable players and prospects."
The Dodgers are so thin on prospects among position players that they would consider getting some in exchange for pitching prospects, Kasten said.
Price is there for the taking, if the Dodgers want to pay up in prospects and money. Masahiro Tanaka, the Japanese ace, might be there for the taking this month or next, if the Dodgers want to pay up in money alone. The Dodgers paid for a second baseman and a setup man — $28 million for Guerrero, $10 million for Brian Wilson — rather than surrender prospects.
The Dodgers' work this winter is incomplete; so is the work of rebuilding the farm system. They have two months to figure out whether they can complete the first job without interrupting the other.
Twitter: @BillShaikin
---
Get our high school sports newsletter
Prep Rally is devoted to the SoCal high school sports experience, bringing you scores, stories and a behind-the-scenes look at what makes prep sports so popular.
You may occasionally receive promotional content from the Los Angeles Times.