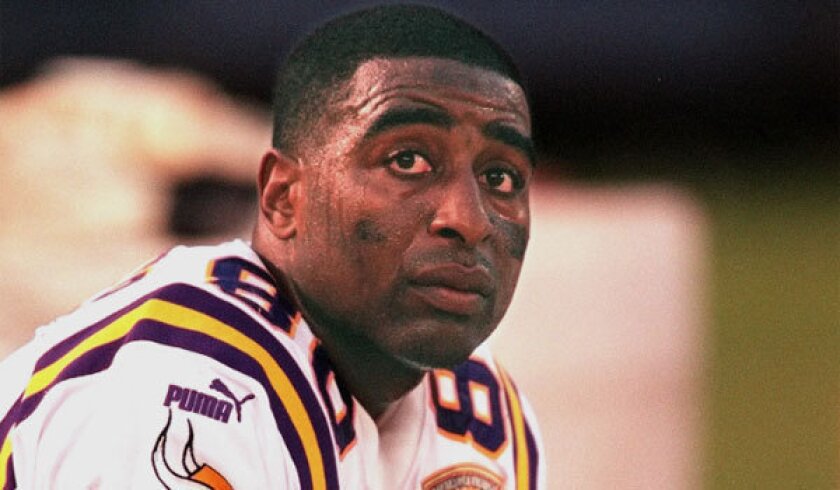 Cris Carter will be inducted into the Pro Football Hall of Fame on Saturday night. Former Minnesota Vikings teammate Qadry Ismail says his fellow wide receiver definitely deserves the honor.
But that didn't stop Ismail from raining on Carter's parade more than a little bit while speaking on SiriusXM radio this week. While Carter might have been one of the greatest talents to ever play the position, Ismail said, his personality actually hurt his team in some cases.
Calling Carter "a bona fide diva," Ismail compared him unfavorably to another former teammate and Hall of Famer, Shannon Sharpe, a tight end who played two years with Ismail for the Baltimore Ravens.
"Shannon was that kind of a guy that you just knew that he was in your corner. You couldn't say the same thing for Cris Carter," Ismail said. "You couldn't say the same thing as far as his attitude towards his teammates. You couldn't say the same thing as far as his attitude as far as the coaching staff. You knew that he had a selfishness to him that was an extreme selfishness."
Sharpe won three Super Bowls, two with the Denver Broncos and one with the Ravens. Another receiver that Ismail brought into the conversation, NFL legend Jerry Rice, won three Super Bowls with the San Francisco 49ers.
Carter made eight Pro Bowls in his 16 NFL seasons and is fourth all-time in receptions (1,101) and receiving touchdowns (130), eighth in overall touchdowns (131) and ninth in receiving yards (13,899). Yet, he never even played in a Super Bowl.
"Could he flat out make catches? Absolutely. Could he flat out make plays? Absolutely. But there's a reason why they didn't go all the way and win Super Bowls," Ismail said of Carter and his teams, the Vikings, Philadelphia Eagles and Miami Dolphins. "There's a reason why, that his talent was good, but when you talk about Jerry Rice talent you also talk about that team elevating it to the next level to win championships. When you talk about Shannon's talent you are talking about that team elevating and winning championships.
"When you are talking about talent, there's one thing to have talent but, to me, if you're a complete, amazing football player, others around you rise up to whatever their level of talent is."
ALSO:
Dodgers take a chance, sign longtime rival reliever Brian Wilson
Adrian Peterson insults Matt Leinart even when trying to be nice
Alabama player Dee Liner flashes wad of cash in Instagram photo
---