Yasiel Puig's merchandise is a hot seller in Dodgers team store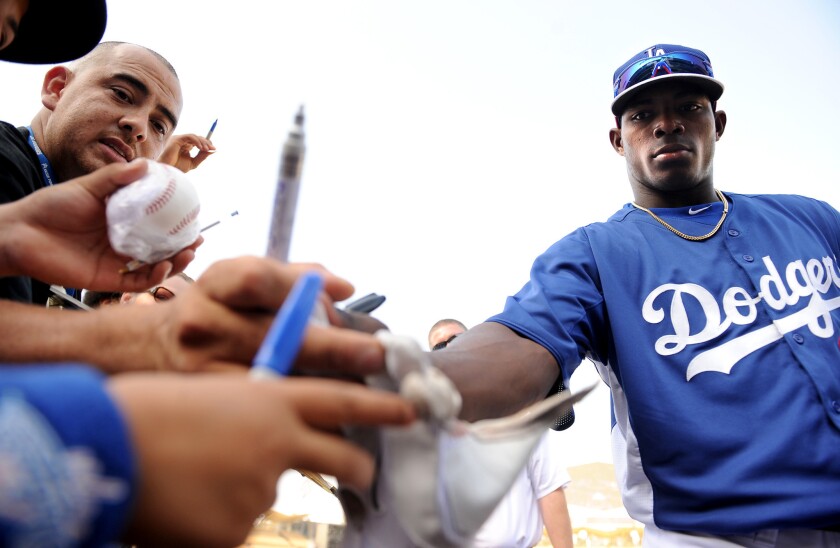 Yasiel Puig is not only breaking records on the field, but also in the team store.
The Dodgers sold more Puig-related merchandise from Thursday to Sunday than they had ever sold of any player over a four-day period — more than even Manny Ramirez, Fernando Valenzuela or Hideo Nomo, according to a team spokesperson.
The team sold approximately 3,000 units of Puig-related merchandise in that four-day window, including 1,600 T-shirts ($28), 400 "Viva Puig" T-shirts ($28) and 600 jerseys ($225 for the authentic version, $110 for the replicas).
While the Dodgers have already filmed a television commercial that features Puig and Adrian Gonzalez, chief marketing officer Lon Rosen said the team hasn't made any plans to make a Puig bobblehead doll or create a marketing campaign centered around him.
"We're not going to throw everything at him at once because that puts a lot of pressure on him," Rosen said. "We want him to have fun playing, keep working hard, learn to deal with the media."
As reporters gathered in the Dodgers' clubhouse Monday, Puig got on hands and knees, affixing white tape to the carpet in front of the locker area he shares with infielder Luis Cruz. Puig took a blue marker and, in Spanish, wrote that reporters were forbidden from entering the area.
Puig was smiling the whole time, and he pulled up the tape after a minute. However, according to Cruz, the transition from Chattanooga Lookouts outfielder one week to the hottest thing in baseball has not been easy.
"He likes playing. He doesn't like all the attention," Cruz said. "That's part of his career now. He just wants to go out and play. He's going to have to learn. You guys are going to talk to him even if he goes 0 for 4."
Puig was honored Monday as National League player of the week, for a first week in which he hit .464 with four home runs and 10 runs batted in. His two hits Monday made him the first player in franchise history with 15 hits in his first eight career games.
After batting leadoff for his first week, Puig hit in the cleanup spot Monday. Manager Don Mattingly said he probably would move Puig back up in the lineup once Matt Kemp and Hanley Ramirez return from injury.
Mattingly laughed off any notion that Puig would be overwhelmed by the cleanup spot.
"He is possibly one of the greatest players who ever lived," Mattingly said, jokingly. "I figured he can handle the four-hole."
Bats come back
The Dodgers hope Ramirez and catcher A.J. Ellis can return to the lineup this weekend and Kemp can follow next week. Mattingly said he anticipated Ramirez could return in "four or five" days after an MRI exam showed no damage in his previously strained left hamstring.
Kemp once played 399 consecutive games, the longest streak in the major leagues at the time. However, as he spends his third stint on the disabled list in two years, Kemp fears he could develop an entirely different reputation.
"I don't want to be labeled as that guy who's always getting hurt, but it's starting to look like that," he said. "It's a weird transition."
Kemp sat out 51 games last year because of a strained left hamstring. He now is rehabilitating a strained right hamstring, and the Dodgers have pushed back the target for his return.
"It's frustrating," he said. "I want to play. I don't want to sit out any games. But I have to be careful with this hamstring. I had these problems last year. I don't want to have the same problems again."
Up and down
The Dodgers optioned pitcher Matt Magill to triple-A Albuquerque and recalled infielder Justin Sellers.
---
Get our high school sports newsletter
Prep Rally is devoted to the SoCal high school sports experience, bringing you scores, stories and a behind-the-scenes look at what makes prep sports so popular.
You may occasionally receive promotional content from the Los Angeles Times.