Clayton Kershaw is a Dodgers star now but it almost didn't happen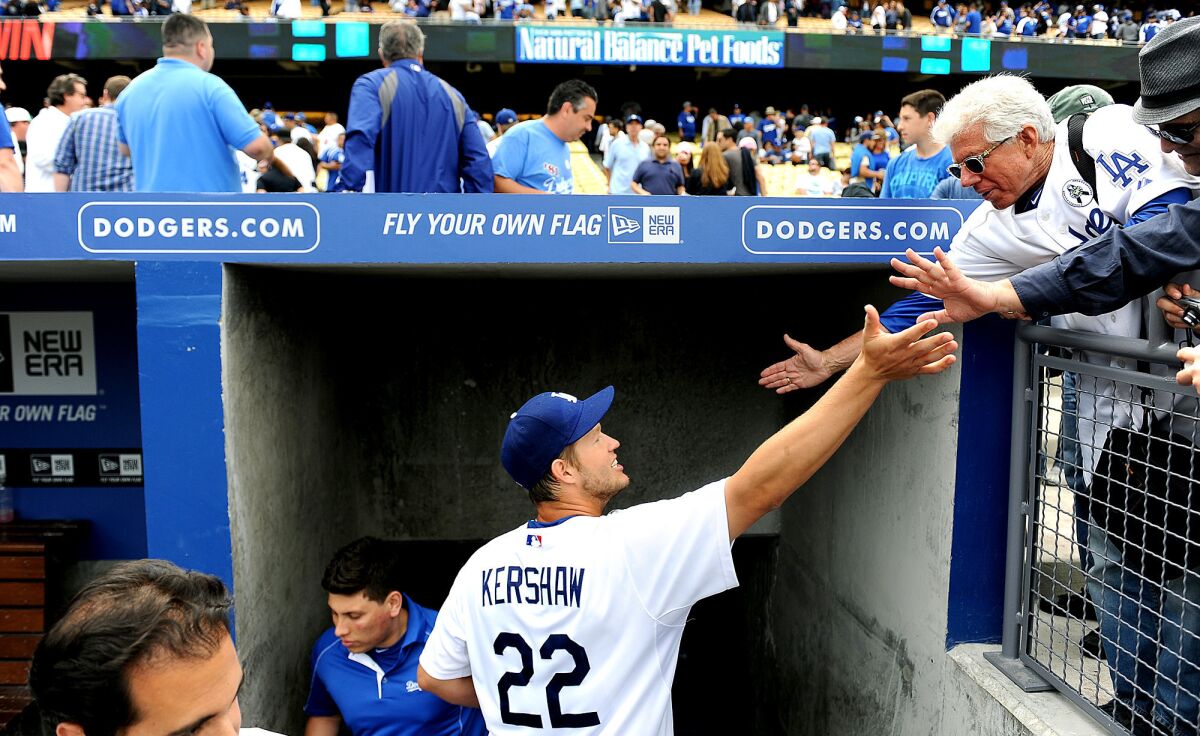 On the morning that would deliver to the Dodgers their greatest arm in two generations, Clayton Kershaw awoke with a thought.
The baseball draft was not televised in 2006. Each team made its picks on a secure conference call line with the league office. If you wanted to know which team had drafted you, then you could wait for a phone call or follow along on the Internet.
"I thought I was going," Kershaw said, "to the Tigers."
How he ended up with the Dodgers is a compelling tale. So is the vindication for Logan White, the scouting director who bet on the kid from Texas, the one who hit 1,000 career innings last week with the lowest earned-run average of any major league starting pitcher to do so in the modern era.
Kershaw leads at 2.70, followed by Whitey Ford at 2.75 and Sandy Koufax at 2.76.
"That is pretty cool," White said. "I'm so proud of him. I'm proud of the fact that we were the club that selected him.
"I hope Clayton can stay healthy for another 15 years."
The Dodgers had the seventh pick in the 2006 draft, a consolation prize for their 91-loss season in 2005. The draft had not gone well that year, either. White's top pick, Tennessee right-hander Luke Hochevar, switched from one agent to another and then back to his original agent, in the process turning down a deal to which he already had agreed.
That put Hochevar back in the draft for 2006. The consensus top player that year: North Carolina left-hander Andrew Miller.
The top two spots on the Dodgers' draft board, according to White: Kershaw and Long Beach State infielder Evan Longoria. With six teams picking before the Dodgers, White had no guarantees.
He had fortuitousness on his side, though. On the eve of the draft, the teams picking at the top sent their top scouts to Texas, for one last look at Kershaw and Houston right-hander Brad Lincoln.
Lincoln dominated, in a college game. The next day, Kershaw pitched a high school game.
"He threw really poor," White said. "The leadoff hitter hit a home run. He was wild. His breaking ball was all over the place. He battled and won the game, 8-2 or 8-3.
"I was really excited. It helped us get a shot to get him. The teams picking in front of us were there. That was a big help. Lincoln threw really well. Kershaw didn't."
The Royals, concerned about Miller's bonus demands, took Hochevar. The next four picks, in order: Stanford right-hander Greg Reynolds to the Colorado Rockies, Longoria to the Tampa Bay Devil Rays, Lincoln to the Pittsburgh Pirates, Cal right-hander Brandon Morrow to the Seattle Mariners.
"We were hoping and praying Clayton would get to us," White said.
The Tigers, picking one spot ahead of the Dodgers, were set to take Kershaw. But no one had taken Miller, so the Tigers pounced.
"We were going to take the best player on our board, and that was Andrew Miller," Tigers scouting director David Chadd said after the draft.
The Dodgers happily followed with Kershaw. The next pitcher drafted: Washington right-hander Tim Lincecum, by the San Francisco Giants with the 10th pick.
That decision did not play well with Dodgers fans over the next few years. Lincecum won the Cy Young award in 2008 and 2009, just as Kershaw was adjusting to the majors.
The Dodgers were not the only team concerned by Lincecum's slight build and unorthodox delivery. In fact, White said, he would not have picked Lincecum even if Kershaw had been taken. The next two names on the Dodgers' draft board: Clemson outfielder Tyler Colvin and junior college right-hander Bryan Morris, whom White took with the Dodgers' second pick.
"I've always felt confident we took the right guy," White said. "The Giants got a great guy. I feel like we got a great guy. To me, it's a win-win.
"If we took a guy that wasn't going to get out of A ball, yeah, we messed up."
Kershaw over Lincecum is a no-brainer now, but the Giants need not have any regrets, not with two World Series championships in three years. The Tigers need not have any regrets, either. While a tag team of Kershaw and Justin Verlander is the stuff of dreams, the Tigers packaged Miller in a trade for Miguel Cabrera, and with him came a Triple Crown, the American League MVP award and a trip to the World Series last year.
The Dodgers have not played in the World Series in 25 years. There is only so much Kershaw can do by himself.
In the meantime, though, Kershaw has positioned himself to do what might be regarded as borderline heretical: surpass Koufax and claim the title of greatest pitcher in Dodgers history.
Koufax was 26 when he embarked on five seasons so magnificent that we assumed they never could be duplicated, or even reasonably imitated. He led the National League in earned-run average for five consecutive years, from 1962-66, winning three Cy Young awards and three strikeout titles in that span. He retired at 30, because of an arthritic elbow.
Kershaw is 25. He won a Cy Young award and led the league in strikeouts two years ago, finished second in both last year. He is on pace to lead the NL in ERA for the third consecutive season.
"I'm not worried about trying to keep up with what Sandy did," Kershaw said. "It's pretty impossible to keep up with the numbers he did. I take it as a huge compliment people talk about me and him in the same sentence.
"For me, hopefully, I've got 15 more years left in me."
If he does, and if he wins at the same rate he has the past three years, that would put Kershaw at 317 victories, almost double the 165 posted by Koufax. That would put Kershaw in the Hall of Fame, with a Dodgers cap on his plaque — if, that is, he remains with the Dodgers.
The price tag on his next contract is $200 million and up, going up with each start. He would not say what it might mean to him to complete his career with the Dodgers, as Koufax did.
"I just want to pitch," he said.
So we say this, on behalf of the Dodgers fans thankful that Kershaw pitches here: Thank you, Luke Hochevar.
Twitter: @BillShaikin
Get our high school sports newsletter
Prep Rally is devoted to the SoCal high school sports experience, bringing you scores, stories and a behind-the-scenes look at what makes prep sports so popular.
You may occasionally receive promotional content from the Los Angeles Times.