Column: D'Angelo Russell, showing sudden progress, could be turning into a player — seriously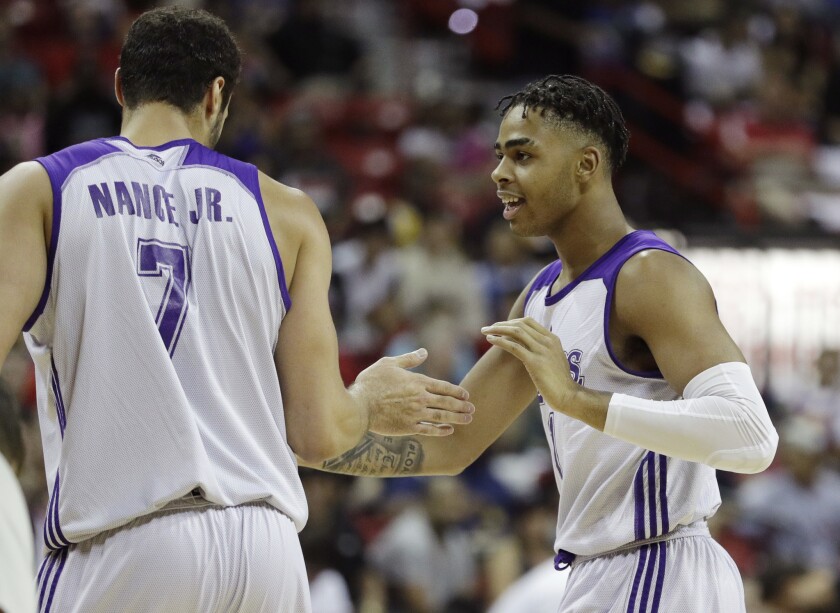 The hit with the biggest Southland buzz this summer hasn't come at Chavez Ravine or Angel Stadium, but in the middle of the desert in a sport out of season.
Did you see D'Angelo Russell the other night in Las Vegas? Did you see him nailing that three-pointer at the buzzer to give the Lakers' summer league team a victory over the Philadelphia 76ers?
Hand in his face. Ball to the sky. Ice in his you-know-what.
After the shot splashed, he strutted back downcourt pointing to the veins in his right wrist in what has become his chill trademark. He hugged teammates and high-fived fans and celebrated as if it was a Christmas Day game in July.
Then, after a bit of foolish cursing to open the postgame television interview — he is still 20, after all — he did something as important as that shot. The kid who had alienated the locker room talked about his teammates. Mentioned them, credited them, four times in the first 10 seconds. Then the kid who spent last year operating without a road map talked about a plan.
"This is a process, trust the process," he told ESPN's J.A. Adande.
If the first few games of summer league are to be believed, this process could actually be working. Seriously. D'Angelo Russell could be turning into a player. It's early, and not so easy to forget last season's immaturity and questionable work ethic, but the recent change has been dramatic enough to warrant the raising of eyebrows and the quieting of trade talk.
You're going to be hearing a lot of chatter in coming days about the Oklahoma City Thunder shipping Russell Westbrook back home before he completely loses his mind. Folks saying they should bring him here for a package of kids, give Kobe Bryant's mantle to somebody deserving, get Russell out of here before he puts somebody else's secrets on social media. Even Russell himself wondered if he were gone.
Now, not so much. Now, after watching Russell playing so freely in the beginning shades of Coach Luke Walton's new offense, the move to acquire Westbrook has slowed just as Russell's progress has quickened.
Why give up Russell and other young Lakers talent — Jordan Clarkson, Julius Randle or Brandon Ingram — for a player who can just sign here after he becomes a free agent next summer? Yes, the Lakers are risking the possibility that Westbrook gets traded to some place like Boston, becomes happy and stays there.
But the sudden development of Russell makes that wait a risk worth taking, and no, a certain columnist never thought he'd be writing that sentence.
Before Thursday night's summer league game against the Cleveland Cavaliers, Russell was among the league's best players after three games, averaging 23 points on 53% shooting — 12 percentage points better than last season — with seven rebounds and four assists, but that's not even the real story.
The real test he's passed is the eyeball test. He looks bigger. He looks smarter. He's more aggressive. He's more involved.
Russell has a post-up move now, one that will finally allow him to take advantage of his surprisingly big 6-foot-5 frame. Russell is not afraid to take over a game now, something he was reluctant to attempt last season as long as Kobe Bryant was watching.
It's only three games, but the court seems bigger for him. His style seems more suited for him. Even with his crazy turnovers, his leadership seems more evident. His defense and playmaking have been inconsistent, but his strength is obvious.
"Guys that get that second year under their belt, get the first year under your belt, you come back with a different swag and a different confidence, a different pace to your game," Russell told reporters, adding, "You can showcase what you've been working throughout the summer."
That summer work explains why Russell recently showed up for new coach Walton's introductory press conference in a light sweat — he had been working out all morning. That also explains why Russell stayed late after the press conference to shoot jumpers in a hoodie, board shorts and deck shoes.
You say summer league is a completely bogus indicator? Well, last July, the young Lakers players were ripped for their summer league shenanigans, and nobody thought it was bogus then.
"This time, the kids aren't all right," read the headline in this newspaper.
"The kids are acting like, well, kids," wrote this columnist in that story.
Fair is fair, and it's fair to believe that if last summer was an ominous sign, this summer is an optimistic one.
Of course, there's still the matter of the smartphone. Can Russell's leadership truly thrive until he has been forgiven for the secret taping and release of Nick Young's discussion of his love life? Will his teammates ever truly trust him again and, if so, when?
Russell confronted the issue in a Foot Locker commercial where, when asked for advice from rookie Ben Simmons, he takes Simmons' cellphone and throws it into a swimming pool.
"Trust me," says Russell to Simmons.
He begins his second season making that same request of the Lakers. They want badly to believe him. So far, so good.
Twitter: @billplaschke
---
All things Lakers, all the time.
Get all the Lakers news you need in Dan Woike's weekly newsletter.
You may occasionally receive promotional content from the Los Angeles Times.