Frank Vogel: A look at the next Lakers coach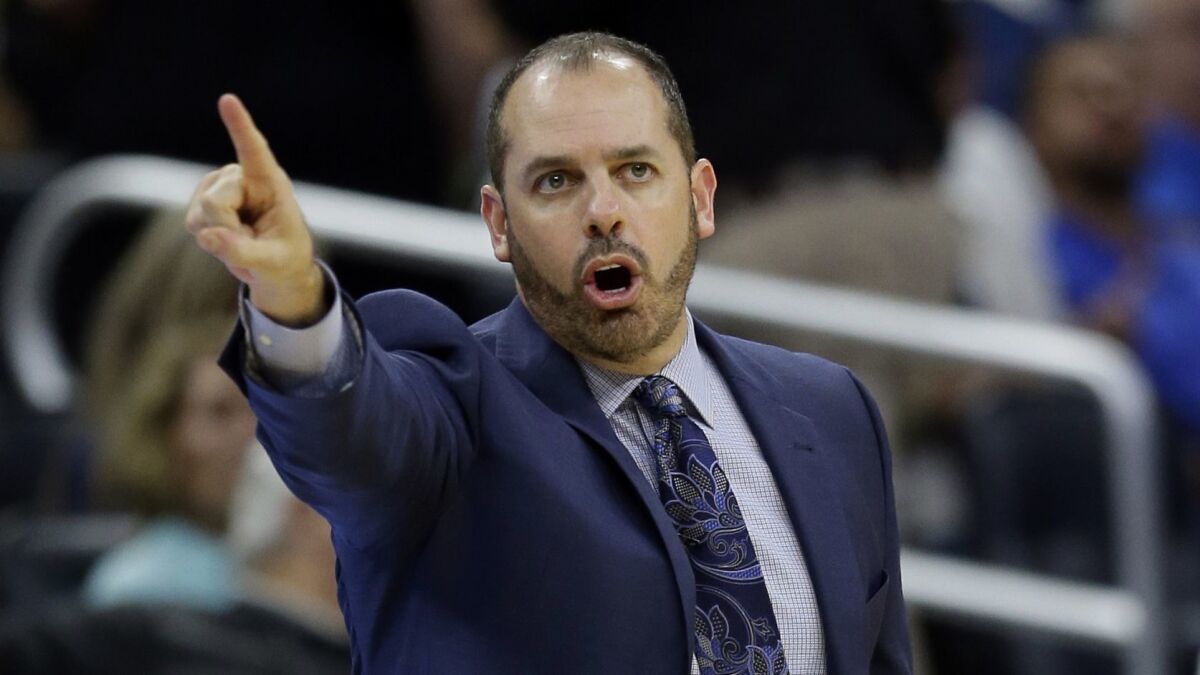 Frank Vogel agreed to become the next coach of the Lakers. Here's a look at his background:
Age: 45
NBA head coaching experience
Six seasons with the Indiana Pacers; two with the Orlando Magic.
Had record of 250-181 with with Indiana, which included five playoff appearances. The Pacers won two Central Division championships, in 2012-13 and 2013-14, and advanced as far as the conference finals in those years.
When his contract was not renewed by Indiana after the 2015-2016 season, he was hired by Orlando. Had record of 54-110 with the Magic, missing the playoffs both seasons. He was fired after the 2017-2018 season.
Previous experience
*Eight years with the Boston Celtics as video coordinator and assistant coach.
*One year with Philadelphia 76ers as an assistant.
*One year as an advance scout with the Lakers.
*One year as an advance scout with the Washington Wizards.
*Was in his fourth year as an assistant for Indiana when Jim O'Brien was fired and Vogel was named interim coach. After that 2010-11 season, he was hired as head coach.
Background
* He was raised in Wildwood Crest, N.J.
* He played at the NCAA Division III level at Juniata College, in Huntington, Penn. He transferred to Kentucky, where he became a student manager for Rick Pitino.
* As he was identified as a candidate for the Lakers position this week, video resurfaced of his appearance as a boy on "Late Night with David Letterman." During a "Stupid Human Tricks" segment, he brushed his teeth while spinning a basketball on the end of the brush.
---
All things Lakers, all the time.
Get all the Lakers news you need in Dan Woike's weekly newsletter.
You may occasionally receive promotional content from the Los Angeles Times.