LaVar Ball's royal vision: He sees his son Lonzo in Lakers purple and gold
If you have ever heard or read LaVar Ball say something about his sons, odds are that you rolled your eyes or shook your head. If you're of a light-hearted temperament, maybe you chuckled.
The latest public declaration of Southern California's most famous basketball father, however, should have elicited another kind of response.
Hope — specifically, hope that he's right.
He envisions his oldest son, UCLA freshman Lonzo Ball, playing for the Lakers next season.
How perfect would that be? How fun would that be?
Lonzo Ball could be the home-run draft pick the Lakers have been unable to make in their three recent turns in the lottery, a pass-first point guard who plays in the up-tempo style associated with the team's glory days. He is a proven winner and the homegrown player who could be the next face of the franchise.
Lonzo revitalized the local high school basketball scene by leading high-scoring Chino Hills to an undefeated season last year. He has re-established UCLA as a national power this year.
Imagine if he had a chance to do the same for the Lakers.
There's no guarantee the Lakers will be in position to draft him, of course. Unless they are picking in the top three, they will have to send their first-round selection to the Philadelphia 76ers. And even if they have the second or third choice, there's always the possibility another team could take Ball.
"I'm going to speak it into existence," LaVar Ball said Monday in a phone interview with The Times.
His words were followed by a warm laugh.
The Ball family's outspoken but affable patriarch first floated the idea over the weekend, when he reportedly told an Arizona radio station that his oldest son would play only for the Lakers. He has since clarified that he meant he wants his son to play for the Lakers, not that he wouldn't let him play for anyone else.
"My boys' goals are to be in the NBA, regardless of what team," he said.
However, LaVar said he imagined Lonzo playing for the Lakers from the time he was a baby — and, for those of you who believe in supernatural powers, LaVar's visions often become reality.
The undefeated season at Chino Hills? The spectacular season at UCLA? LaVar said he pictured them before they happened.
"I plant the seeds and let them grow," he said.
LaVar spoke of how he decided his three sons would attend UCLA several years ago. His two other sons, Chino Hills senior LiAngelo and freshman LaMelo, have committed to also play for the Bruins. The boys first went to a basketball camp in Westwood when Lonzo was 12.
But there was a time when LaVar's wife, Tina Ball, had reservations about her sons attending UCLA. She didn't like then-coach Ben Howland.
"Luckily, they brought in Steve Alford," LaVar said. "Now, with the Lakers, everything is coming together."
LaVar was speaking about the return of Magic Johnson as the team's president of basketball operations.
"They got Magic Johnson, who hasn't been there forever," LaVar said. "You got the best point guard ever in Magic Johnson. … Magic is the guard who can put his arm around my boy and say, 'Do it like this.'"
LaVar compared his son's style of play to Johnson's, saying, "He throws those long passes like Magic. He makes everyone better. And the winning."
He argued that Lonzo could help the Lakers' recent lottery picks to flourish.
"Lonzo will make D'Angelo [Russell] the ultimate scorer as a two guard," LaVar said. "He'll make [Brandon] Ingram a nice slasher. He'll make [Julius] Randle want to run the court."
LaVar pointed to what his son has done at UCLA.
"Everyone says UCLA is a good team," LaVar said. "Man, they had the same team last year."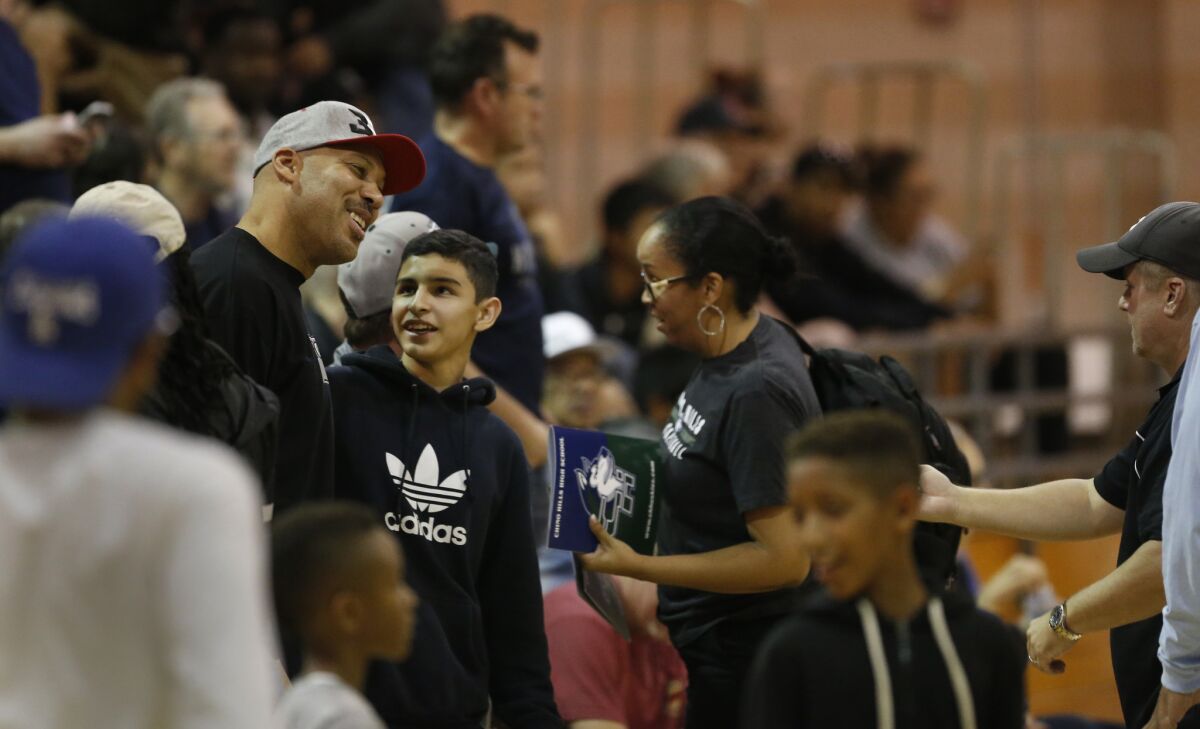 He added that Lonzo is largely responsible for fellow freshman TJ Leaf's emergence as a potential lottery pick. That could be a stretch, but it's hard to argue with LaVar when he says of Lonzo, "He's not a game changer. He's a program changer."
Or, if another of LaVar's visions is realized, a league changer.
"I think if all three of my boys get on the Lakers somehow, they would change the NBA," he said. "There's a way it could happen."
The Lakers would settle for one.
Twitter: @dylanohernandez
All things Lakers, all the time.
Get all the Lakers news you need in Dan Woike's weekly newsletter.
You may occasionally receive promotional content from the Los Angeles Times.