Lakers negotiating with Byron Scott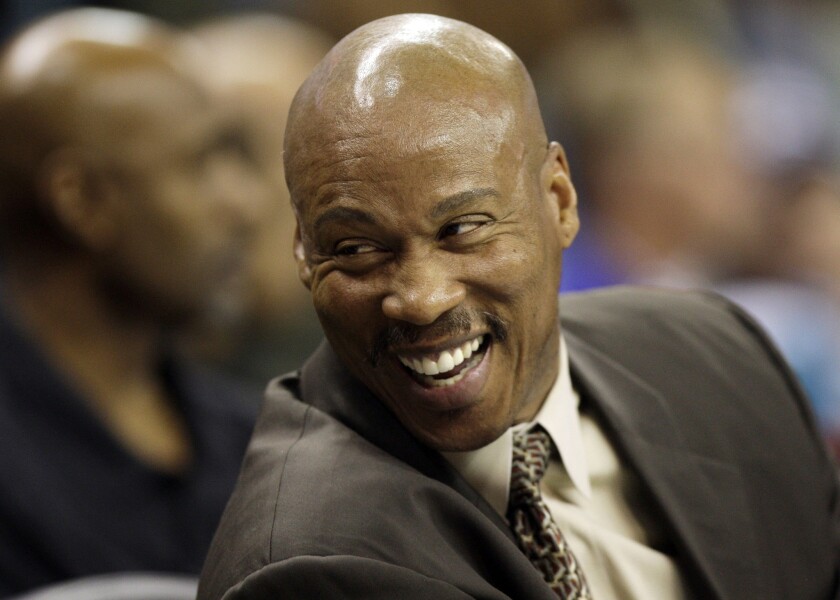 The Lakers are getting closer to hiring their third head coach since Phil Jackson left their sidelines in 2011, engaging in negotiations with Byron Scott, according to a person familiar with the situation.
There has not been a formal contract offer, but the Lakers consider Scott to be their preferred candidate and are hoping to reach an agreement soon.
"It could be a few hours, or it could happen next week," said the person, who asked not to be identified.
Scott was believed to be vacationing in the Bahamas this week, meaning a news conference probably wouldn't be held until after the weekend if the sides struck a deal.
He has coached three teams, most recently Cleveland in 2012-13, where he was fired and replaced by former Lakers coach Mike Brown.
Scott, 53, has a tight relationship with Kobe Bryant and recognition from Lakers fans who remember him from the "Showtime" teams of the 1980s.
Bryant gave Scott a thumbs-up for the job earlier this month, calling his former teammate a "rookie mentor" who made Bryant fetch doughnuts and run other errands as a young player.
"We've had a tremendously close relationship throughout the years," Bryant said. "So obviously I know him extremely well, he knows me extremely well and I've always been a fan of his."
The hiring of Scott could potentially buy the Lakers a year of time. They are not championship contenders and will be hard-pressed to make the playoffs, but the fans' familiarity with Scott could help ease the franchise through next season.
The Lakers have been without a coach since Mike D'Antoni resigned April 30, accepting a payout of about half the $4 million he was owed next season.
They have been running out of options as their search has played out. They sat down with five candidates, but three of them took other jobs — Lionel Hollins became the head coach for Brooklyn, Kurt Rambis an assistant with New York and Alvin Gentry an assistant with Golden State.
Mike Dunleavy was the other candidate the Lakers interviewed in person.
The most success Scott encountered as a coach came in his first stop, New Jersey, where he led the Nets to back-to-back NBA Finals appearances in 2002 and 2003, losing to the Lakers in the former.
He was fired 42 games into the 2003-04 season as his relationship with Nets guard Jason Kidd soured but landed quickly with New Orleans for the following season and stayed there until being let go nine games into the 2009-10 season. He was the NBA's coach of the year in 2008.
Scott then coached three years with the Cavaliers without much success, though he took the job in July 2010 a few days before knowing LeBron James would bolt for Miami.
As a player, Scott won three championships with the Lakers while playing for them from 1983 until 1993. He later came back for one more season, 1996-97, finishing his 14-year career after that point.
More recently, Scott was an analyst last season for the Lakers' TV broadcast partner, TWC SportsNet.
Boozer on board
The Lakers officially introduced Carlos Boozer by revealing they didn't think they would get him in the first place.
They submitted a bid for $3.25 million after he was waived by Chicago via the amnesty provision last week.
"Fortunately for us and unexpectedly for us, our bid was the highest bid. Not for a second did we think that he'd be available to us," Lakers General Manager Mitch Kupchak said Friday.
Boozer, 32, was working out when his agent, Rob Pelinka, called to say the Lakers had won his rights.
"I was ecstatic and I was jumping up and down," Boozer said. "I went back out there and got two more hours in."
He wasn't so thrilled toward the end of last season with the Bulls when he was playing only the first and third quarters of games. He finished with averages of 13.7 points and 8.3 rebounds, his lowest since his rookie season with Cleveland in 2002-03.
"Not having a chance to help my team at the end of the game to win was tough. Not getting the opportunity was humbling," he said. "I learned a lot from that process."
Boozer is penciled in as the Lakers' starting small forward. He will be in the final year of his contract and will be paid $13.5 million by the Bulls.
As per terms of the amnesty provision, the Lakers cannot trade Boozer. He will be a free agent next July.
"Personally, I know he's going to have a great year this year and at his age, there's no reason why he can't play three, four or five more years," Kupchak said.
---
All things Lakers, all the time.
Get all the Lakers news you need in Dan Woike's weekly newsletter.
You may occasionally receive promotional content from the Los Angeles Times.