Bobcats' Ramon Sessions reflects on what could have been with Lakers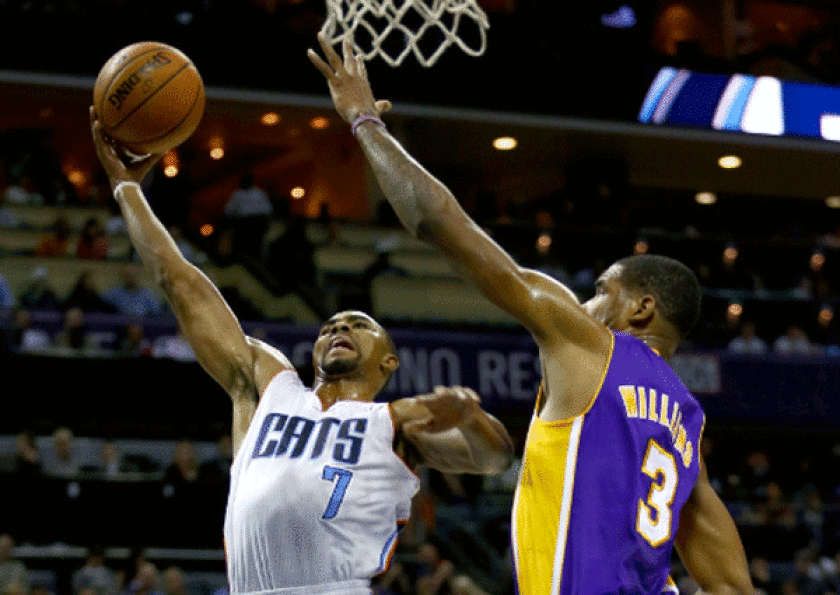 CHARLOTTE, N.C. — In times like these, with the Lakers down to no healthy point guards, it's tempting to ask "What if?"
What if Ramon Sessions hadn't opted out of the final year of his contract, a move setting in motion a chain of events that led to the Lakers acquiring Steve Nash and then Dwight Howard?
What if, indeed.
Sessions is finishing a two-year, $10-million deal he signed with the Charlotte Bobcats after declining a one-year, $4.55-million player option that would have kept him with the Lakers for the 2012-13 season.
He's not a good three-point shooter and an average defender but would be fun to watch in Mike D'Antoni's screen-and-roll system. He could also push the pace like Jordan Farmar, giving the Lakers a speed element.
If Sessions hadn't declined his option, he might still be the Lakers' point guard (he was seeking a deal similar to what Charlotte gave him) and there might not have been a rabid pursuit of Nash, who cost them two first-round draft picks and two second-round picks.
"I think about it at times," Sessions said Saturday before his current team lost to the Lakers, 88-85. "It's one of those things that when I opted out, I wasn't expecting to leave. I was expecting to work something out. But you know how the NBA business is.
"A few weeks later, they end up signing Steve Nash. He was a great player, a Hall of Fame player. That's what they wanted."
The Lakers didn't only lose Sessions after he spent a mere two months with them toward the end of 2011-12. They lost their first-round draft pick in 2013 (No. 19 overall) as part of the deal that pried him loose from Cleveland.
Sessions, 27, is averaging 10.5 points and 2.8 assists as the backup to Kemba Walker, the Bobcats' dynamic young point guard.
Sessions had a bad game Saturday, scoring two points on one-for-seven shooting.
An hour before tipoff, though, he acknowledged the oddity of Nash, Farmar and Steve Blake simultaneously sidelined by injuries.
"You always have a third [point] guard but you don't expect the third guard to get hurt also," Sessions said. "But Kobe [Bryant] is good enough to where he can facilitate and still play his game. I think they'll be fine."
Sessions averaged 12.7 points and 6.2 assists in 23 regular-season games with the Lakers before stalling in the playoffs, dropping to averages of 9.7 points and 3.6 assists.
Lakers connection
Steve Clifford spent last season with the Lakers as an assistant coach. Now he's the Bobcats' head coach.
He's getting great reviews from numerous people connected to the Bobcats, and he had a kind review of Bryant.
"The thing that's always made him different is his IQ," Clifford said. "He's a step ahead of everybody in terms of he's figuring out, 'What do I have to do to play well?'
"People don't see, if you don't watch him every day, how he talks to his teammates and what he talks to them about. It's always about winning, about playing better. He knows right now they're playing without a true point guard. He has the ball and he's trying to figure out what they have to do to function well."
Twitter: @Mike_Bresnahan
---
All things Lakers, all the time.
Get all the Lakers news you need in Dan Woike's weekly newsletter.
You may occasionally receive promotional content from the Los Angeles Times.