Luke Walton's closing lineup served the Lakers well against the Hawks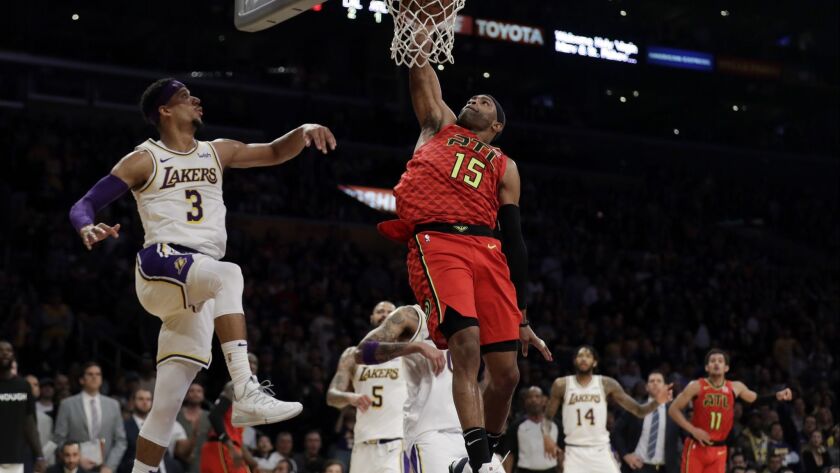 With the outcome of the game in the balance, Lakers coach Luke Walton chose to use an unconventional lineup — with no point guard — to close against Atlanta on Sunday, a decision he made because he wanted his best defenders on the court.
In the final minutes of a tense game at Staples Center, Walton's resolve to leave point guards Lonzo Ball and Rajon Rondo on the bench served the Lakers well.
Ball had replaced Rondo with seven minutes, 41 seconds left in the game. Ball had not played in the fourth quarter of the previous two games, but now he was getting his opportunity.
Then with 4:32 left and every defensive stand being crucial in a game the Lakers were trailing by three points, Ball was replaced by Josh Hart, who the Lakers consider to be one of their better defenders because of his ability to guard multiple positions.
Hart closed out the game with LeBron James, Kyle Kuzma, Brandon Ingram and Tyson Chandler.
Chandler blocked a shot by Hawks rookie point guard Trae Young in the final seconds, allowing the Lakers to claim a 107-106 win — getting by despite daring to play without Ball or Rondo in a close game.
"I thought Lonzo was really good tonight, and the way the game was going I was planning on having him close it out with those starters out there," Walton said. "And when they got cooking and we couldn't get stops, I felt like for tonight what we needed was Josh Hart's toughness and ability to be able to switch.
"We were starting to blitz Young's pick-and-rolls" with double teams, "which means we're going to be in straight scramble mode. I just felt like Josh, who has been playing power forward for us, shooting guard for us, was more equipped to handle that type of defensive rotation. So we went back with Josh, but I thought Lonzo was really good tonight with the way he came out and the way he played."
Ball indeed was engaged in the game, finishing with eight points, 11 assists and six rebounds. He played 27 minutes, including 3:09 in the fourth quarter.
"Had the ball in my hands, tried to make some plays," Ball said about his effort against the Hawks. "Lot of pick-and-rolls today. That's a little different than for most of the season. So I was just trying to do what I could to create for the team."
With his hustle and determination, Kuzma made his presence felt in the final 12 minutes.
He scored on a running layup off a pass from Hart to tie the score at 104-104 with 1:34 left. Kuzma then confidently walked to the free-throw line after Atlanta's Kent Bazemore was assessed a technical foul for arguing about the play.
Kuzma, who had three of his eight rebounds in the fourth, made the free throw for a 105-104 Lakers lead.
The 6-foot-9 forward admitted that closing out games is not a given on this talented Lakers team.
"It's an adjustment period," said Kumza, who finished with 18 points. "You never kind of really know. But we're all professional and you just kind of got to plan accordingly. So, whether Zo [Ball] is out there, Josh is out there, whoever, it doesn't really matter. Whoever is out there has to close it out and be professional about it."
That said, Chandler has been seamless in his role as supreme closer for the Lakers.
He played 8:56 in the fourth quarter Sunday, none more important than those final few seconds in which he saved the day for the Lakers with his block of Young's potential game-winning shot.
Chandler had three rebounds in the fourth, all of them offensive.
"It's atmosphere, in all honestly," said Chandler, who finished with five rebounds. "Again, the energy around here, professionalism, the way they go about the day to day, made my transition easy."
---
All things Lakers, all the time.
Get all the Lakers news you need in Tania Ganguli's weekly newsletter.
You may occasionally receive promotional content from the Los Angeles Times.